industry news
The Latest Industry News for the Exciting World of Production.
Creative Handbook puts together a bi-monthly newsletter featuring up-to-date information on events, news and industry changes.
Add My Email
MASTERSFX "REBORN": TOP VFX HOUSE TO DOMINATE SMALL SCREEN THROUGHOUT 2015/16 FALL SEASON WITH UNPRECEDENTED SLATE OF TELEVISION PROJECTS: "HEROES REBORN," "ARROW," "THE FLASH," "THE 100," iZOMBIE," "MONSTERVILLE," AND MORE TO FEATURE MASTERSFX WORK

By: MastersFX
| October 12, 2015

Todd Masters, Founder and President of MASTERSFX (MFX,) has announced an unpre-cedented slate of current and upcoming small screen projects which will feature original character and makeup FX, as well as digital FX, from the award-winning studio.

"I believe that our current success is a direct result of how our company has adjusted to the swiftly-changing needs of television production," Masters notes. "We've been fortunate to have had an established presence on television, with our practical FX, monsters, and prosthetic FX, for decades now. And along with this rapidly evolved environment - specifically becoming more dependent on the incorporation of practical FX - we've learned to grow with it."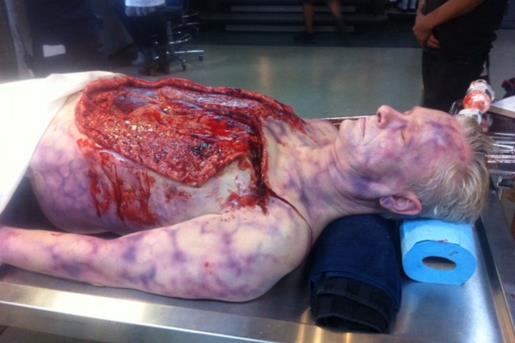 With busy Practical and Digital FX studios in both Los Angeles and Vancouver, MASTERSFX now combines its FX by mixing-in practical with digital FX, for a unique product. This approach has really gathered momentum, with multiple projects currently in-house, and allowing clients to have a choice, as needed. "Many projects have begun to ask for Practical FX again," Masters notes. "During the past several TV seasons, our industry has back-flipped! Now, in many cases, TV shows are returning to a lesser dependence on a digital-only VFX solution."
"Practical FX can often be a cheaper and more immediate solution, so it's wise to have both practical and digital expertise under our control," notes Scott Coulter, the company's VP of Visual FX. "Clients can still get practical FX solutions from MastersFX - but with the addition of our digital work, as well as an array of other methods - our team is set-up to offer clients fresh, fast-paced results, no matter how difficult the assignment may seem."
Adds Masters, "With the pace of production today, and with TV shows shooting at multiple locations all over the globe, our clients really like the fact that we can offer more than one solution - by working smarter and faster we can deliver creative ideas and results more quickly."
MASTERSFX's Recent TV Projects Include:
** Heroes Reborn: MASTERSFX is providing practical character FX and prosthetics, including certain costumes and visual FX elements. MFX is integrating its broad range of skill sets to facilitate this fast-shooting, large-scaled, super-hero saga.
"Working on a show like 'Heroes Reborn' is both exciting - and somewhat horrifying," says MASTERSFX Coordinator, Lori Sandnes, who supervised MFX's work, on the high-rated NBC series. "Since this show contains so many different elements, from masks, prosthetic FX, practical FX elements, to integrating with visual effects - it really keeps us on our prosthetic toes - so to speak. We use our weird experiences, from past shows like Fringe and Almost Human, to help us traverse the weekly, outer-worldly needs of Heroes Reborn. Our fast-working artists, like Yukiyo Okajima and Jon Berezan, kept much of it moving, in some cases mass-producing certain FX prosthetics, which are applied by MFX Artists Jennifer Latour and myself."
Heroes Reborn, a 13-episode "event miniseries," premiered September 24 on NBC. The show is a continuation of the NBC science fiction drama series Heroes.
** For iZombie: MASTERSFX returns for the second season, creating the popular CW show's various 'undead' FX, a favorite for many monster artists at MFX. "On the first season of this show, there were only a few characters we were able to decay and get disgusting with," says Lori Sandness. "Since the 'lighter' stages of the zombies on the series are handled by the show's straight makeup department, MFX and our team was restrained. Even though our stuff was limited, the producers really liked what came up with and asked for more this season."
Adds Sandnes, "This year, we're pushing past even that traditional 'George Romero style' zombie look - and coming up with 'fresh' dead things - out of the brains of our MFX prosthetics team and Lead Prosthetic Artists Chris Devitt and Sarah Pickersgill."
iZombie, which airs on The CW, is an adaptation of the comic book series of the same name, and published by DC Comics under their Vertigo imprint. The second season of the show premiered October 6, 2015.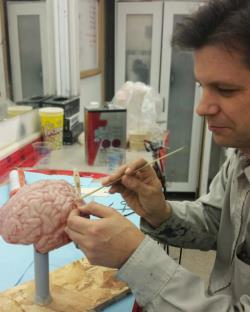 ** R.L. Stine's Monsterville: The Cabinet of Souls: "The challenge on this project was bringing the immense amount of FX characters to life - without an extensive feature-film-like budget, on schedule," stated MFX/Vancouver Coordinator Jason Ward. "We were fortunate to be working again with director Peter DeLuise. He allowed us some creative freedom on the design and approach - and made it really a fun show. Somehow we filled the show with prosthetic monsters: witches, goblins, zombies and ghouls. My favorite contribution to the show was our 'Demon Clown. That's really going to surprise people." Monsterville was released on Sept 29th on Blu Ray.
Dan Angel, Executive Producer & Writer of Monsterville, said, "We have just released our new film, R.L. Stine's Monsterville, and it required a complete cast of monster characters to make this story work. We hired the amazing team at MastersFX and they designed and brought to life some of the best creature/monsters I have ever seen in my 25 years in the business. I dare anyone to stare into the eyes of these thrilling creatures and not walk away with a shiver down their spine. These monsters are so good, we'll all be looking over our shoulders when we go to those dark places. So Beware: MastersFX is out there!"
** The Flash: For the second season of The Flash, MASTERSFX created a mask for episode 1 for the character "Atom Smasher" played by former pro wrestler Adam "The Edge" Copeland." Airing on The CW, The Flash is based on the DC Comics character "Barry Allen/Flash," a costumed superhero crime-fighter with the power to move at superhuman speeds. The CW renewed the series for a second season which premiered October 6, 2015.
"Effective Solutions Don't Always Come with Custom Costs:"
To keep up with "Arrow" and other fast-shooting TV series to which they contribute FX work, MASTERSFX relies on another aspect of the company's skillset, providing the makeup departments of various TV shows with custom temporary tattoos, as well as with their fast-apply prosthetic process called "ProGASH."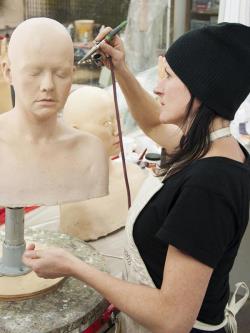 MFX's Coordinator of Reserve Stock, Jennifer Latour, adds, "Shows like Arrow, Continuum, NBC's The Night Shift and Castle often use our quick-apply prosthetic process, 'ProGASH,' to fulfill their show's day-to-day FX makeup needs. We can match the exact skin tone of actors to a precise look for each make-up artist, very quickly." She continues, "We've catalogued hundreds of our shop's best scars, bullet holes, bites, burns, sutures, etc., and have made them available to professionals, in a quick-reference system - a catalog we call our 'Gash-o-Logue. So, when last minute FX needs are in demand - which is nearly everyday - we are able to provide a quick and cost effective solve."
Arrow is a series based on the DC Comics character "Green Arrow," a costumed crime-fighter. Primarily filmed in Vancouver, British Columbia, Canada, the series follows billionaire playboy Oliver Queen, portrayed by Stephen Amell. Season 4 debuted on The CW October 7th.
MASTERSFX also contributes FX to "Grey's Anatomy." For the recently debuted 12th season of this hit ABC series, MASTERSFX is supplying some of their many "rent-a-cadavers," as well as artificial brains, and body bits for a new lab featured this season. MFX/LA Coordinator Galen Wyn Davies said, "Today, clients want high-definition, quality stuff - very quickly. So we've developed this body and body-part rental system to keep up with the pace. We'll continue updating and upgrading the 'Morgue' - the wall of spare prosthetic bodies we keep in creepy cremation caskets."
Eric Napier, MFX/Vancouver Rentals Supervisor, adds, "Our rental inventory database is truly a monster. Our FX stock ranges from everything from babies to mummies, animals to aliens, heads to feet, and everything in between. Just recently, we've supplied dead bodies to iZombie, shaved cats to Crazy Ex-Girlfrend, and newborn babies to The Leftovers.
Upcoming 2016 TV Projects from MASTERSFX:
** The 100: MASTERSFX provides prosthetic FX for the "Mutant" characters featured in this post-apocalyptic drama, airing on The CW. With its third season premiering mid-season 2016, the show will present several new "Mutant" characters - which have radiation defects - created by MFX.
** The Man in the High Castle: For this series, based on an alternate history novel by American writer Philip K. Dick, MASTERSFX is providing several full artificial bodies and make-up FX. Set in 1962, fifteen years after the end of a fictional longer World War II, The Man in the High Castle presents stories of intrigue between the victorious Axis Powers-Imperial Japan and Nazi Germany-as they rule over the former United States. Amazon's film production unit is producing the new series, which will debut on the Amazon Prime web video streaming service on November 20, 2015.
** The Expanse: For The Expanse, an upcoming space opera/mystery, science- fiction drama series which will debut December 14 on Syfy, MASTERSFX is creating a number of elaborate, alien entities and FX. Based on a series of novels of the same name, The Expanse is set in a future where humanity has colonized the Solar System and follows police detective Josephus Miller (Thomas Jane), ship's officer Jim Holden (Steven Strait,) and his crew as they unravel a conspiracy that threatens peace and the survival of humanity.
** The Magicians: Regarding this upcoming fantasy TV series slated to premiere on Syfy in early 2016, MASTERSFX Vancouver Coordinator Jason Ward says, "The Magicians is an edgy, adult-oriented look into the world of the magic we don't see, traveling in time and dimension." The Magicians, based on the novel of the same name, stars Jason Ralph as "Quentin Coldwater," a brilliant but disaffected grad student who enrolls at Brakebills College for Magical Pedagogy and discovers that the magical world from his favorite childhood books is real and poses a danger to humanity.
** Phoenix Rising: For the Goddard Film Group, MASTERSFX has joined the creative team, including producers Gary Goddard and Roger Lay, Jr., in re-developing for television, Phoenix Rising, a pilot TV episode which continues the legacy of the ground-breaking and popular series Captain Power and the Soldiers of the Future TV series. The Captain Power series was produced by Gary Goddard in the late 1980s, and was widely heralded as the first interactive TV program in history.
About the Metamorphosis of MASTERSFX:
Evolving from its early roots as a shop specializing solely in prosthetics and puppet FX, the character FX studio MASTERSFX has spent the past decade re-working its methods, "transforming ourselves with the times, and beyond," says Masters. "We've expanded our in-house digital character FX departments to best integrate and enhance our practical FX work. And, we've added support services for the Props, Make-Up and Costume Departments we work with to maximize how each TV show's department leaders can best work with us - fast and more efficiently."
"We've become quite proficient at working smarter and faster today, so we can deliver creative ideas and results for the clients, as they demand. We've made a concerted effort to improve our studio's approach across the board, to best service our incredibly diverse range of projects. This was done, in part by design and also - frankly, in part by necessity."
Concludes Masters, "When we started this company 28 years ago, things were much simpler: tangible FX stuff could simply be shot in our own backyards. But all that's changed - we've really needed to adjust, and up our game. And, after a long stretch of development, I'm proud to say that we've really created incredible practical and digital FX teams here. I look around at the quality and the variety of creative ways that we deliver FX - every day - and it really amazes me. And I think what we've been able to pack into the small-screen will also amaze the audiences of these many TV shows to which we've had the privilege of contributing."
About MASTERSFX:
Founded in 1987 by Emmy Award winner Todd Masters, MASTERSFX is a multi-award winning character and special FX house with studios in Vancouver, British Colombia, and Los Angeles. MASTERSFX's creative teams produce a unique blend of practical and digital makeup and special FX, prosthetics and animatronics, through a process called dMFX, for hundreds of hit feature films, TV shows, and commercials.
In addition to the TV series cites above, other TV projects to which MASTERSFX has contributed its work include: True Blood, Six Feet Under, Tales from the Crypt and Fringe. Among the company's film credits are RoboCop, The Day the Earth Stood Still, The Haunting in Connecticut, Star Trek: First Contact, The Horse Whisperer, Slither, Snakes on a Plane, Buffy the Vampire Slayer, Look Who's Talking, and many more.
Todd Masters won an Emmy Award in 2003 for the 2001/2002 Season of Six Feet Under in the category "Best Special Effects Makeup." MASTERSFX is also the winner of a 2006 "Saturn Award" for "Best MakeUp FX" for its work on the film Slither. See more at:
www.mastersfx.com