industry news
The Latest Industry News for the Exciting World of Production.
Creative Handbook puts together a bi-monthly newsletter featuring up-to-date information on events, news and industry changes.
Add My Email
PRODUCERS GUILD OF AMERICA ANNOUNCES ALEJANDRO G. IÑÁRRITU AS FEATURED SPEAKER FOR 2ND PRODUCED BY: NEW YORK CONFERENCE

By: Producers Guild of America
| October 12, 2015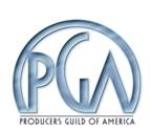 The Producers Guild of America (PGA) announced today additional speakers for the second Produced By: New York (PBNY) conference, which includes the headlining panel, Producers' Masterclass: An Adventurous Partnership With Alejandro G. Iñárritu, featuring the Oscar and Producers Guild Award-winning filmmaker with his producing team -- Mary Parent, Steve Golin, and Brad Weston -- as they discuss their latest film, THE REVENANT. In addition to Tina Fey, who was previously highlighted as a speaker, the event features an unparalleled lineup of leading industry producers and executives who will share valued insights and expertise on a variety of essential topics for today's up-and-coming producers. Session topics cover film, television and digital media, including a talk with the producers of some of this year's most acclaimed feature films, who will take the stage with their key artistic partners for The Power of Successful Creative Collaboration. Discovery Communications is the presenting sponsor of PBNY, which takes place Saturday, October 24th and is hosted by Time Warner Inc. and HBO at the Time Warner Center in New York City.

"At the Mayor's Office of Media and Entertainment, we're committed to helping the hundreds of productions that film in New York City and building on the thriving creative industry so we're thrilled to welcome Produced By once again," said Cynthia López, Commissioner of the Mayor's Office of Media and Entertainment in New York City, a sponsor of the event. "The conversations and connections that take place during this conference are sure to inspire its participants and lead to new understandings and innovative collaborations in order to produce the highest quality content."

"Thanks to our unrivaled locations, state-of-the-art production facilities, and innovative film tax credit programs, New York's film production industry has stolen the spotlight, and we're pleased to welcome Produced By back to the state in celebration of the industry's success," said Gigi Semone, Executive Director of the Governor's Office for Motion Picture and Television Development. "The conference will highlight the amazing work of the filmmakers and industry leaders who are continuing the legacy of excellence in film, which ensures the continued growth of the industry and boosts economic activity in communities across the Empire State."

In alphabetical order, the complete roster of Produced By: New York 2015 speakers to date are:

• Lenny Abrahamson - (ROOM, FRANK)
• Alison Beckett - (KILL THE MESSENGER, THE HUNDRED-FOOT JOURNEY)
• Michael Bederman- (KILL THE MESSENGER, ARBITAGE)
• Joe Berlinger - (WHITEY: UNITED STATES OF AMERICA V. JAMES J. BULGER, METALLICA: SOME KIND OF MONSTER)
• Effie Brown - Founder, Duly Noted Inc. ("Project Greenlight," DEAR WHITE PEOPLE)
• Nathan Brown - GM and SVP of Video, Huffington Post
• Brad Carpenter - ("Vinyl," "Boardwalk Empire")
• Joe Chianese - Executive Vice President, EP Financial Solutions
• Bruce Cohen - (SILVER LININGS PLAYBOOK, MILK)
• Craig Engler -- Kickstarter, Entertainment Lead
• Tina Fey - ("Unbreakable Kimmy Schmidt," SISTERS)
• Steve Forde - Group Product Manager - Digital Video and Audio, Adobe
• Donna Gigliotti - (SILVER LININGS PLAYBOOK, REVISED FUNDAMENTALS OF CAREGIVING)
• Steve Golin - Founder and Managing Partner, Anonymous Content (SPOTLIGHT, BABEL)
• Laurens Grant - (THE BLACK PANTHERS: VANGUARD OF THE REVOLUTION, "Jesse Owens")
• Scott Greenberg, CEO & Founder, Bento Box Entertainment ("Bob's Burgers," "The Awesomes")
• Barbara Hall - ("Madam Secretary," "Homeland")
• John Hoffman - EVP, Documentaries and Specials, Discovery Channel
• Alejandro G. Iñárritu - (BIRDMAN, BABEL)
• Elizabeth Karlsen (CAROL, YOUTH)
• Navid Khonsari - Founder, iNK Stories ("The Warriors," "Grand Theft Auto: San Andreas")
• Charles D. King - Founder & CEO, MACRO
• Michelle King - ("The Good Wife," "BrainDead")
• Robert King - ("The Good Wife," "BrainDead")
• Jennifer Lane -- Post Production Supervisor / Secretary of the Post NY Alliance (BILLY LYNN'S LONG HALFTIME WALK, INTO THE WOODS)
• Michael London - (TRUMBO, MILK)
• Mynette Louie - President, Gamechangers Films
• Gary Lucchesi - President, Lakeshore Entertainment, President, Producers Guild of America (MILLION DOLLAR BABY, THE LINCOLN LAWYER)
• John Lyons - (SISTERS, "The Young Pope")
• Karol Martesko-Fenster - Chief Content Officer, Thought Engine
• Steven Masur - Partner, CDAS Venture Law Group
• Tom McCarthy - (SPOTLIGHT, THE VISITOR)
• Lori McCreary - CEO, Revelations Entertainment; President, Producers Guild of America (INVICTUS, "Madam Secretary")
• Ron Miller - CEO, StartEngine Crowdfunding
• Leslie Norville - (A BALLERINA TALE, FINDING THE FUNK)
• David Oliver- Principal, Oliver Media Finance
• Mary Parent - (GODZILLA, NOAH)
• Clyde Phillips - ("Broke," "Nurse Jackie")
• Lydia Dean Pilcher - (THE LUNCHBOX, CUTIE AND THE BOXER)
• Meryl Poster - President and Founder, Superb Entertainment; ("Project Runway" and extensions, "Girlfriends' Guide to Divorce")
• Chris Ryan -- Colorist, Nice Shoes
• Peter Saraf - (ABOUT RAY, SAFETY NOT GUARANTEED)
• Dan Schrecker - Senior VFX Supervisor, Psyop Film and Television, (HAIL CAESAR, BLACK SWAN)
• Tim Squyres - (LIFE OF PI, UNBROKEN)
• Darren Star -- ("Younger," "Sex and the City")
• Michael Stuhlbarg -- (TRUMBO, "Boardwalk Empire")
• Alicia Syrett - Founder and CEO of Pantegrion Capital LLC
• Michael J. Travers - Producer, Blue Sky Studios (THE PEANUTS MOVIE, EPIC)
• Christine Vachon - (CAROL, STILL ALICE)
• Vance Van Petten - National Executive Director, Producers Guild Of America
• Paula Weinstein - President, Spring Creek Productions ("Grace and Frankie," IN THE HEART OF THE SEA)
• Joseph Weisberg - ("The Americans," "Falling Skies")
• Brad Weston - (12 YEARS A SLAVE, GONE GIRL)
• Lindsey Taylor Wood - Founder & President, LTW

Produced By: New York 2015 presents a program of 21 offerings including panel discussions, mentoring roundtables, and workshops covering fundamental industry topics and impending changes to the dynamic world of producing. The panel topics include:

• THE ART (AND BUSINESS) OF SHOWRUNNING
• THE CHANGEMAKERS: TACTICS FOR EQUALITY AND DIVERSITY IN FILM & TELEVISION
Sponsored by the Harnisch Foundation
• CONVERSATION WITH: TINA FEY Sponsored by VER
• FIX IT IN... PREP? THE VALUE OF POST-PRODUCTION ARTISTS EARLY IN THE PROCESS
Sponsored by Nice Shoes, FilmLight, and SONY
• THE POWER OF SUCCESSFUL CREATIVE COLLABORATION
• PRODUCERS' MASTERCLASS: AN ADVENTUROUS PARTNERSHIP WITH ALEJANDRO G. IÑÁRRITU
• THE RISE OF DIGITAL CONTENT: MEDIA, CHANNELS, BRANDS,
Sponsored by Adobe Systems, Inc.
• STARTUPS FOR PRODUCERS: BUILDING YOUR MEDIA EMPIRE FROM VC FUNDING TO ACHIEVING YOUR VISION
• THE STATE OF PRODUCING
• TOMORROW'S TINSEL: THE FUTURE OF FILM FINANCING
Sponsored by Entertainment Partners
• THE TRUTH SELLS: NEW OPPORTUNITIES IN DOCUMENTARY FEATURES
Sponsored by PBS

*The above panel topics and speakers are subject to change.

For a full list of speakers, session topics, and to register for Produced By: New York 2015, please visit www.producedbyconference.com.

Reaching across film, television and new media, the Produced By Conference is an educational forum conducted by acclaimed producers, including numerous Oscar and Emmy Award winners, as well as the next generation of creative entrepreneurs. Produced By is held through the Producers Guild of America's charitable entity, the PGA Foundation, as it epitomizes the Foundation's core mission to educate those who work in the producing profession. Follow Produced By on Facebook and Twitter at www.facebook.com/producedbyconference and www.twitter.com/Produced_By or #Produced_By.

In addition to Discovery Communications, PBNY sponsors to-date include: Adobe Systems, Inc.; AKA; BEN, a Corbis company; Buffalo Niagara Film Office; CAPS Payroll; The City of New York Mayor's Office of Media & Entertainment; Entertainment Partners; FilmLight; Film US Virgin Islands; Harmonium; the Harnisch Foundation; Indiepay; Intuitive Aerial; JetBlue Airways; Ketel One Vodka; Light Iron; The Molecule; Nice Shoes; PBS; Post New York Alliance; SONY; and VER.

PBNY is chaired by PGA members Bruce Cohen, Blaine Graboyes, Dana Kuznetzkoff, and Debbie Myers. Karen Schwartzman serves as Programming Director with Robin Kramer serving as the conference's Supervising Producer. Susan McPherson is Sponsorship Director.

For more information about the PGA's Produced By: New York conference, please visit:

www.producedbyconference.com
Twitter: @Produced_By
Facebook.com/ProducedByConference
Youtube.com/user/ProducersGuild
Instagram.com/ProducersGuild
Hashtag: #ProducedByNY

ABOUT THE PRODUCERS GUILD OF AMERICA (PGA)
The Producers Guild of America is the non-profit trade group that represents, protects and promotes the interests of all members of the producing team in film, television and new media. The Producers Guild has more than 7,000 members who work together to protect and improve their careers, the industry and community by providing members with employment opportunities, seeking to expand health benefits, promoting fair and impartial standards for the awarding of producing credits, as well as other education and advocacy efforts such as encouraging sustainable production practices. For more information and the latest updates, please visit ProducersGuild.org, www.PGAGreen.org, and www.PGADiversity.org, and follow us on Twitter @ProducersGuild.