Change Region
California
industry news
The Latest Industry News for the Exciting World of Production.
Creative Handbook puts together a bi-monthly newsletter featuring up-to-date information on events, news and industry changes.
Add My Email
By: The Photobubble Company
| September 21, 2015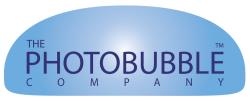 A just released TV spot promoting Old Navy, entitled "Happy Pants," is the latest project to have integrated the highly innovative PhotoBubble tool into its production. The spot, which just broke, stars Julia Louis-Drefus, and was shot on a soundstage at Sony Studios in late August by Hungry Man Productions, through New York's Chandelier Creative ad agency, on behalf of Old Navy.

The PhotoBubble used for the new Old Navy spot was 50 feet wide x 75 feet long x 25 feet tall, and housed within it a "fashion show" set with the premise that Julia Louis-Dreyfus plays a fashion designer. Wearing a white wig with purple tips, a sleek black dress and a thick French accent, Julia orders everyone around backstage during a fashion show. Suddenly, she runs into three women who are wearing jeans from Old Navy.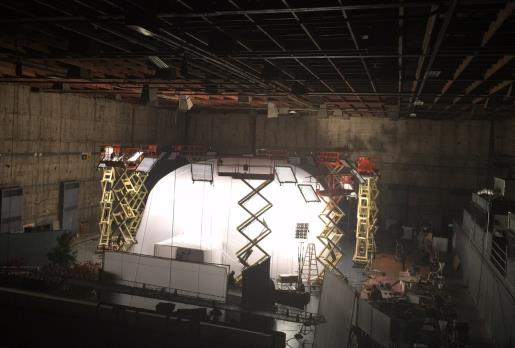 Fascinated, she points out how distressed (or "fraying") the pants seem to be -since pants should be "happy." When she learns that all jeans at the store are on sale for $15, she whispers in her regular American accent that she's putting the three women in charge of the fashion show, while she heads off to an Old Navy store. To view this spot, see: http://www.ispot.tv/ad/AkeL/old-navy-happy-pants-featuring-julia-louis-dreyfus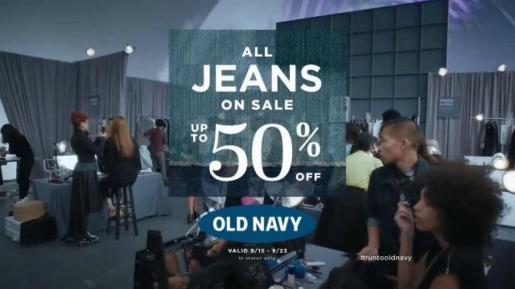 Regarding the integration of the PhotoBubble during this shoot, Production Designer Laura Fox, said, "It was interesting working with a PhotoBubble for the second time...you realize the possibilities are endless. The first time we had to create a surreal brain. For this new Old Navy shoot 'Happy Pants,' we had to create the backstage of a fashion show and hint at the fashion show going on. Neither commercial had the money to build sets large enough, where you could shoot 360-degrees and never see off your sets. I know many people think the PhotoBubble is mainly for car shoots because you can get such a beautiful even light. But I really see so many more applications for this unique production tool."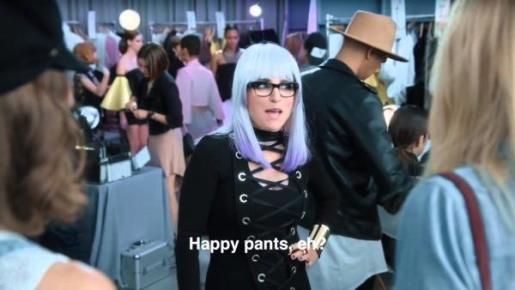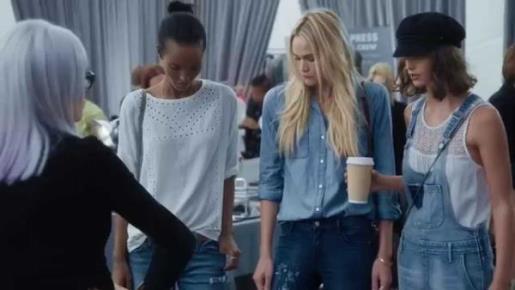 Adds The PhotoBubble Company CEO/Co-Founder Allan Wachs, "Our latest project for Old Navy was a lot of fun and made strong use of the unique benefits offered by our product. In addition to being used as a beauty and set lighting tool, our PhotoBubble was a key component of the production design itself. Its integration as a temporary stage space allowed for two disparate sets to be built on one sound stage, solving a huge logistical problem in shooting two spots in one day with limited time access to Ms. Louis-Dreyfus."

"Our goal is to inform producers of feature films, TV content, commercials, and music videos, that our company has the ability to provide clients with customizable, inflatable structures which create truly unique shooting environments. Our PhotoBubbles are cost-efficient alternatives which can help diverse projects with varying budgets overcome numerous production challenges," Wachs concludes.

Invented in 2003 by acclaimed director Roman Coppola for a Prius TV spot he was directing, the PhotoBubble has since evolved into a company that has serviced dozens of projects for major end-clients, including KIA Motors, Chevrolet, Toyota, Bud Light, Intel, Ford, BMW, FOX TV, Kraft, and many others.

Numerous accomplished directors have shot projects within the PhotoBubble, including Roman Coppola, Dayton/Faris, Bob Giraldi, David Kellogg, Paula Walker, and many more. Notable DPs who have worked within the PhotoBubble include Oscar winners and nominees such as Claudio Miranda, Guillermo Navarro, Russell Carpenter, and Bob Yeoman, to name a few.

CREDITS FOR OLD NAVY "HAPPY PANTS" SPOT:

Client: Old Navy, San Francisco
CMO: Ivan Wicksteed
Director of Marketing: Liat Weingarten

Agency: Chandelier Creative, New York
Creative Directors: Richard Christiansen, Lena Kuffner
Managing Director: Sara Fisher

Production Company: Hungry Man, Inc., New York
Director: Wayne McClammy
Executive Producers: Kevin Byrne, Mino Jarjoura, Dan Duffy, Nancy Hacohen
Producer: Dave Bernstein
DP: Damian Acevedo
Production Designer: Laura Fox
Art Director: Charles Varga
Sound Mixer: Seth Gilbert

Post-Production:
Editorial: Final Cut, New York
Editor: Crispin Struthers
Executive Producer, Lauren Bleiweiss

PhotoBubble: Provided by The PhotoBubble Company:
Allan Wachs, Tom Iacino, Paxton Dronek

ABOUT THE PHOTOBUBBLE™ COMPANY:

Launched in 2003, the Hollywood-based PhotoBubble™ Company is the parent of the truly unique PhotoBubble™ (patent pending,) the only inflatable, totally air-supported, externally-lit, 360-degree, customizable, filming environment in the world. The PhotoBubble is a revolutionary and innovative new tool for filmmakers, videographers, FX companies, and still photographers. Each PhotoBubble serves as a backlit inflatable structure - in essence, a giant "soft box" for reflection-free photography.

The PhotoBubble Company was co-founded by four men recognized for their expertise in production design, set construction, filmmaking and production management. They are: CEO Allan Wachs, an award winning Producer with over 25 years of experience in commercials, music videos, and documentary production; Chief Visionary Officer Roman Coppola, an award winning Director and Producer of numerous feature films, commercials, and music videos for over 25 years; Chief Creative Officer Stephen McHale, an acclaimed Production Designer with over 25 years of experience in film, commercials, and corporate event production; and Chief Design Officer Tom Iacino, with over 35 years of experience as a Designer, Custom Fabrication Maker and Industrial Designer.

Filming inside each PhotoBubble allows for a 360-degree, virtually seamless angle of view, and offers a unique solution for green screen photography. The Photobubble Company can make a PhotoBubble in almost any size or configuration that will suit the shooting needs of the production. The many advantages of this unique tool are:

** Fully coved walls and ceiling with a 360-degree area of view;
** Green/Blue screen application;
** The Surface of the PhotoBubble can be painted (or rear-screen projected upon) for day or night sky effects;
** Rigging and lighting can be lowered through holes cut into the structure;
** Integration of a PhotoBubble can be done at a reasonable cost with a quick set-up and break down;
** A PhotoBubble will transform any raw indoor space into an instantly film- friendly, pristine environment;
** A PhotoBubble offers an economical solution for creating long-term temporary stages;
** PhotoBubbles save money in shoot labor and post production.

Each PhotoBubble is custom designed and built either on a stage, within another large open-space structure, or within another interior environment suitable for either film/video production or a promotional event. PhotoBubbles can be any size. The company's 560-foot-long by 45-foot-high PhotoBubble, which was constructed for a Buick commercial, is known to be the largest air-supported inflatable structure ever erected in the world. PhotoBubbles are designed for one-time use, and are removed upon completion of each production or promotional event.

For more information, please visit: http://www.photobubblecompany.com/home/