industry news
The Latest Industry News for the Exciting World of Production.
Creative Handbook puts together a bi-monthly newsletter featuring up-to-date information on events, news and industry changes.
Add My Email
Wholesale Tape & Supply & GaffGun Technology

By: Wholesale Tape & Supply
| September 15, 2015

Wholesale Tape & Supply has added the GaffGun floor tape applicator and "CoreLok" technology tapes to their line of expendable tapes and supplies for the Production, Studio and AV Industries.

For over 70 years, cables have been taped down by hand. Manually laying floor tape is one of the most tedious, time-consuming and painful jobs many of us have to deal with. But with the high cost of a trip or fall, safety has to be a priority. Finally, there is a better way: introducing the GaffGun. No longer do you have to be on your hands and knees or use excessive tape to make your cables secure. The GaffGun makes it easy to keep your floors safe. Keeping your cables perfectly centered and straight underneath the tape, the GaffGun is able to use less tape run-for-run than taping by hand. Whether taping down cables or just marking your warehouse floors, order your GaffGun today and say goodbye to all the pain and cost of taping manually.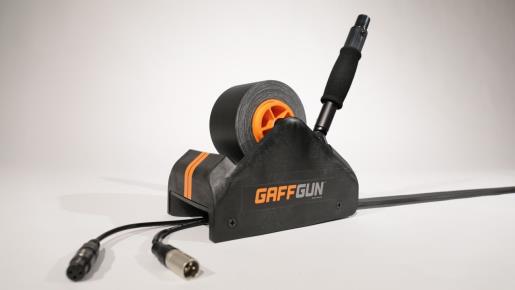 Quick, Easy and Efficient
This uniquely designed applicator, with interchangeable guides allows an individual to lay down and secure one or several cables in one smooth application. No need for two or more installers to hold or straighten cables during the tape down process. The guide will do the job as it gathers cables and tapes them down in a single pass.

Guides and cores are available to apply 1", 2" and 3" tapes for cabling as well as a flat guide for tape striping and non-cabling applications.

Wholesale Tape & Supply, celebrates over 30 years of Service to the Industry as a national supplier of expendable essentials to Arts & Entertainment. For more information call 1-800-642-8273