industry news
The Latest Industry News for the Exciting World of Production.
Creative Handbook puts together a bi-monthly newsletter featuring up-to-date information on events, news and industry changes.
Add My Email
AMBIENT ELECTRONICA BAND RODERICK JAYNE RELEASES NEW ALBUM: "MUSIC FOR THE QUIET HIGHWAY": W. HOLLYWOOD BLANKETED IN ADS PROMOTING "ANONYMOUS" BAND -- TRACKS FROM NEW ALBUM AVAILABLE FOR SYNCH LICENSING

By: Roderick Jayne
| August 24, 2015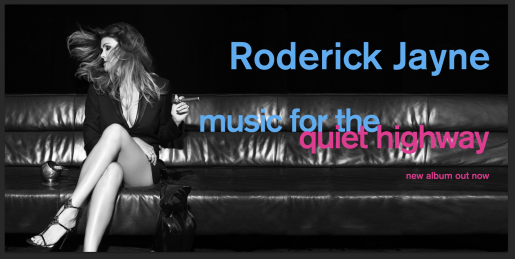 Roderick Jayne, an ambient/electronica band whose music has been described as "Deep House meets Tangerine Dream," has released its newest album: "Music for the Quiet Highway."

Concurrent with the new release, dozens of billboards, wild postings, and bus benches featuring advertising promoting "Music for the Quiet Highway" have just begun sprouting up throughout the West Hollywood, CA, community.

"Music for the Quiet Highway" features 14 tracks which are currently available for Sync Licensing for Film, TV, Advertising, and Multi-Media projects. To inquire about
Synch Licensing tracks from this new album, please email dasma2@mac.com

Perhaps the most notable thing about Roderick Jayne is that the band offers fans NO BIOGRAPHICAL or BACKGROUND INFORMATION of any kind! The members that comprise this group wish to remain "Purposely Anonymous."


"Hopefully the music speaks for itself," say the members of Roderick Jayne. "Turn up the volume, and if you like what you hear, please purchase our music via iTunes and feel the Roderick Jayne mood anytime that suits you. We also invite you to please share the love by sharing our music on social media with others."

"Music for the Quiet Highway" can be purchased here:
https://itunes.apple.com/us/album/music-for-the-quiet-highway/id1014727622

To listen to these tracks via SoundCloud, please visit: https://soundcloud.com/roderick-jayne

To follow Roderick Jayne on social media, please see:
https://www.facebook.com/RoderickJayne
and
https://twitter.com/roderickjayne1

And for virtually no additional information whatsoever, please visit the band's website: http://www.roderickjayne.com