industry news
The Latest Industry News for the Exciting World of Production.
Creative Handbook puts together a bi-monthly newsletter featuring up-to-date information on events, news and industry changes.
Add My Email
Dr. Dre and Ice Cube Want Out of 'Straight Outta Compton' Wrongful Death Lawsuit

By: The Wrap
| August 18,2015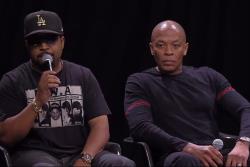 Dr. Dre and Ice Cube are asking to be dropped from a wrongful death lawsuit stemming from a deadly incident that occurred during promotional shooting for the N.W.A biopic "Straight Outta Compton," according to legal papers obtained by TheWrap.

Dr. Dre (real name: Andre Young) and Ice Cube (O'Shea Jackson, Sr.) have filed a demurrer in the suit, claiming that they are free of wrongdoing in the January incident, during which disgraced former rap mogul Marion "Suge" Knight allegedly ran down Terry Carter and Cle "Bone" Sloan with his vehicle, killing Carter and injuring Sloan.
In the demurrer, Dr. Dre and Ice Cube say that the effort "to place the blame for Suge's criminal conduct" is "misplaced," and that Carter's family cannot assert that the two defendants owed Carter a "duty of care, because Suge's criminal conduct was not foreseeable."

Knight currently faces charges of murder and attempted murder as a result of the incident.

Knight, Universal Studios, Sloan and others are also named in the lawsuit, which was filed by Carter's family.

According to the papers, Knight showed up at the base camp for the shoot "bearing a grudge and looking for a confrontation," but Ice Cube and Dr. Dre asked Sloan to direct Knight away from the base camp.