industry news
The Latest Industry News for the Exciting World of Production.
Creative Handbook puts together a bi-monthly newsletter featuring up-to-date information on events, news and industry changes.
Add My Email
By: The Wrap
| August 13,2015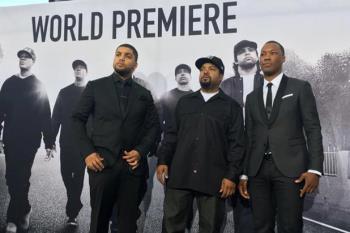 Metal detectors and members of the Gang Enforcement Detail deployed for red-carpet screening of film about Ice Cube and Dr. Dre's gangsta rap group
The Los Angeles Police Department rolled out additional units Monday for the premiere of "Straight Outta Compton" as the stars hit the red carpet at L.A. Live.
The stepped-up police presence included special events officers from the LAPD's Central Bureau, as well as members of the department's Gang Enforcement Detail, Officer Mike Lopez told TheWrap.

"We will have plenty of resources and officers there in case of any emergency," Lopez said. "We wish that everybody enjoys the premiere and has a safe evening."

A Wrap reporter attended the event in downtown L.A., and also noted that there were additional officers on the scene and guests had to pass through metal detectors to enter the theater - which isn't always the case at Hollywood premieres.

The Universal Pictures release traces the origins of N.W.A. (an acronym for Niggaz Wit Attitudes) - the gangsta rap group Ice Cube co-founded in Compton, California, in 1987 along with original members Dr. Dre, DJ Yella, Arabian Prince and Eazy-E, who died in 1995.

Ice Cube, who produced the movie, recently told TheWrap that it took years to get the project off the ground.

"It was one of the hardest movies I ever had to get made. It's been a four-year process and that's just actual process," he said. "But as the dream, it goes back almost 10 years."

N.W.A. sold millions of records and helped put West Coast rap on the map. But its members also sparked controversy for their explicit lyrics and eyebrow-raising singles such as "Fu*k tha Police," which drew condemnation from law enforcement agencies.

"Straight Outta Compton" arrives in theaters on Friday.