industry news
The Latest Industry News for the Exciting World of Production.
Creative Handbook puts together a bi-monthly newsletter featuring up-to-date information on events, news and industry changes.
Add My Email
'Star Wars: The Force Awakens' Director Reveals New Details About Darth Vader-Inspired Villain Kylo Ren

By: The Wrap
| August 12,2015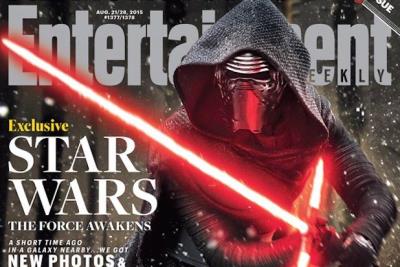 Adam Driver plays the character screenwriter Lawrence Kasdan calls "something that's brand new to the saga"

"Star Wars: The Force Awakens" villain Kylo Ren is a fan of Darth Vader.
The same day Entertainment Weekly revealed the Sith lord's cool cover shot on Wednesday, the outlet released portions from its interview with director J.J. Abrams.

"The movie explains the origins of the mask and where it's from, but the design was meant to be a nod to the Vader mask," Abrams said of Adam Driver's character. "[Ren] is well aware of what's come before, and that's very much a part of the story of the film."

The part of the film that has received a lot of attention is that red, crossguard lightsaber - one of the standout moments from the trailers fans have seen so far - and it's not a standard-issued Sith tool.

"The lightsaber is something that he built himself, and is as dangerous and as fierce and as ragged as the character," Abrams said, and praised Driver's performance.

"He is not your prototypical mustache-twirling bad guy. He is a little bit more complex than that, and it was a great joy to work with Adam Driver on this role, because he threw himself into it in a deep and remarkable way," Abrams said.
EW also spoke to "The Force Awakens" screenwriter Lawrence Kasdan, who also wrote "Empire Strikes Back" and "Return of the Jedi," as well as the 2018 young Han Solo spinoff.

"I've written four 'Star Wars' movies now, and there's never been a character quite like the one that Adam plays. I think you're going to see something that's brand new to the saga," Kasdan said. ""He's full of emotion. No matter how we express ourselves in the world, whether we hide it and act very calm or whether we're very out there and demonstrative, everybody's roiling with emotion. And you want your characters to be that way, too. Then they have to deal with their emotions as best they can, with what they are."

Abrams wouldn't reveal too much about the character, but did tease his origin, along with another group of characters fans will be dying to meet after reading this.