industry news
The Latest Industry News for the Exciting World of Production.
Creative Handbook puts together a bi-monthly newsletter featuring up-to-date information on events, news and industry changes.
Add My Email
By: Michael Rubin
| July 15, 2011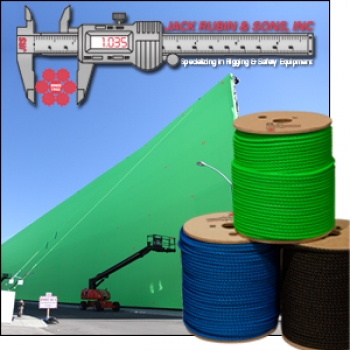 Jack Rubin & Sons is proud to announce a new line of 3-strand composite polyester rope to the entertainment industry. This brand new product for grips and riggers is exclusively available at Jack Rubin & Sons. Available in Digikey Blue, Digikey Green and Black the new rope will be a game changer in making rope completely disappear while rigging and flying saving time and money editing in post production.

Established in 1945, Jack Rubin & Sons is a California corporation with general offices in Compton, CA, manufacturing and warehousing facilities in Compton and Burbank, CA, as well as subsidiary companies in Arizona, Nevada, Utah and Idaho.

For over 55 years we have specialized in the distribution of wire rope, cable, rigging hardware and the manufacture of slings, lifting devices, and cargo handling gear. We are proud of our reputation for quality, service, and price. Because of it, we have established many loyal and satisfied customers throughout the United States. Our policy of offering quality, service, and price- in that order - shall remain unchanged but we will continue to improve our facilitates and add new products in order to provide you with the most complete "one-stop" rigging service in the West.

Our entertainment division located in Burbank, CA is dedicated to serving the motion picture television concert and stage industries. They manufacture and stock a complete line of theatrical products including cable, rigging hardware, rope of all kinds, blocks, fall protection and expendables to name a few.

With all their experience, their sales staff can answer all your rigging questions and they are dedicated to serving the entertainment industry.