industry news
The Latest Industry News for the Exciting World of Production.
Creative Handbook puts together a bi-monthly newsletter featuring up-to-date information on events, news and industry changes.
Add My Email
By: Artemple
| June 8, 2015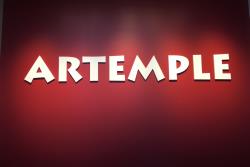 Artemple-Hollywood, a high-end, full-service visual effects and design company, produced all of the visual effects for the new Warner Bros. feature film ®Entourage.®

Artemple produced over 150 VFX shots for ®Entourage,® many of which were comprised of crowd duplications, complex tracking and compositing, CG elements, and 3D matte paintings that included 360-degree environments. Artemple's specialty is in producing invisible visual effects that support the storytelling process. Through the use of Artemple®s 3D matte paintings which were integrated into the production of ®Entourage,® the filmmakers were able to shoot in one location and have it double seamlessly for another.


Wei Zheng, Principal/Executive Creative Director, Artemple-Hollywood, said, ®Working with the filmmakers on ®Entourage® was a wonderful experience. We were thrilled
to have been part of the process behind such a fun project.®

ABOUT ®ENTOURAGE®:

In the new Warner Bros. film ®Entourage,® movie star Vincent Chase (Adrian Grenier,) together with his boys Eric (Kevin Connolly,)Turtle (Jerry Ferrara,) and Johnny (Kevin Dillon,) are back - and back in business with super agent-turned-studio head Ari Gold (Jeremy Piven.) The new film is directed by Doug Ellin, written by Doug Ellin and Rob Weiss, and produced by Closest to the Hole Productions. ®Entourage® is released by Warner Bros.

ABOUT ARTEMPLE-HOLLYWOOD:

Artemple-Hollywood, launched in January 2014, is a high-end, full-service visual effects and design company specializing in seamless and ®invisible® visual effects and design for feature films, television, commercials, themed entertainment, and original content. The company is known for its work on Twentieth Century Fox®s blockbuster hit film, ®Gone Girl,® helmed by award-winning director David Fincher, and for serving as the visual effects company on the Warner Bros. film, ®Entourage.® Advertising clients include Wieden + Kennedy.

Artemple-Hollywood is located at 10321 Jefferson Blvd., Culver City, CA, 90323. The phone is 310-558-0270. Please see: www.artemplehollywood.com