industry news
The Latest Industry News for the Exciting World of Production.
Creative Handbook puts together a bi-monthly newsletter featuring up-to-date information on events, news and industry changes.
Add My Email
By: Rosalie Kessing
| July 11, 2011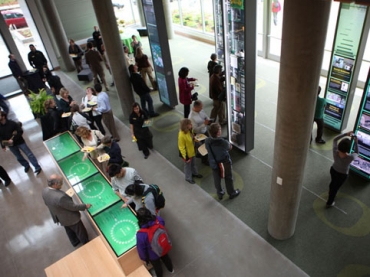 Lexington was chosen by designer Second Story Interactive Studios to technically design and fabricate their dynamic design for the new Ford Alumni Center. Visitors are first greeted by a unique, electronic, wooden wall with two large media displays. Hidden within the wooden slats that comprise the wall substrate are 18 LED signage displays connected to an Alumni Foundation database that constantly cycles through the thousands of names of individuals who contribute to the university each year. Names emanate through the Douglas fir veneer, constantly cascading across the wall. On the surface of the wood slats are laser etched names of the individuals and organizations whose major contributions made the Ford Alumni Center possible.

Nine towering floor-to-ceiling media display Cascade panels act as a portal to the Ford delivering constantly changing information. Included within 3 of the towering panels are historic artifacts of past iconic alumni. The Cascades have illuminated rear panels with translucent environmental graphics and slide on a track system built into the floors and ceilings running throughout the Interpretive Center. A searchable touch table clad in Douglas fir veneer allows visitors to search alumni.

"This facility breaks the mold," said University of Oregon President, Richard W. Lariviere.