industry news
The Latest Industry News for the Exciting World of Production.
Creative Handbook puts together a bi-monthly newsletter featuring up-to-date information on events, news and industry changes.
Add My Email
STANDING ROOM ONLY AT HISTORIC COGSWELL COLLEGE "RECONNECT" ALUMNI REUNION EVENT:

By: Cogswell College
| April 22, 2015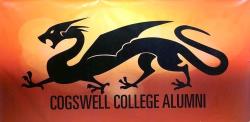 Alumni Attendees Include Those Working for Apple, Amazon, Cisco,
Microsoft, Warner Bros., DreamWorks and Disney Interactive
Cogswell College, a 600-student educational institution offering a unique curriculum fusing Digital Art, Engineering and Entrepreneurship, held an historic Alumni Reunion, entitled the ®Reconnect Event,® on its campus, April 11th. Over 300 people attended the festivities.
Among Cogswell alumni participating in the reunion were past students who later went on to work for many of the most prominent technology, corporate and entertainment industry companies in the world, including Apple, Amazon, Cisco, Microsoft, Warner Bros., Disney Interactive, DreamWorks Animation, IBM, Lockheed, SanDisk, HP, Grimm Brothers, Cryptic Studios and Double Fine Productions, among others.
Said John Duhring, Director of Strategic Alliances and Alumni Relations for Cogswell College, ®We wanted to create an event that would let these people know that everything we do here today was first set in motion by them during the recent past. These alumni attendees, in turn, embraced our unprecedented alumni reunion event, and have suggested many ways for us by which to engage them further in the future.®
"So many great memories came flooding back when I walked through the front doors. It was great to see friends and faculty from my old Cogswell days! It's a shame that new memories will no longer be made in that building, but with the Cogswell student culture and the level of quality that these kids are putting out, it won't matter where the school is located,® said Scott Russell, Class of 2002, Art Director, EA Shanghai.
®The event was great! It's sad that the building is going away - the building that I spent 4-plus years in, making friends, making art, learning new skills. But the building isn't what defines Cogswell. Cogswell has a long history of updating itself to keep up with the times and moving to new campuses when it needed to. It has happened before, and it will happen again. The best part of the event was how many alumni came out to be a part of it. I get to see local alumni now and then, but this event managed to attract people from all over the globe; some of whom I hadn't seen since graduation. I also enjoyed interacting with the current students. I loved seeing what they're currently working on,® added Nick Duguid, Class of 2002, Environment Artist, Cryptic Studios.
Opening the evening®s event were video messages from Katie Welka, Class of 2008 -- now a Project Manager at Tencent; Tobiah Marks, Class of 2009 -- now a Games Evangelist at Microsoft, and Ash Monif, Class of 2002 -- now Founder of Grimm Bros Studio. Each of the hundreds of alumni then stood and identified him/herself® over 100 people signed a commemorative banner. During the evening, alumni toured the school to meet current students and observe their work developing commercial-grade mobile apps, video games and animated films, while earning fully accredited, four-year undergraduate degrees.
Later, three alumni panel discussions took place. The first featured student leaders from the Associated Student Body, Game Development Club, the CogsCon exhibition, the MediaWorks agency program, the Audio Engineering Society, the Animation Club, and the Cogswell Engineering Society. The student leaders on this panel shared their activities, the value they derive from their involvement, and also their dreams for what each group could become by answering the question, ®If you had $10,000 to spend, what would you spend it on®?
A second panel, entitled ®Industry Issues,® was presented by Cogswell alumni Scott Russell, Class of 2002 -- now an Art Director with EA Games in Shanghai; Vince Parker, Class of 1997 -- now working in On-Set Visual Displays for feature films in Los Angeles, and Jessica ®Psy® DeLacy, Class of 2010 -- now a Character Rigger for DreamWorks Animation. These panelists stressed the importance of learning throughout their careers, and how Cogswell served to kickstart their professional development. These alumni also illustrated the value of mastering skills and team formation while in college. (** Seen in Photo Above: (L to R) John Duhring (staff,) Jessica "Psy" DeLacy (DreamWorks Animation,) Vince Parker, On-Set Visual Displays for Feature Films in Los Angeles, and Scott Russell, EA Games/Shanghai.)
The final panel, entitled ®Cogswell: History and Future,® included Vitaly Golomb, Class of 2004 -- an entrepreneur and General Partner at the CCC Fund; Joshua Cogswell, Class of 2009 -- a Character Rigger at Blur Studios, and Aaron Weingarten, Class of 2013 -- a Game Designer and Programmer at Grimm Bros. This group focused on entrepreneurial and funding challenges that face creative engineers and artists, as well as the importance of using the Cogswell College mentoring network, which is afforded all past students.
ABOUT COGSWELL COLLEGE:
Designed as a ®fiercely collaborative, living laboratory,® Cogswell College is located in the heart of the legendary Silicon Valley in Sunnyvale, California. The school is a WASC accredited, four-year institution of higher education with a specialized curriculum that fuses digital arts, audio technology, game design, engineering and entrepreneurship.
Numerous alumni of Cogswell College have secured prominent positions within the entertainment, videogame, technology, computer, animation, and motion graphics industries throughout California and beyond. Several of these alumni have established careers with such high profile companies as Activision, DreamWorks Animation, Disney, Electronic Arts, Pixar, and Microsoft Game Studio. Many other alumni have launched their own creative ventures.
Recent Cogswell alumni were members of the Academy Award-winning production teams which worked on the blockbuster films ®Frozen® and ®Life of Pi.® Some of the other well-known consumer projects to which Cogswell alumni have contributed include the feature films ®Big Hero 6® and ®The Avengers,® and the popular videogames ®Call of Duty: Advanced Warfare,® ®Halo 4® and ®Battlefield Hardline.®
Additionally, animated short films conceived and produced by Cogswell students have gone on to win prestigious awards, including those presented by the California International Animation Festival, the Colorado Film Festival, the Oregon Film Festival, the Miami Film Festival, the Philadelphia Film & Animation Festival, the San Jose Short Film Festival, and Canada®s International Film Festival.
Cogswell College is located at 1175 Bordeaux Drive, Sunnyvale, California, 94089. For more information, please call 1-800-264-7955 or visit:
http://www.cogswell.edu/