industry news
The Latest Industry News for the Exciting World of Production.
Creative Handbook puts together a bi-monthly newsletter featuring up-to-date information on events, news and industry changes.
Add My Email
COLLEEN. SIGNS CINEMATOGRAPHER DANNEL ESCALLON FOR EXCLUSIVE COMMERCIAL REPRESENTATION

By: colleen
| December 15, 2014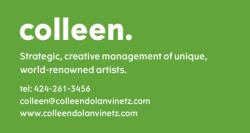 colleen., a modern management company founded by agent, coach and business development consultant Colleen Dolan Vinetz, has signed cinematographer Dannel Escallon to the agency®s roster for exclusive commercial representation.

Escallon was the DP on a Disney PSA entitled ®Make Your Mark ® Ben Horowitz,® which earned a 2013 Daytime Emmy Award. During the past few years, he has served as a DP on numerous music videos, commercials and documentaries, working with such major stars as Flo Rida, Chris Brown, A$AP Rocky, Miguel, and Rod Stewart, and such noted directors as Erik White, Sylvain White, Constellation Jones, Cameron Duddy, Sophie Mueller, Colin Tilley, Isaac Rentz, and many others.

Escallon has also served as a DP on commercials for such brands as Bayer, Comedy Central, ABC Family, Disney and SkullCandy.

Colleen Dolan Vinetz said, ®I have been watching Dannel for over a year now, and I®ve seen his work develop beautifully. I am excited to partner with him and to help create the next phase of his career, which promises to be very successful.®

Adds Escallon, ®I met Colleen about a year ago through a mentor of mine, and she has been kind enough to give me great advice since then. She has admired my work, saw how I was progressing, and expressed interest in representing me. I liked her game plan and felt a really good connection with her. She and I have a similar ideal of how we see the world ® I®d say we have the same aesthetics. Our working together simply feels like the right fit.®

About Dannel Escallon:
A native of Miami, Florida, Dannel Escallon relocated to Los Angeles to attend the LA Film School. After graduating, he was fortunate enough to have crossed paths with two prominent and established DPs ® Maz Makhani and Adam Santelli ® who took the young cameraman under their wings and helped introduce him to a diverse array of people and companies for future work. For the past four years, Escallon has enjoyed the benefits of being mentored by these two men, and has worked steadily on many music videos, commercials and documentaries.


Escallon®s work in 2011 on music artist Flo Rida®s music video ®Good Feeling,® helped to establish the young DP®s name in the industry. Since then he has worked on music videos for such major stars as Flo Rida, Chris Brown, A$AP Rocky, Miguel, Rod Stewart, Serj Tankian, Pacific Air, Kitten, Wallpaper, and many others. In the area of commercials, Escallon served as DP for projects promoting Bayer, Lenovo, Comedy Central, ABC Family, SkullCandy, and more. His contributions as DP on a Disney PSA helped that project win a Daytime Emmy Award in 2013.

Escallon also served as DP for a number of music-oriented documentary films and projects, including ®Studio Session® for Garbage, ®Beautiful Things Tour® for Anthony Green, and ®Lombries,® Presented by Ford Fiesta.

About colleen.:
colleen. was founded in 2012 in Santa Monica, CA, by agent, coach and business development consultant Colleen Dolan Vinetz as a modern management company. Carefully curating a roster of world class artists to represent in the commercial, television, film and entertainment industries, Dolan Vinetz offers her clients a creative and strategic management style combined with a sense of today's evolving marketplace.

Dolan Vinetz®s expertise across multiple media platforms makes her a unique collaborator and a thought leader. Her hands-on approach includes defining goals; creating an intelligent, intuitive and responsive strategy by which to achieve those goals; identifying and addressing obstacles, undertaking in-depth market research, and a careful analysis of the contemporary business and commerce marketplace. Dolan Vinetz®s goal is to create successful and fulfilling careers on behalf of her clients.

For more information, please see: www.colleendolanvinetz.com
And follow colleen. on Facebook: www.facebook.com/colleendolanvinetz