industry news
The Latest Industry News for the Exciting World of Production.
Creative Handbook puts together a bi-monthly newsletter featuring up-to-date information on events, news and industry changes.
Add My Email
By: USITT
| November 7, 2014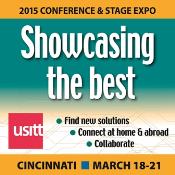 Online registration for USITT 2015 in Cincinnati is now open. Register for the 2015 Annual Conference & Stage Expo here!

The big event runs March 18-21 at Cincy®s Duke Energy Center. Register by Dec. 4 to get the early bird discount. Hotel housing is also open here.

Fans agree that the Conference & Stage Expo outdoes itself every year, and Cincy will not disappoint. Highlights include:

®The new Opening Night Party and New Product Showcase moves ®Brag & Swag® party time to Opening Night on Wednesday, while the formal awards night moves to day two on Thursday.
®2015 Keynote Speaker is the dynamic Terrence Spivey, artistic director of Karamu House, the nation®s oldest African-American theatre. Spivey®s Wednesday morning speech officially opens 200-plus sessions on every aspect of live entertainment design and technology.
®2015 is a Light Lab year, so expect flashy production for main stage sessions, plus hands-on chances to explore the latest LED lighting technology throughout the show.
®Backstage celebs being honored include three Broadway legends -- costume designer Jane Greenwood, projection design educator Wendall Harrington, and scenic designer Doug Schmidt ® plus much-admired TCG Executive Director Teresa Eyring and theatre tech guru Loren Schreiber. Don®t miss a chance to see all five USITT Distinguished Achievement Award Winners in Conversation on the same stage Friday morning.
®Stage Expo is already bigger and better than ever, with more than 220 companies signed up to exhibit the latest stage products ® and it®s only November.
®USITT also has a brand new app ® USITT 365 ® that will make planning and participating in USITT 2015 even easier & more fun. Get it free at www.usitt.org/mobile.
®The show also has a new dedicated website, www.usittshow.org, and will be adding content and info right up to load-in.

USITT, the United States Institute for Theatre Technology, is the national non-profit serving the performing arts and live entertainment design and technology industry. The Annual Conference & Stage Expo is its biggest event of the year. For more info, visit www.usitt.org. Follow USITT on Twitter @usitt #usitt2015.