industry news
The Latest Industry News for the Exciting World of Production.
Creative Handbook puts together a bi-monthly newsletter featuring up-to-date information on events, news and industry changes.
Add My Email
BONNIE ARNOLD, JOHN SLOSS, TOM FONTANA, PAULA WEINSTEIN JOIN LINEUP AS FEATURED SPEAKERS FOR INAUGURAL PRODUCED BY: NEW YORK ON OCTOBER 25TH

By: Producers Guild of America
| September 18, 2014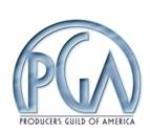 The Producers Guild of America is pleased to announce that producers Bonnie Arnold, John Sloss, Tom Fontana and Paula Weinstein will participate as featured speakers at the inaugural Produced By: New York (PBNY) conference on Saturday, October 25, 2014 at the Time Warner Center in NYC. They will join some of the entertainment industry®s most renowned producers and visionaries including Harvey Weinstein, Bruce Cohen, Gary Lucchesi, Lori McCreary, Lydia Dean Pilcher, Mark Gordon, Morgan Spurlock and Terence Winter, among many others.

Newly added speakers, in alphabetical order, include:

®Bonnie Arnold (HOW TO TRAIN YOUR DRAGON Franchise, TOY STORY)
®Barbara Hall (®Madame Secretary®)
®Colin Carrier (Twitch.tv)
®Jeff ®Swampy® Marsh (®Phineas and Ferb®)
®Jenni Konner (®Girls®)
®John Sloss (BOYHOOD, I®M NOT THERE, THE FOG OF WAR)
®Kiki Wolfkill (®Halo 4®, ®Halo Nightfall®, The Halo Channel)
®Tom Fontana (®Oz®, ®Homicide®, ®Borgia®)
®Paula Weinstein (THIS IS WHERE I LEAVE YOU)

For a full list of speakers and to register for Produced By: New York, please visit www.producedbyconference.com.

Produced By: New York will feature 12 full conference sessions, panel discussions, mentoring roundtables and networking opportunities designed to address key industry topics and discuss the ever-changing world of producing. The programming includes the following sessions and workshops:

®Inside Showrunning
®C Is for Content: Technology and Storytelling in Kids' Media
®Tax Credit Financing: The New Essential Element
®Window Shopping: Customizing Financial Models in the Era of Hybrid Distribution

*The above speakers and/or session topics are subject to change.

In addition to HBO and Time Warner Inc., sponsors to date include:
®Adobe
®AKA
®AMC Networks
®B E N: Branded Entertainment Network
®CreativeFuture
®Discovery Communications
®Entertainment Partners
®Harbor Picture Company
®Honolulu Film Office
®Minnesota Film and TV
®New York Film Academy
®PRG, Production Resource Group
®Pride Equipment
®Qruber
®SmartSource
®Steeltown Entertainment Project

Produced By: New York is chaired by PGA members Blaine Graboyes, Dana Kuznetzkoff, Benjamin Lehmann, and Bruce Cohen. Victoria Ashley serves as Programming Director with Robin Kramer serving as the conference®s Supervising Producer. Diane Salerno (Six Degrees Global) continues in her role as Sponsorship Director.

*Media Credentials: All media interested in covering the 2014 Produced By: New York will need to submit a Press Credential Application. Please email Sweety Ghuman at Sweety.Ghuman@42West.Net to receive an application. While credentials are not guaranteed due to space limitations, PBNY will do its best to grant them to as many outlets as possible.

About the Produced By Conference
Reaching across film, television and new media, the Produced By conference is an educational forum conducted by acclaimed producers, including numerous Oscar and Emmy Award winners, as well as the next generation of creative entrepreneurs. Produced By is held through the Producers Guild of America®s charitable entity, the PGA Foundation, as it epitomizes the Foundation®s core mission to educate those who work in the producing profession. Follow Produced By on Facebook and Twitter at www.facebook.com/producedbyconference and www.twitter.com/Produced_By or #ProducedByNY.

About the Producers Guild of America (PGA)
The Producers Guild of America is the non-profit trade group that represents, protects and promotes the interests of all members of the producing team in film, television and new media. The Producers Guild has over 6,500 members who work together to protect and improve their careers, the industry and community by providing members with employment opportunities, promoting fair and impartial standards for the awarding of producing credits, as well as other education and advocacy efforts such as encouraging sustainable production practices. Visit www.producersguild.org, www.pgagreen.org, www.pgadiversity.org for more information.