industry news
The Latest Industry News for the Exciting World of Production.
Creative Handbook puts together a bi-monthly newsletter featuring up-to-date information on events, news and industry changes.
Add My Email
By: Rosalie Kessing
| May 16, 2011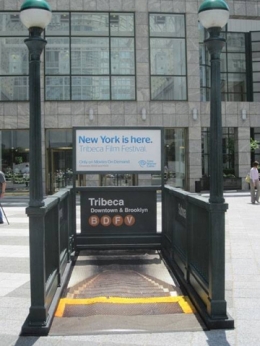 The talented artists at Lexington helped Time Warner Cable celebrate their sponsorship of the Tribecca Film Festival by bringing a little of the Big Apple to Charlotte, North Carolina. Pedestrians and drivers alike were amazed to stumble upon a real life, built to-scale, NYC subway Station nestled in the heart of North Carolina's largest city.

Lexington is a full-service, creative design and custom fabrication company known for its expertise in producing a wide variety of projects that require complex technical design and inspirational experiences. With over 25 years experience creating themed environments, unique architectural ornamentation, custom furniture, character lighting, and engaging exhibits for museums, casinos, theme parks, restaurants, retail, and broadcast television, Lexington has demonstrated an exceptional talent for crafting dynamic, beautiful projects. With the ability to blend creative and technical design knowledge, fabrication and installation experience, and estimating expertise, Lexington is a unique one-stop shop: a company of artisans that excel in bringing unique visions to reality.