industry news
The Latest Industry News for the Exciting World of Production.
Creative Handbook puts together a bi-monthly newsletter featuring up-to-date information on events, news and industry changes.
Add My Email
By: Picture Trucks LA
| February 25, 2020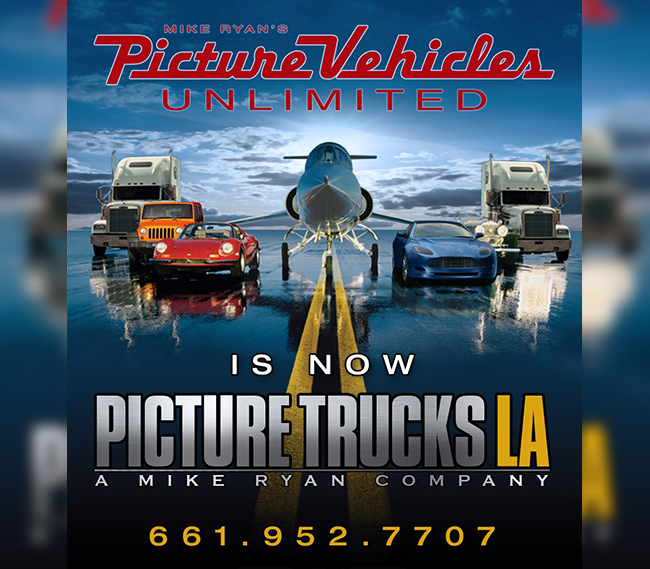 If your script calls for the extreme in big trucks, buses or on heavy equipment give me a call. I have jumped, rolled, crashed, pipe-ramped, cannoned or jack-knifed just about every rig combination imaginable.


Vehicle Sourcing
Today's budgets don't allow the idea of "Picture Vehicles Unlimited " to thrive. Our focus these days is to provide new or newer model semi trucks, buses, heavy equipment and racing cars. My 18 years of racing semi trucks on Pikes Peak and displaying those trucks at the most significant truck industry trade shows for nearly two decades as well as my two Guinness World Records in big trucks has introduced me to the CEO's, Presidents and Directors of Marketing at most of the big truck and equipment manufacturers. Having access to them and their dealer fleets nationwide puts Picture Trucks LA in a very unique position. We have the ability to obtain specialty vehicles directly from the factories and often make the connections for product placement for the right kind of projects.
Large Vehicle Stunts
I have always had an interest in jumping vehicles and have at least 100 jumps under my belt, after developing a high level of competence in performance driving and stunts in cars, curiosity led me into trying the same things in big trucks and buses and that led to being one of the most sought after truck specialists since my work in Thelma & Louise and Terminator 2 in 1990-1991. Mike is also the first person in the US to intentionally "Drift a semi truck and his You Tube Drifting videos "Size Matters 1 & 2" collectively have over 7 million views. He has also drifted a 200 ton Caterpillar Mining Truck!
In 2014 on the taxiway at the Bentwaters Air Park in Suffolk England Mike established the Guinness World Record for a semi truck and trailer jump and he did it over the current Lotus Formula 1 car…as it was being driven!!!
Stunt Vehicle & Rig Construction
Fortunately, as my resume reflects, I spend much of a typical year working on some of the larger action films and truck racing. The rest of the year, my focus and that of our staff is on stunt coordination and specialty vehicles for TV commercials and print projects.
As the commercial industry changed, we changed with it and realized that the model that Picture Vehicles Unlimited was built on had become impractical and obsolete. Gone are the days of working without compensation by submitting a zillion vehicle pictures for the prop department to compile along with those from several other vehicle suppliers in hopes that we win the work. If we can't communicate directly with the Director and Producer and often the client and agency to understand and collaborate on the evolvement of the project, then we pass.
Stunt Coordination
If your script calls for the extreme in big trucks, buses or on heavy equipment give me a call. I have jumped, rolled, crashed, pipe-ramped, cannoned or jack-knifed just about every rig combination imaginable. It is also nice to avoid the bruises sometimes and do a good old car commercial every now and then, under the pretty light on a nice curvy road.
About Mike Ryan
Mike Ryan is a stunt driving specialist and stunt driving coordinator with close to four decades of memorable entertainment and racing performances. Much of the work he has been involved with has gone on to win, Clio's, Emmy's, Oscars and break box office records, race track records and achieve two official and one unofficial Guinness World Records for car and truck jumps. "Separated at Birth" the 1999 Budweiser Super Bowl spot was chosen as one of the 10 best Budweiser Clydesdale's commercials.
That is not by accident, Mike has further developed his unique stunt skills by racing motorcycles, cars, boats and semi trucks while owning Picture Vehicles Unlimited for over 35 years. Being personally involved from the start with the design of the stunt and then sourcing, securing and modifying the required vehicles specifically for the demands that will be placed on it has given me a far deeper understanding than the typical performer is ever exposed to.
truckstunts.com
Address:
25111 Rye Canyon Loop
Santa Clarita, CA 91355
Phone:
(661) 952-7707
Email:
info@truckstunts.com