industry news
The Latest Industry News for the Exciting World of Production.
Creative Handbook puts together a bi-monthly newsletter featuring up-to-date information on events, news and industry changes.
Add My Email
By: Animal Actors of Hollywood
| February 26, 2020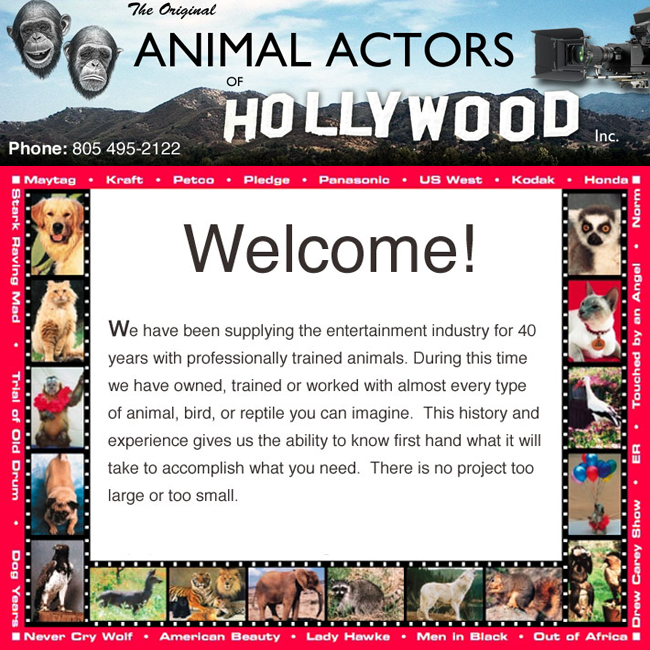 Animal Actors of Hollywood have supplied the entertainment industry for 40 years with professionally trained animals. During this time we have owned, trained or worked with almost every type of animal, bird, or reptile you can imagine. This history and experience gives us the ability to know first hand what it will take to accomplish what you need. There is no job too large or too small.

Most recently our animals appeared in the feature films "True Grit" and "Paul";
and in the TV series "The Middle", "Parenthood", "Law & Order LA", and $#*! My Dad Says". We are busy with commercials as well. There are too many projects to mention here, but we have a long credit list we can give you.

Our animal actors did the TV series "Pushing Daisies", "Manimal", "Peaceable Kingdom" & "Bring Em Back Alive", using dozens of animals every episode. There are birds of every size and color. We have a full line of domestic animals as well as the birds, reptiles, and exotics. Our dogs and cats are remembered for their work on such films as "Ladykillers", "Men In Black I & II", "Cat In the Hat", "The Prestige", "Fluke", and more.

Our specialty has always been to accomplish the difficult and the unusual.

For "Dr. Dolittle" the script called for a giraffe Rex Harrison could ride. On the John Schlesinger picture "Honkey Tonk Freeway" we were asked: "could you train a water skiing elephant?" WE DID BOTH. One of our chimpanzees taught humans on the "Valvoline Commercial" how to change your own oil and save bananas.

We didn't ship coal to Newcastle, but we did take fifteen lions to Africa to act in
"Living Free" and "The Born Free TV Series". Some other animals we transported
to Africa for "Sheena" and "Out of Africa" include an elephant, a rhino, four chimps
lions, leopards, hawks, horses, dogs and a dozen flamingos. Our monkeys have filmed in Malta, Thailand, and Puerto Rico ("Monkey Trouble" & "Cutthroat Island" etc.). Our wolf pack appeared in "Never Cry Wolf", "Dracula", "Ladyhawke" and
dozens more productions, traveling to many locations.

We are the original company called "Animal Actors". Don't be confused with others now using similar names. If you need animals for your project please give us a call, and we are happy to break down your script, and give you an estimate.


www.animalactors.net