industry news
The Latest Industry News for the Exciting World of Production.
Creative Handbook puts together a bi-monthly newsletter featuring up-to-date information on events, news and industry changes.
Add My Email
By: Bexel TSS
| June 3, 2019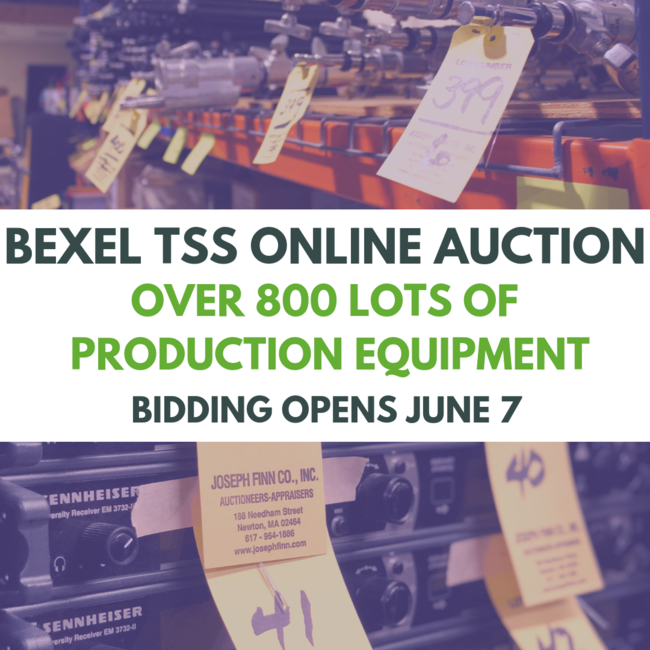 Bexel TSS, the equipment sales segment of Bexel, is holding a summer auction with over 800 lots of broadcast equipment ranging from HD cameras and lenses, audio, lighting, monitors, recorders, terminal gear, and more.

The online-only auction opens Friday, June 7, with bidding starting at 6am PT / 9am ET. Auction gear will be available for inspection June 10 and June 11 at the Bexel TSS facility in Burbank. Bidding ends Wednesday, June 12, with lots closing every minute starting at 8am PT / 11am ET.

To preview auction items, and to register to bid, visit: https://bexeltss.com/auctions/

A few items you can expect to bid on include:

• Canon Cinema EOS C300 MKII Camera
• Canon Cinema EOS C300 MK1 Camera
• Sony PDW-FS7 M1 Super 35 Camera
• Sony PMW-F5 CineAlta Digital Cinema Camera Package
• Canon EF Lenses: 16-35mm/ 50mm/ 24-70mm/ 70-200mm
• Panasonic BT-LH1710 LED HD Monitor
• Litepanels Astra LED Lights - 90 Day Warranty
• Litepanels Inca 12 Tungsten Fresnel Light - 90 Day Warranty
• ARRI 650W Plus Fresnel Tungsten Light 3-Light Kit
• ARRI Studio 5000 Light
• Cineroid FL-800-3S Flexible Bi-Color 3-Light Kit
• KinoFlo Diva-Lite LED 30 DMX
• RTS Zeus 3 Lite Matrix Intercoms - 90 Day Warranty
• RTS KP/RP Panels - 90 Day Warranty
• RTS BP-319 Beltpacks - 90 Day Warranty
• Clear-Com Tempest 2.4 Ghz System
• Grass Valley Zodiak Switcher
• Livestream Studio HD51 5 Input Semi-Portable Model w/SDI & HDMI Inputs
• Evertz HD2014 Multi-Path Video Converter Sync Decoder 4x Path 1RU
• Plus quantities of equipment from Sound Devices audio and video recorders, EV speakers, Cineroid light kits, Panasonic VTRs, and more.

For more information about the June 7 auction, visit https://bexeltss.com/auctions/.