industry news
The Latest Industry News for the Exciting World of Production.
Creative Handbook puts together a bi-monthly newsletter featuring up-to-date information on events, news and industry changes.
Add My Email
February 2, 2021
"Studio Wings flew their new AirBus H-125, equipped with a ShotOver F1, to film their own Bell 212 Eagle, flying as an Aerial Fire Ship, on the first Cross Over episode of Lone Star 9-1-1, The episode "Hold the Line" airs Monday, February 1st on FOX"
Whether your project calls for a single aerial POV shot or a Sortie of FA-18 Super Hornets, Studio Wings™ has the creative talent and aerial production expertise to consistently bring in spectacular dailies. From breathtaking aerial cinematography, shot by the finest DP's in the industry, to the choreography, coordination and piloting of the most extreme helicopter and airplane stunt sequences imaginable, Studio Wings™ will exceed your expectations every shot, every time. With more than 30 years experience and a perfect safety record, Studio Wings™ is the one stop destination for all aviation related filming requirements.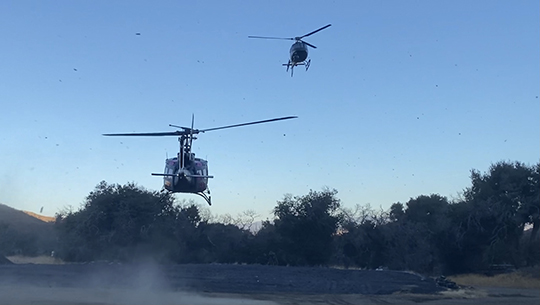 Studio Wings
(805) 320-9500 855
Aviation Dr. Camarillo, CA 93010
www.studiowings.com