industry news
The Latest Industry News for the Exciting World of Production.
Creative Handbook puts together a bi-monthly newsletter featuring up-to-date information on events, news and industry changes.
Add My Email
May 4, 2011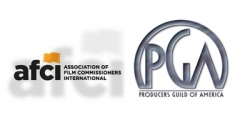 The Producers Guild of America's third annual Produced By Conference (PBC) continues to bolster the event's speaker line-up and confirm more exhibitor appearances at the jointly held Association of Film Commissioners International (AFCI) Locations show to be held at The Walt Disney Studios on June 3-5, 2011. The unique collaboration of the Produced By Conference along with AFCI Locations will bring together the producing field with an extensive number of domestic and international film commissions.

Reaching across film, television and new media industries, PBC is an educational forum that involves acclaimed producers, including countless Academy Award®-winning filmmakers and Emmy Award® winners, as well as the next generation of creative entrepreneurs. Chairman of NBC Entertainment Robert Greenblatt recently joined the stellar list of Hollywood notables scheduled to speak; along with producer, actor, director Morgan Freeman; "Sex and the City" creator and executive producer Darren Starr; Academy Award®-nominated producer, Larry Gordon; and producer, actor, director, writer Kevin Smith, among dozens of others. A programming guide and a full list of speakers and exhibitors can be found at: www.producedbyconference.com.

More than 200 exhibitor booths, representing film commissions from locations far and wide-from Buenos Aires to Panama to Morocco to Louisiana-will represent $2 billion in financing and incentives. There will be a special featured program at the conference this year called "On the Ground With...," a series of candid conversations between PGA Producers, Film Commissioners, which highlight producers' experiences while shooting 'on the ground' in a specific state or territory. Major corporate and industry sponsors will be participating in this year's event, including: General Motors, Westfield Property Group, Coca- Cola, Entertainment Partners, Cinedigm, Avid, Cast & Crew, Hertz Rentals, KOCCA, Scenios, Raleigh Studios, Creative Handbook, Baseline, PRG, Kodak, Heineken and many more.

Last year's sold out conference connected more than 1,100 producing professionals. Interested individuals can register online at www.producedbyconference.com.
Among the many topics to be discussed at the 2011 PBC are new media, global finance, producer/director collaboration, distribution, independent film, scripted television, reality television, digital content, brand identity and much more. Standout sessions and conversations on the current PBC 2011 program schedule include:

CONVERSATION: ROBERT GREENBLATT AND MARSHALL HERSKOVITZ
A one-on-one conversation with recently named Chairman of NBC Entertainment, Robert Greenblatt, about his vision for broadcast television, led by Emmy-winning® producer Marshall Herskovitz (LOVE AND OTHER DRUGS, BLOOD DIAMOND, "thirtysomething").

RAISING YOUR TENTPOLE: PRODUCING MOTION PICTURE FRANCHISES

A high-powered discussion with Kevin Feige (THOR, Captain America, Iron Man 1 - 2), Mark Johnson (The Chronicles of Narnia, Don't Be Afraid of the Dark, "Breaking Bad"), Gale Anne Hurd ("The Walking Dead," THE INCREDIBLE HULK, THE TERMINATOR Trilogy) and Lauren Shuler Donner (X-men Franchise, Free Willy I - III, The Secret Life of Bees) on creating and sustaining multi-part storytelling, moderated by Ian Bryce (Transformers 1 - 3, Spiderman, Saving Private Ryan). This session will be sponsored by General Motors.

NO EXCUSES: A Q&A WITH LARRY GORDON

Academy Award®-nominated producer Larry Gordon (DIE HARD, FIELD OF DREAMS, WATCHMEN) fields any and all questions from the audience for an interactive discussion on the producing craft. Gordon will discuss that with hard work and determination there is 'no excuse' to not get into this business.

CONVERSATION: ABC SHOWRUNNERS

Cynthia Littleton (Deputy Editor of Variety) moderates this conversation with producers Marc Cherry ("Desperate Housewives"), Damon Lindelof ("Lost"), Andrew Marlowe ("Castle") and Darren Starr ("Sex and the City," "Melrose Place," "Beverly Hills 90210") as they address developing and selling pilots, solving the casting puzzle, balancing the needs of a network and more.

CONVERSATION: MARK GORDON AND HARVEY WEINSTEIN

A conversation with Mark Gordon (Source Code, 2012, Saving Private Ryan, "Grey's Anatomy") and Harvey Weinstein (The King's Speech, Blue Valentine, Miral), moderated by John Hadity, President & CEO of Hadity & Associates, Inc. (Master Harold...and the Boys, Burning Blue) This session will be sponsored by Raleigh Studios.

CONVERSATION: "ON THE LOT" WITH DISNEY PRODUCERS

Moderated by Sean Bailey (President, Walt Disney Studios Motion Picture Production, TRON: Legacy, Gone Baby Gone, Matchstick Men), veterans of the Disney lot discuss their experiences, with an emphasis on the Studios' unique approach to development, production, marketing and distribution. Speakers include: Mark Ciardi (Secretariat, The Game Plan, The Rookie), Gordon Gray (Secretariat, The Game Plan, The Rookie), David Hoberman (The Fighter, The Proposal, 2011's The Muppets), Todd Lieberman (The Fighter, The Proposal, 2011's The Muppets) and Jim Whitaker ("Friday Night Lights," 8 Mile, American Gangster).

THE EVOLVING ROLE OF THE CREATIVE FILM PRODUCER

Moderated by Two-time Academy Award® Nominee, Richard Gladstein (Finding Neverland, The Cider House Rules, Pulp Fiction), Albert Berger (Election, Little Children, Little Miss Sunshine), Todd Black (The Pursuit of Happiness, Knowing, The Taking of Pelham 1 2 3), Donald De Line (GREEN LANTERN, I LOVE YOU, MAN, THE ITALIAN JOB), Steve Golin (Babel, Eternal Sunshine of the Spotless Mind, 50 First Dates) and Cathy Schulman (CRASH, DARFUR NOW, SALVATION BOULEVARD) discuss what it really means to be a creative film producer today-focusing on the multiple priorities, roles and responsibilities.

BLEEDING GREEN: CONTENT WITH A CAUSE

Joe Berlinger (Crude, Metallica: Some Kind of Monster) and Ricky Strauss (Waiting for 'Superman', Fair Game, The Beaver) address the burgeoning field of "green" content, focusing on the best methods of conceiving, developing, financing, producing, marketing and distributing projects with a green agenda.

CONVERSATION: MORGAN FREEMAN AND LORI MCCREARY

Academy Award® winner, Morgan Freeman along with his producing partner of 16 years, Lori McCreary ("Through the Wormhole," Invictus), discuss the nature of their creative partnership. Moderator will be David Picker (The Crucible, Lenny, The Jerk).

THE SKY'S THE LIMIT: ENTREPRENEURIAL MEDIA AND INDIE INNOVATORS

Moderated by Dana Harris (Editor-in-Chief of indieWIRE), a panel of entrepreneurial media-makers including Kevin Smith (Director/Writer, RED STATE, ZACK AND MIRI MAKE A PORNO; Creator, Smodcast), Adam Chapnick (CEO, Distribber.com), Charlie Corwin (CEO, Original Media LLC, Half Nelson, The Squid and the Whale, "LA Ink"), Jon Fougner (Principal, Product Marketing Monetization, Facebook) and Nolan Gallagher (Founder & CEO, Gravitas Ventures) consider the impact of emerging technologies, strategic marketing and new distribution models.

THE "REAL" DEAL: SELLING REALITY AND NON-FICTION TELEVISION

Hayma "Screech" Washington ("The Amazing Race") moderates a discussion on how reality and non-fiction television continues to grow. This session puts attendees in touch with networks and company execs out in the marketplace buying original reality and non-fiction programming.

UNLIMITED CHANNELS: DIGITAL CONTENT, BRAND IDENTITY, UNMINED RESOURCES

Paul Kontonis (VP & Group Director, Brand Content, The Third Act, Digitas), Jed A. Selkowitz (Director, Entertainment Marketing, The Coca-Cola Company), Justine Bateman ("Easy to Assemble," LEVEL 26) and Larry Tanz (President, Vuguru) offer guidance on navigating the unlimited channel environment. Moderator will be David Tochterman (Head, Digital Media, Innovative Artists).

SMALLER STORIES ON BIGGER SCREENS: PRODUCING THE MICRO-BUDGET FEATURE

Keri Putnam (Executive Director, Sundance Institute), John Sloss (Exit Through The Gift Shop, The Kids Are All Right, Inside Job) and Eli Roth (THE LAST EXORCISM, THE MAN WITH THE IRON FISTS, INGLORIOUS BASTERDS) discuss the secrets to making a successful film with $2M or less, moderated by Jason Blum (Paranormal Activity, Paranormal Activity 2, Insidious).

PRODUCING FOR THE "NEW TELEVISION"

Albert Cheng (EVP, Digital Media, Disney/ABC Television Group), Doug Craig (SVP, Digital and Home Entertainment, Discovery Communications) Kris Eber ("Disney Movie Surfers," "Muppet's Bohemian Rhapsody"), Jason Yim (President & Executive Creative Director, Trigger) and Tim Gibbons ("Curb Your Enthusiasm") address how storytellers working within new platforms can re-orient and redefine themselves, moderated by Chris Thomes (Executive Director, Digital Production & Programming, Saban Brands LLC).

WHY DIDN'T THEY BUY MY SHOW? (HOW A NETWORK REALLY WORKS)

An in-depth discussion, moderated by John Ziffren ("Greek," "10 Things I Hate About You," "The Larry Sanders Show"), about original programming development, branding, differentiation and strategies. Kate Juergens (ABC Family's EVP of Original Programming & Development) and her team reveal the inside story about how the original programming department of ABC Family really runs.

The PBC event is chaired by Marshall Herskovitz, Gale Anne Hurd and Rachel Klein.

*Media Credentials: All media interested in covering the 2011 Produced By Conference will need to complete and submit a Press Credential Application. Please email Brittany Geldmacher at Brittany.Geldmacher@42west.net to receive an application. While credentials are not guaranteed due to space limitations, PBC will do its best to grant them to as many outlets as possible.

About The Producers Guild of America

The Producers Guild of America is the non-profit trade group that represents, protects and promotes the interests of all members of the producing team in film, television and new media. The PGA has over 4,500 members who work together to protect and improve their careers, the industry and community by providing members with health benefits, employment opportunities, the creation of fair and impartial standards for the awarding of producing credits, as well as other education and advocacy efforts such as promoting sustainable production practices. Visit www.producersguild.org and www.pgagreen.org for more information.

About The Association of Film Commissioners International

The Association of Film Commissioners International (AFCI) is the official professional organization for film commissioners who assist film, television and video production throughout the world. It is a non-profit educational association whose members serve as city, county, state, regional, provincial or national film commissioners for their respective governmental jurisdictions. Visit http://www.afci.org/index.htm for more information.