industry news
The Latest Industry News for the Exciting World of Production.
Creative Handbook puts together a bi-monthly newsletter featuring up-to-date information on events, news and industry changes.
Add My Email
By: Branam Enterprises
| July 1, 2014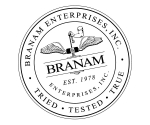 "Branam - Just returning from our incredible experience at Insomniacs' flagship festival EDC Las Vegas, 2014. We had the great opportunity to work once again with Jake Berry Productions, StageCo, PRG, Insomniac & Five Points Rigging in creating one of the world's largest stages. It was a visual masterpiece, viewed live by 300,000 screaming fans & streamed for millions worldwide. The massive production hosted the hottest EDM, DJs and talent in the world."

About Branam Enterprises
Custom theatrical rigging and rental. Flying is our specialty. We customize our flying systems to meet the unique requirements of each project.

For over 30 years, Branam Enterprises has provided quality, energy efficient and well-maintained equipment rentals and packages for the film, music, touring, convention, and event industries. Tell us what your budget is and we will work with your budget. Tell us what you want in a grip package for your unique job and we will meet your requirements. All our equipment is thoroughly serviced and inspected before it leaves our warehouse. For more info please visit:
www.branament.com/