industry news
The Latest Industry News for the Exciting World of Production.
Creative Handbook puts together a bi-monthly newsletter featuring up-to-date information on events, news and industry changes.
Add My Email
By: Los Angeles Post Production Group
| April 21, 2014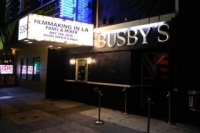 In an ongoing effort to bring and keep production in LA, the Los Angeles Post Production Group is teaming up with NewFilmmakers Los Angeles and FilmL.A. to provide an opportunity for filmmakers to become better informed about what the City of Los Angeles has to offer, how the permitting process works and what types of facilities are even available free of charge right here in the "Entertainment Capital of the World."

As FilmL.A. reported recently, last year California ranked fourth behind Louisiana, Canada and the United Kingdom in total live-action feature projects, total related film jobs and total related production spending.

"Considering California's vast filmmaking talent, the state should be exporting films for global audiences, not jobs to global competitors," said FilmL.A. President Paul Audley. "State policymakers have the opportunity to make a difference this year by expanding California's film and television tax credit. We hope they give the strongest possible signal to the film industry that they want to keep film jobs in California." The event will allow for filmmakers to network with one another and take part in an informative panel discussion moderated by Paul Audley, President of FilmL.A. and a panel of award-winning filmmakers who have successfully completed and distributed films shot in LA. Topics will include a discussion of their creative process, funding sources, how location affected budget, what tools they utilized in orchestrating the logistics of the production, and finally, their post process and how it may or may not have related to their on-set locations.

The brainchild of this event, Larry Laboe, Executive Director of NewFilmakers Los Angeles explains, "This is something that effects the entire filmmaking community in LA and especially emerging filmmakers who are seeking entry level opportunities in the industry."

LAPPG Founder Woody Woodhall welcomes partnering with NewFilmmakers Los Angeles and FilmL.A. on this event. "Each of our organizations share the same goal, to
reach out to our communities and encourage our filmmakers to let their representatives know how important keeping production and post production here in LA is to our livelihoods. Larry's idea to combine the strengths of each of our organizations to partner in this event was a stroke of genius to make members aware of the depth of the problem and for creating inventive and practical solutions to keep the work here in LA." This event is being widely supported by associations, local vendors and media outlets across Los Angeles and beyond including:

ABS Payroll, Atomos, Below the Line, Creative Handbook, FilmBreak, Hollywood Chamber of Commerce, IATSE Local 706 Make-up Artists and Hair Stylists Guild, Mercury Production Report, MovieMaker Magazine, Post Production Buyer's Guide, ProductionHUB, Robert Taylor Entertainment Insurance Worldwide, SAG-AFTRA, SAG Indie, We Make Movies, Women In Film.

Tickets and details for this event are available at https://filmmakinginla.eventbrite.com.



About the LAPPG:
The Los Angeles Post Production Group (LAPPG) is a professional organization/user group for those with an interest or passion for digital filmmaking and the post-production finishing process. The group was founded in 2008 and hosts monthly meetings with the industry's leading experts, professionals and companies. It is a thriving, creative and supportive networking community for members in Los Angeles and around the world and is expanding their reach through educational, networking and career-enhancing opportunities through the event platform "LAPPG Presents."
http://www.lappg.com
About FilmL.A.
FilmL.A. is Los Angeles' regional film office, serving the City and County of Los Angeles and an everincreasing roster of local municipalities. Providing streamlined permit processing, comprehensive community relations, marketing services, film policy analysis and more to these jurisdictions, FilmL.A. works to attract and retain film production in Greater Los Angeles. Learn more about FilmL.A. at
http://www.filmla.com.
About NewFilmmakers Los Angeles
NewFilmmakers Los Angeles (NFMLA) is a non-profit 501®3 organization providing the Los Angeles community of entertainment professionals and film goers with a constant surge of monthly screening events. NFMLA continues to provide a forum where filmmakers can be recognized for their contributions, have open audience discussions about their projects and connect with industry professionals for insight on distribution, production, acquisition and representation.
http://www.newfilmmakersla.com