Change Region
California
industry news
The Latest Industry News for the Exciting World of Production.
Creative Handbook puts together a bi-monthly newsletter featuring up-to-date information on events, news and industry changes.
Add My Email
By: Mailbox Toluca Lake
| January 31, 2014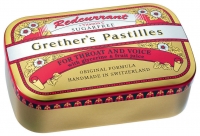 Pastille's Promo: Come to Toluca Lake, where we now stock top of the line throat remedies for professional voice users and anyone feeling a little under the weather!

Grether's Pastilles:
Throat-soothing and palate-pleasing, these candies date back to 1930, but they have many current fans, including President Clinton. Made with glycerin and vitamin C, they satisfy a sweet tooth, moisten a dry mouth, and can even ward off colds.

They contain a high quality glycerin which helps keep the mouth and throat moist, protected, and soothed. Agar-Agar (derived from dulse) lends the pastille their silky consistency while the natural extracts of fruit give Grether`s Pastilles their great taste. Before the pastilles are packaged into the classic gold Grethers tins, they must be allowed to ripen for three months.


Grether`s Pastilles are recommended for hoarseness, sore throats, croaky voice and dry mouth. People who have to use their voice a lot, e.g. through singing or extensive talking, benefit particularly from the calming, soothing and nourishing effect of Grether`s Pastilles. Available in Blackcurrant, Sugar-Free Blackcurrant, Sugar-Free Redcurrant and Sugar-Free Blueberry!
Entertainer's Secret:
Are you experiencing throat irritation? Do annoying allergies or other respiratory problems bring on those inevitable episodes of dry, sore throat and scratchy, hoarse voice? Do you spend a lot of time speaking, singing, lecturing, selling, teaching, presenting, cheering, telephoning, preaching, performing, announcing, or just talking...
If so, you've found the right product! Since you're judged by your voice, you owe it to your listeners and yourself to sound and feel your very best. Don't worry, throat relief can be found in Entertainer's Secret!
About Mailbox Toluca Lake:
Mailbox Toluca Lake offers professional notary as well as other services, conveniently located in Toluca Lake.
10153 1/2 Riverside Drive
Toluca Lake, CA 91602
www.mailboxtolucalake.com