industry news
The Latest Industry News for the Exciting World of Production.
Creative Handbook puts together a bi-monthly newsletter featuring up-to-date information on events, news and industry changes.
Add My Email
By: Eddie Paul
| February 9, 2012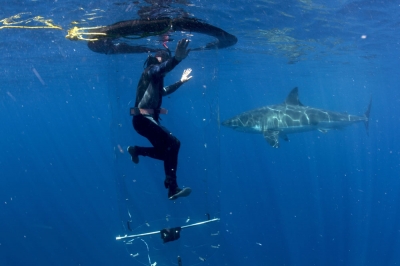 Eddie Paul just received his annual call from Jeff Kurr (of "Air Jaws" for Discover's Shark Week) and asked him to build a few more of his transparent tubular Lexan shark cages. Eddie has built several "clear or invisible" shark cages that enable divers to safely film the Great Whites without the camera picking up the bars that most other cages are made out of. Jeff has the highest rated show on Shark Week and when Jeff's life is on the line he does not go to the second best or the third best, and when it absolutely positively has to be done on time and done right he calls Eddie Paul. Eddie has built mechanical legs to be bitten, turtles to be eaten, and surfboards as well as seals to be digested by Great Whites over the last 15 years for Jeff.

About EP Industries:
Eddie Paul has been building Props and Special Effects for over 40 years and is the "Go-To" guy when it absolutely has to be done correctly and on time. He has built thousands of mechanical devices for feature films such as Grease, Streets of Fire, TAXI, Cobra, Dukes of Hazzard, the cars for Fast and Furious, 2Fast 2Furious, all the xXx GTO's, the full size running cars Lightning, Mater and Sally to promote the movie CARS. Eddie has even built Mechanical Sharks, fish, seals, turtles and snakes, props such as bombs, submarines, and other unexplained items used in films. Eddie Paul's list of credits would fill most books and can be found on his web site at epindustires.com. Or you can simply call him at (310) 322-8035 or on his cell at (310) 259-0542. Eddie will solve your problem just as he has for thousands of others.