industry news
The Latest Industry News for the Exciting World of Production.
Creative Handbook puts together a bi-monthly newsletter featuring up-to-date information on events, news and industry changes.
Add My Email
By: Hollywood Chamber of Commerce
| November 7, 2018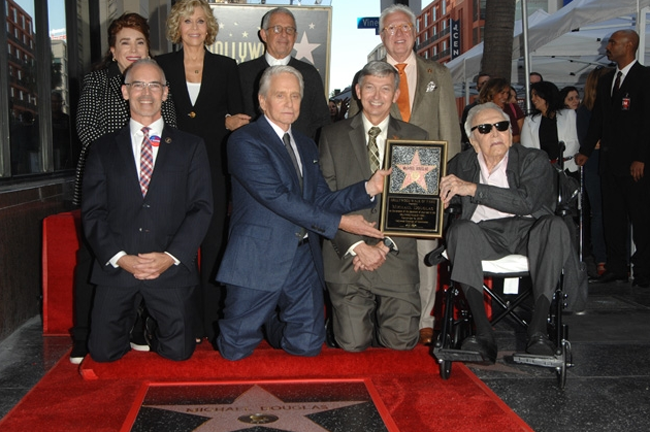 Hollywood Chamber of Commerce Honors Michael Douglas with a Star on the Hollywood Walk Of Fame

Academy Award® Winner Celebrated his 50th Anniversary in the Entertainment Business with Star Ceremony

Watch the complete ceremony as Michael Douglas unveils the Walk of Fame Star below.

The Hollywood Chamber of Commerce honored actor Michael Douglas today, Tuesday, November 6th with the 2,648th star on the Hollywood Walk of Fame, at 11:30 a.m. PST. The star was dedicated in the category of Motion Pictures at 6259 Hollywood Boulevard in front of 33 Taps.

"Michael Douglas is what legends are made of. He joins his legendary actor/father Kirk Douglas whose star and Michael's will forever shine just a few feet from one another," said Ana Martinez, Producer of the Hollywood Walk of Fame. "We have been patiently waiting for Michael Douglas to unveil his stellar award since he was selected in 2003 and are so excited to finally honor this Hollywood royal with a star on our historic Hollywood Walk of Fame."

Helping Emcee Leron Gubler, President & CEO of the Hollywood Chamber of Commerce to unveil the star were Jane Fonda and Ron Meyer, Vice Chairman, NBCUniversal. Also in attendance were the legendary actor Kirk Douglas, Cameron Douglas and actress Catherine Zeta Jones.

The Hollywood Chamber of Commerce which administers the popular star ceremonies encourages people who are unable to attend and fans around the world to watch the event exclusively on www.walkoffame.com.

An actor celebrating five decades in theatre, film and television, Michael Douglas is a double Academy Award winner, one as Best Actor for his iconic role as Gordon Gekko in "Wall Street" in 1978 and one as Producer of the 1975 much-acclaimed Oscar winning movie "One Flew Over the Cuckoo's Nest." Since then, as an actor-producer and producer, he has shown an uncanny knack for choosing projects that reflect changing trends and public concerns. Over the years, Douglas has been involved in such controversial and politically-influential motion pictures as "The China Syndrome" (1979), and "Traffic" (2000), as well as such popular films as "Romancing the Stone" (1984) and "Fatal Attraction" (1987).

Douglas will be starring in the new comedic series "The Kominsky Method," written by Al Higgins, David Javerbaum and Chuck Lorre, who also directed the first episode. Lorre, Higgins and Michael Douglas executive produce the series which is produced by Chuck Lorre Productions, Inc. in association with Warner Bros. Television. The series will be released on Netflix on November 16th.

The son of Kirk and Diana Douglas, Michael was born in New Jersey. He attended the elite preparatory Choate School and spent his summers with his father on movie sets. Although accepted at Yale, Douglas attended the University of California, Santa Barbara. After receiving his Bachelor of Arts in Drama in 1968, Douglas moved to New York City to continue his dramatic training, studying at the American Place Theatre with Wynn Handman and at the Neighborhood Playhouse, where he appeared in workshop productions of Luigi Pirandello's Six Characters in Search of an Author and Thornton Wilder's Happy Journey.

A few months after he arrived in New York, Douglas got his first big break when he was cast in the pivotal role of the free-spirited scientist who compromises his liberal views to accept a lucrative job with a high-tech chemical corporation in the CBS Playhouse production of Ellen M. Violett's drama, The Experiment, which was televised nationwide on February 25, 1969.

Douglas' convincing portrayal won him the leading role in the movie adaptation of John Weston's controversial novel, Hail, Hero! (1969), which was the initial project of CBS' newly-organized theatrical film production company, Cinema Center Films. His second feature, "Adam at 6 A.M." (1970) concerned a young man's search for his roots. Douglas next appeared in the film version of Ron Cowen's play Summertree (1971), produced by Kirk Douglas' Bryna Productions, and then "Napoleon and Samantha" (1972), a children's melodrama from the Walt Disney Productions.

Impressed by Douglas' performance in a segment of the popular television series "The F.B.I.," producer Quinn Martin signed the actor to the part of Karl Malden's sidekick in the police series The Streets of San Francisco, which premiered September of 1972 and became one of ABC's highest-rated prime-time programs in the mid-1970s. Douglas earned three successive Emmy Award nominations for his performance and he directed two episodes of the series.

During the annual breaks in the shooting schedule for The Streets of San Francisco, Douglas devoted most of his time to his film production company, Big Stick Productions, Ltd., which produced several short subjects in the early 1970s. Long interested in producing a film version of Ken Kesey's grimly humorous novel One Flew Over the Cuckoo's Nest, Douglas purchased the movie rights from his father. After a number of major motion picture studios turned him down, Douglas formed a partnership with Saul Zaentz, music executive and film producer, and the two set about recruiting the cast and crew.

A critical and commercial success, "One Flew Over the Cuckoo's Nest" won five Academy Awards®, including Best Picture, Best Director, Best Screenplay, Best Actor and Best Actress, and went on to gross more than $180 million at the box office. Douglas suddenly found himself in demand as an independent producer, and one of the many scripts submitted to him for consideration was Mike Gray's chilling account of the attempted cover-up of an accident at a nuclear power plant. Douglas teamed up with Jane Fonda and her own motion picture production company, IPC Films. A Michael Douglas-IPC Films co-production, "The China Syndrome" (1979) starred Jack Lemmon, Jane Fonda and Michael Douglas, and received Academy Award® nominations for Lemmon and Fonda as well as for Best Screenplay. The National Board of Review named the film one of the best films of the year.

Despite his success as a producer, Douglas resumed his acting career in the late 1970s, starring in Michael Crichton's medical thriller "Coma," (1978); Claudia Weill's feminist comedy "It's My Turn" (1980), "The Star Chamber" (1983). Douglas also starred in "Running and A Chorus Line(1985).

Douglas' career as an actor/producer came together again in 1984 with the release of the tongue-in-cheek romantic fantasy "Romancing the Stone" and the successful sequel "The Jewel of the Nile," (1985), and "Starman" (1984) which earned an Oscar® nomination for Best Actor for Jeff Bridges.

Douglas returned to the screen in 1987 appearing in two of the year's biggest hits. He starred opposite Glenn Close in the phenomenally successful psychological thriller, "Fatal Attraction," which was followed by his performance as ruthless corporate raider Gordon Gekko in Oliver Stone's "Wall Street," earning him the Academy Award® for Best Actor.

His other films include: "Black Rain," "The War of the Roses," "Flatliners" "Radio Flyer" and "Shining Through," In 1992, he starred with Sharon Stone in the erotic thriller from Paul Verhoeven "Basic Instinct," one of the year's top grossing films. He continued on with the films, "Falling Down," "Made in America," "Disclosure," "The American President" "The Game," "The Ghost and the Darkness," "The Rainmaker," "Face/Off," "A Perfect Murder," "Wonder Boys" "One Night at McCool's" "Don't Say A Word, "The Sentinel" "You, Me and Dupree," "King of California," "Beyond A Reasonable Doubt" "Ghosts of Girlfriend's Past," "The In-Laws," "Traffic" and "Solitary Man" In 2010, Douglas starred in "Wall Street: Money Never Sleeps" reprising his Oscar-winning role as Gordon Gekko, and once again was nominated for a Golden Globe for his performance.

Douglas, along with his father Kirk, filmed the intimate HBO documentary A Father, A Son... Once Upon a Time in Hollywood. Directed by award-winning filmmaker Lee Grant, the documentary examines the professional and personal lives of both men, and the impacts they each have made on the motion picture industry.

Douglas portrayed the musical icon Liberace "Behind the Candelabra," which was directed by Steven Soderbergh and co-starring Matt Damon. Premiered on HBO in May 2013, Douglas won an Emmy, Golden Globe and SAG Award as Best Actor in a Television movie or mini-series for his performance as the famed entertainer.

He followed with the buddy comedy "Last Vegas," (2013) directed by John Turtletaub and co-starring Robert DeNiro, Morgan Freeman and Kevin Kline, and the romantic comedy "And So It Goes" (2014), co-starring Diane Keaton directed by Rob Reiner.

Douglas most recently starred in and produced the thriller "Beyond The Reach" (2014). In 2015 he also began the successful Marvel series of Ant Man movies where he portrays Dr. Hank Pym in Marvel's "Ant Man" and "Ant Man and the Wasp" starring opposite Paul Rudd (2015). These films were his first venture into the realm of comic book action adventure.

Douglas was recipient of the 2009 AFI Lifetime Achievement as well as the Producers Guild Award that year. In 2010, he received the New York Film Society's Charlie Chaplin Award. In 2011, Douglas was awarded the "Chevaliers of the Ordre des Arts et des Lettres" by then Frédéric Mitterrand, Minister of Culture and Communication of France. He was the recipient of two Honorary César awards in 1998 and 2016, becoming the only American to be given this honor twice.

Over the years Douglas has been an example of how Hollywood can be philanthropic and take care of its own. He has hosted 11 years of "Michael Douglas and Friends" Celebrity Golf Event which has raised over $10-millions for the Motion Picture and Television Fund and in 1998, Douglas was made a United Nations Messenger of Peace by Kofi Annan. His main concentrations are nuclear non-proliferation and the control of small arms.


HOLLYWOOD CHAMBER OF COMMERCE

For more than 97 years, the Hollywood Chamber of Commerce has provided leadership, business development resources, networking, and government affairs programs and services to keep the Hollywood business and residential communities safe, relevant and economically vital. Donelle Dadigan, is the Chair of the Hollywood Chamber of Commerce Board of Directors 2018-19, and Leron Gubler is the President/CEO of the Hollywood Chamber of Commerce. For more information please visit www.hollywoodchamber.net.