industry news
The Latest Industry News for the Exciting World of Production.
Creative Handbook puts together a bi-monthly newsletter featuring up-to-date information on events, news and industry changes.
Add My Email
By: DENVER FILM FESTIVAL
| October 25, 2018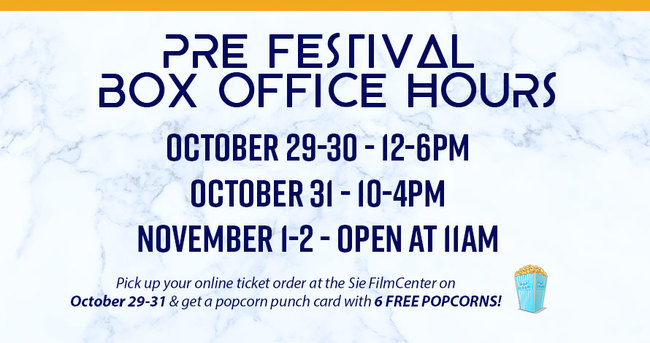 DFF41 will have more than 150 filmmakers and content creators in attendance-including directors Jason Reitman, Peter Hedges, and Brady Corbet.



The Denver Film Festival (DFF), produced by Denver Film Society (DFS), announced today the list of filmmakers attending DFF41. More than 150 filmmakers and content creators from across the globe will be in attendance to showcase their work and converse with Denver audiences.

"An important aspect of the Denver Film Festival is the ability for audiences to interact with filmmakers and creatives at every level," said Festival Director, Britta Erickson. "From first-time directors to accomplished professionals, the shared experience of discussing films still remains at the heart of this 41 year old Festival. Over the course of the next two weeks, directors, actors, cinematographers, writers, editors, and content creators for both new television series' and virtual reality, will descend on Denver to share their creative voices with the film-loving community that continues to grow and expand throughout the Front Range."

Individual tickets are currently on sale. Tickets will be available for purchase online at www.denverfilm.org or the DFF41 main box office location at the Sie FilmCenter (2510 E. Colfax Ave., Denver, CO 80206).


Feature Filmmakers Attending
AFGHAN CYCLES
- Director: Sarah Menzies
Producer: Jenny Nichols
Producer: Shannon Galpin
ALL SOUNDS CONSIDERED
/ Director: Goran Vejvoda
Director: Florence Müller
THE ARK OF DISPERATA
/ Director: Edoardo Winspeare
AS NEEDED (QUANTO BASTA)
/ Director: Francesco Falaschi
BACK HOME
/ Director: Magdalena Lazarkiewicz
BATHTUBS OVER BROADWAY
/ Director: Dava Whisenant
BEHIND THE CURVE
/ Director: Daniel Clark
Producer: Caroline Clark
BEN IS BACK
/ Director: Peter Hedges
BIRDS WITHOUT FEATHERS
/ Director/Actor: Wendy McColm
BREAKING THE BEE
/ Director: Sam Rega
Producer: Chris Weller
BUDAPEST NOIR
/ Director: Eva Gardos
THE BUTLER
/ Director: Filip Bajon
Producer: Olga Bieniek
Producer: Marlena Krenska
CAM
/ Director: Daniel Goldhaber
Writer: Isa Mazzei
CHAINED FOR LIFE
/ Cinematographer: Adam J. Minnick
CONVENTION
/ Director: AJ Schnack
Producer: Britta Erickson
Subject: Colorado Governor, John Hickenlooper
Subject: Gregory Moore
DAUGHTER OF MINE (FIGLIA MIA)
/ Director: Laura Bispuri
FALSE CONFESSIONS
/ Subject: Jane Byrialsen
Subject: David Fisher
Subject: Kaitlin Nares
FRIDAY'S CHILD
/ Producer: Christian Sosa
THE FRONT RUNNER
/ Writer/Director: Jason Reitman
Co-Writer: Jay Carson
Co-Writer: Matt Bai
GHOSTBOX COWBOY
/ Director: John Maringouin
Producer: Molly Lynch
Editor/Producer: Sean Gillane
HELL IS WHERE THE HOME IS
/ Director: Orson Oblowitz
IN A RELATIONSHIP
/ Director: Sam Boyd
Actor: Dree Hemingway
Producer: Jorge Garcia Castro
Executive Producer: Will Shapiro
Executive Producer: Sergio Cortes
Executive Producer: Andres Icaza
INDUSTRIAL ACCIDENT: THE STORY OF WAX TRAX! RECORDS
/ Director: Julia Nash
Writer: Mark Skillicorn
Subject: Jello Biafra
Subject: Al Jourgensen
Subject: Franke Nardiollo
Subject: Liz Walton
JOE BOB BRIGGS: HOW REDNECKS SAVED HOLLYWOOD
/ Subject: Joe Bob Briggs
LADYWORLD
/ Director: Amanda Kramer
Co-Editor/Production Designer: Noel Taylor
MEOW WOLF: ORIGIN STORY
/ Director: Morgan Capps
Editor: Alessandra Dobrin Khalsa
METAMORPHOSIS
/ Writer/Director: Velcrow Ripper
MR. SOUL!
/ Writer/Director: Melissa Haizlip
NETIZEN
/ Director: Cynthia Lowen
PERFECT
/ Producer: Javier Lovato
PHANTOM COWBOYS
/ Director: Daniel Carbone
Cinematographer: Ryan Scafuro
POSTCARDS FROM THE 48%
/ Director: David Wilkinson
THE RESCUE LIST
/ Director: Alyssa Fedele
Editor/Producer: Davis Coombe
ROLL RED ROLL
/ Director: Nancy Schwartzman
SeriesFest Alumni Screening: Director/Co-Creator: Shannon Goldman
Writer/Co-Creator: Tony Spiridakis
Actor: Rob Hancock
Stan Brakhage Vision Award Recipient / Director: Barbara Hammer
THIS CHANGES EVERYTHING
/ Director: Tom Donahue
ULAM: MAIN DISH
/ Director: Allie Cuerdo
Producer: John Floresca
UNITED SKATES
/ Producer: Tiffany Fisher-Love
VOX LUX
/ Director: Brady Corbet
WE ARE COLUMBINE
/ Director: Laura Farber
Executive Producer: Wes Van Der Voort
Subject: Gus D'Arthenay
WE ARE NOT DONE YET
/ Producer: David Holbrooke
Co-Producer: Patti Bonnet
Subject: April Harris
Subject: Valerie Stemac
THE WEIGHT OF WATER
/ Director: Michael Brown
Producer: Julia Buonanno
Subject: Erik Weihenmayer
WHEN LAMBS BECOME LIONS
/ Director: Jon Kasbe
THE WORLD BEFORE YOUR FEET
/ Director: Jeremy Workman
Subject: Matt Green
WRESTLE
/ Director: Suzannah Herbert
Director: Lauren Belfer
Shorts Filmmakers Attending
A PIECE OF TRAGEDY
/ Writer/Director: Laura Garcia
APPLIED PRESSURE
/ Director: Kelly Sears
THE BEANING
/ Writer/Director: Sean McCoy
Production Manager: Shayna Weingast
BREACH
/ Director: Lorenzo Monti
BRIFFAUT - FEELING GOOD
(Music Video) / Director: J.D. Gonzales
Producer: Lizzie Costello
CARRIER
/ Director: Shawna Schultz
CATTLE
/ Director: Kerinne Jenkins
COME ON MANDY
/ Director: Joshua Wilmott
Producer: Rachel Walker
DAYDREAMS OF DENNIS BAKER
/ Director: Kevin Hu
Actor: Marty Lindsey
DOTS
/ Director: Eryk Lenartowicz
DOWN TIME - NO SENTIMENT
(Music Video) / Director: Joseph Kolean
Director: Zach Gutierrez
EVERYTHING CHANGES
/ Director: Geoff Marslett
FOR GEORGE ON HIS 30TH BIRTHDAY
/ Director Ursula Kay Ellis
Producer: Emerson Nosek
Producer: Ben Gojer
GO DEBBIE
/ Director: Jane Wells
GUION
/ Director: Ben "Sagi" Kahane-Rapport
HANDS OF A WOMAN (MANOS DE UNA MUJER)
/ Director: Briana S. Burciaga
HELP WANTED
/ Director: Patrick Hackett
I AM MY OWN MOTHER
/ Writer/Director: Andrew Zox
Producer: Kim Parker
INDIGENOUS ROBOT
- RAYGUN (Music Video) / Director: Elyse South
ITAL TEK - BLOOD RAIN
(Music Video) / Director: Adam Chitayat
Cinematographer: Tom Atwell
ITCHY-O - BLACK MIST
(Music Video) / Director/Animator/Editor: AJ Koch
Director: Will Kingston
JIM'S CAMELOT
/ Director: Jim Falbaum
Producer: Kemerton Hargrove
Producer: Landon Miller
THE LAST HONEY HUNTER
/ Director: Ben Knight
THE LINDEN TREE (DER LINDENBAUM)
/ Director: Arkesh Ajay
LUTHIER
/ Writer/Director: Tim Stevenson
Writer/Director: Tom Stevenson
NATHANIEL RATELIFF AND THE NIGHT SWEATS - YOU WORRY ME
(Music Video) / Director: Will Sampson
Editor: Brian Barrow
PALM TREES AND POWER LINES
/ Director: Jamie Dack
Cinematographer: Alejandro Miyashiro
Actor: Alyssa Latson
RELATIVE DUPLICITY
/ Director: Stephen Morgan
RGB NIGHTMARE
/ Director: Dario Ortega
RUBBER DOLPHIN
/ Director: Ori Aharon
SCATTER GATHER - SPRING
(Music Video) / Director: Zachary J Antonio
Director: Mitch Pond
STRAWBERRY MILK
/ Director: Kimberly Greenwell
TANGLES & KNOTS
/ Producer: Yingna Lu
TEARDOWN
/ Director: Kate Hinshaw
TIME CAPSULE
/ Director: Branson Laszlo
Virtual Reality & Immersive Content Creators Attending
DINNER PARTY
/ Producer: Jake Sally
FIRE ESCAPE
/ Creator: Navid Khonsari
Creator: Andres Perez-Duarte
HAMLET-MOBILE
/ Producer: Monica Miklas
Writer/Director: Lauren Ludwig
Actor: Frank Smith IV
Actor: Lizzie Prestel
Stage Manager: Marielle Woods
SPHERES
/ Eliza McNitt
THE WILLOWS
/ Producer/Cinematographer: Ernest Lee
Producer/Technical Director: Eric Krueger
Enjoy DFF41 in a whole new way by becoming a Member. Memberships begin at just $65 and allow you to purchase DFF41 tickets at a member discount. No matter what membership level you choose to join DFS, your contributions will be appreciated and make a difference. For more information on membership please visit:
denverfilm.org/membership
To experience DFF41 as an insider, join the DFS Leadership Circle for exclusive Festival access. Please visit:
denverfilm.org/membership
for a breakdown of levels and benefits. In addition, please contact Suzanne Yuzer at
suzanne@denverfilm.org
or 303-595-3456 ext. 223 to purchase a Leadership Circle Membership.
Press accreditation is now closed. Please contact the PR team for additional information.
To keep up to date with DFF41 on social media: like the DFF Facebook (
Facebook.com/DenverFilmFestival
) page, follow @DenverFilm on Twitter, @DenverFilmSociety on Instagram, and join the conversation by using the hashtag: #DFF41.