Change Region
California
industry news
The Latest Industry News for the Exciting World of Production.
Creative Handbook puts together a bi-monthly newsletter featuring up-to-date information on events, news and industry changes.
Add My Email
By: Lowepro | Vitec Group
| September 19, 2018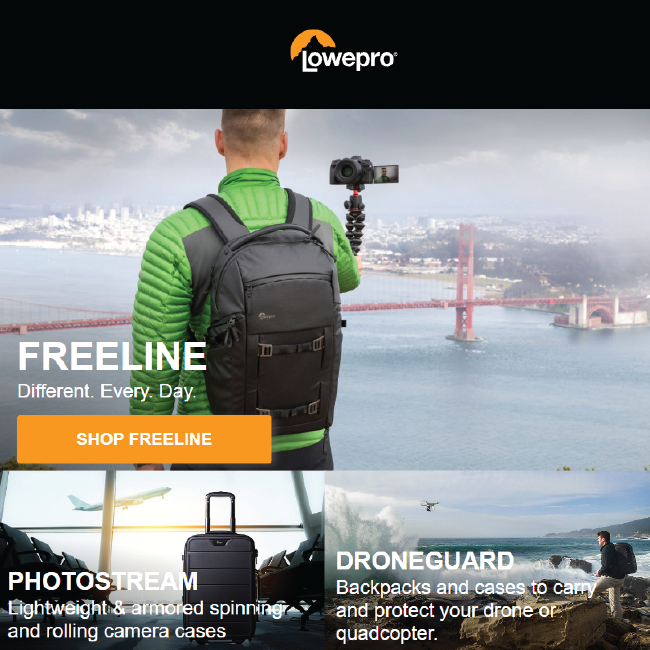 Lowepro's worldwide #1 selling professional camera bag series, ProTactic, has been enhanced for better organization, access and protection with expanded modular system and accessories.
Lowepro
, a company with a 50-year reputation in creating protective gear-carrying solutions for image makers, today announced the second generation of their worldwide #1 selling ProTactic Collection. The high-performance, tactical-inspired collection has been redesigned for better organization, access and protection, while staying true to the ProTactic promise of rugged versatility and armored protection. The new line offers the
BP 350 AW II
and
BP 450 AW II
enhanced backpacks plus an expanded modular system and accessories.
Featured ProTactic Technology
+ 4-Point Access: Molded, turret-loading top, quick-grab from both sides, and full, back entry for set-up and security.
+ FormShell™: Lightweight yet sturdy, composite-shell construction delivers superior impact protection.
+ SlipLock™: System of compatible loops and tabs make it easy to add pouches and cases to larger bags so you can easily bring along water bottles, memory cards and more.
+ CradleFit™ Laptop Storage: Cleverly constructed compartment suspends and safeguards laptop in backpacks.
+ ActivZone™: Delivers targeted support at shoulder blades, lumbar and waist for comfort on the move. Structured back panel allows for ventilation with integrated trolley strap.
+ All Weather AW Cover™: a raincoat for your gear, our patented cover fits snugly over a bag and can be folded away when not needed. An innovative way to protect against rain, snow, dust and sand.
"In designing carrying solutions, we always listen closely to what our image makers are telling us," explains Tim Grimmer, Senior Director of Product for Lowepro. "They are seeking increased versatility, organization, and accessibility with the performance and protection ProTactic is known for. We're excited to offer this enhanced line-up featuring more adaptive interiors, always-ready access and a great collection of exterior attachments and accessories."
The updated ProTactic collection includes:
Backpacks:
The exceptionally adaptive second generation of our high-performance ProTactic backpacks, the BP 350 AW II and BP 450 AW II offer a more adaptive interior, multiple access points, modular exterior attachment capabilities and convertible utility belts. Both models include utility pouch, water bottle holder, tripod cup and two Quick Straps.
+
ProTactic BP 350 AW II
- Fits 1-2 standard DSLRs, one with 24-70mm f/2.8 lens attached, up to 8 lenses/speed lights, small drone such as a DJI Mavic, gimbals like DJI Osmo, 360 camera, 13" laptop and small accessories
+
ProTactic BP 450 AW II
- Fits 1-2 Pro DSLRs, one with a 70-200mm f/2.8 lens attached, up to 8 lenses/speedlights, small drone such as a DJI Mavic, gimbals like DJI Osmo, 360 camera, 15" laptop and small accessories.
Lens Cases:
Purpose-built lens cases allow you to change out a lens with one hand. Dual-compartment design expands to temporarily hold 2 lenses during exchange. Cases feature SlipLock compatible attachment tabs, all Weather AW Cover, easy-grip main handle, neoprene side pocket for lens or body caps and removable/adjustable shoulder strap.
+
ProTactic Lens Exchange 100 AW
- Fits a standard and ultra-wide zoom lens.
+
ProTactic Lens Exchange 200 AW
- Fits up to a 70-200mm f/2.8 lens.
Utility Bags:
All-purpose bags designed to provide versatile storage space for photo and video gear. Featuring padded removable interior divider, SlipLock compatible tab and All Weather AW Cover.
+
ProTactic Utility Bag 100 AW
- Fits full frame body with portrait grip, binoculars, batteries, flash units or small drone such as DJI Mavic Air with controller.
+
ProTactic Utility Bag 200 AW
- Fits gimbals such as DJI Osmo, speedlights or shotgun microphone.
Additional ProTactic Accessories:
+
ProTactic Bottle Pouch
- Securely holds up to 1L water bottles and canteens while keeping liquids insulated. Features stretchable padded insulated construction, drawstring toggle and closure and SlipLock compatible tab.
+
ProTactic Phone Pouch
- Keep your communications handy with this simple and secure zip pouch. Mounts on ProTactic backpack harness, waist belt or on pack body for easy access. Features SlipLock compatible tab. Fits up to Plus size Apple or Android phone.
+
ProTactic Utility Belt
- Designed to operate during a variety of missions, this belt is constructed for sturdy utility carry. Reinforced "duty" belt distributes weight evenly and keeps gear close at hand. Adjusts to fit 29" - 40" waists. Holds up to 16 SlipLock compatible accessories when adjusted to 40".
+
ProTactic Quick Straps
- Quick attach, quick release adjustable straps securely clip into any SlipLock attachment point. Includes two 1-inch webbing strap assemblies. Adjusts from 5 to 13.5 inches.
The Lowepro ProTactic BP 350 AW II Backpack and BP 450 AW II are available now at
Lowepro.com
and at select Authorized Lowepro dealers. Lowepro ProTactic Lens Exchange, Utility Bags, and other accessories will be available early October.
About Lowepro
The trusted original in gear protection,
Lowepro
specialized backpacks, cases and camera bags have been an essential part of countless adventures through every climate and condition over the past 50 years. Our revolutionary designs continually change the way photographers, videographers and content creators protect and organize their equipment.
About Vitec Imaging Solutions
Vitec Imaging Solutions
is a division of the
Vitec Group
, an international group principally serving customers in the broadcast and photographic markets. Vitec Imaging Solutions designs, manufactures and distributes premium branded photographic and video equipment such as tripods, bags, filters and lights for professional and hobbyist photographers. Our portfolio includes seven premium brands - Manfrotto, Gitzo, JOBY, Colorama, Lastolite, Avenger and Lowepro positioning Vitec Imaging Solutions as the leading global provider of accessories within the fast growing photo and video markets. Vitec Imaging Solutions brands are exclusively distributed in the United States through its owned platform: Vitec Imaging Distribution, 10 Mountainview Road Ste 320S, Upper Saddle River, NJ 07458.