industry news
The Latest Industry News for the Exciting World of Production.
Creative Handbook puts together a bi-monthly newsletter featuring up-to-date information on events, news and industry changes.
Add My Email
By: Geoffrey S. McNeil
| Jan 10,2012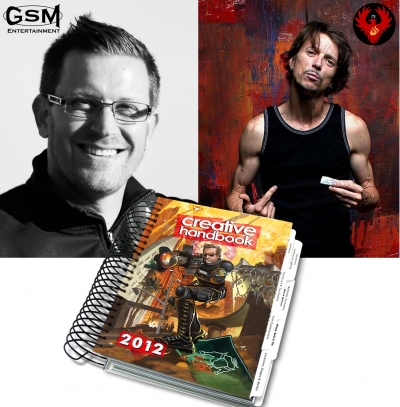 Creative Handbook Cover Art: Guerrilla Film Warrior
Artist: Mear One
Director: Geoffrey S. McNeil

"The important battles of today are not fought on battlefields, but in the media and the entertainment business over people's minds & souls."

Geoffrey S. McNeil & Mear One grew up in the streets of Los Angeles and Hollywood amidst the various peoples, subcultures, and progressive music & art movements. They followed their respective career paths to meet again years later and began collaborating on several creative projects, including a Music Video, Art Show TV Pilot, & various Film Concepts. Geoffrey's company GSM Entertainment has worked with Creative Handbook for several years, and developed the concept for the 2012 edition cover art. Geoffrey enlisted Mear to bring to life a vision about the commitment to the craft of filmmaking in the face of adversity and even at the moment of Apocalypse.

Geoffrey S. McNeil
Director/Producer

Geoffrey S. McNeil, Founder of GSM Entertainment, is a product of NYU's Tisch School of the Arts Film School. Over the past 12 years as Executive Producer of GSM Entertainment, Geoffrey has traveled the world directing and producing over eighty professional projects, including: Commercials, Television Segments & Pilots, Music Videos, Documentaries, Promos, Motion Graphics Animations, and Concert DVD's. His work has been seen on NBC, MTV, Horror Channel (UK), Much Music, Music Video Heaven, and New Zealand on Air. He has won numerous Aegis and Telly Awards, and several of his DVD productions have been distributed internationally. With a focus on artistry, innovation, and evolving technologies, Geoffrey produces projects with world famous musicians, record labels, film & TV production companies, advertising agencies, international organizations, as well as major corporate brands like Playboy Energy Drink, Guitar Center, DW Drums, and Pioneer Electronics. In 2011, Geoffrey was selected by Sony Professional Video to be a 'Featured Director' on their website Videon.

For more info visit: www.gsmentertainment.com

Mear One
Artist

Mear One (aka Kalen Ockerman) began his career in 1986 as a graffiti artist in Los Angeles. He has been labeled "The Michelangelo of Graffiti" and "The Salvador Dali of Hip-Hop." By the early 1990's, he had established a large fan base through his notorious work on the streets, underground hip-hop album covers, and his involvement in pioneering street wear clothing. In 1993, he began his transition from street graffiti to canvas paintings, and began his first body of acrylic and airbrushed paintings. Mear One performed live art painting at the L.A. Art Show, Volta 6 Art Fair in Basel, Switzerland, and the Coachella Valley Music Festival, where he was voted one of the "Most Interesting People To See at Coachella" by L.A. Weekly.
He has been featured in Urb Magazine, acknowledged by the Rock and Roll Hall of Fame, and selected for Guernseys Graffiti Art: The Auction. In 2011, Mear One was showcased in two critically acclaimed museum exhibitions, Art in the Streets at the Los Angeles MOCA, and Street Cred at the Pasadena Museum of California Art. His work has been described as "urban psychedelic surreal," inspired by ancient technology, science, philosophy, mythology and mysticism, along with political and cultural revolution, and notions of the apocalypse.
For more info visit: www.mearone.com