industry news
The Latest Industry News for the Exciting World of Production.
Creative Handbook puts together a bi-monthly newsletter featuring up-to-date information on events, news and industry changes.
Add My Email
By: PACKAIR
| August 14, 2018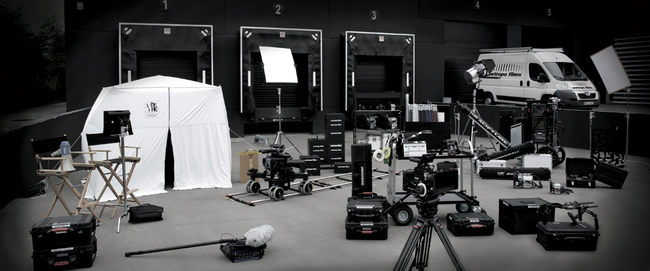 Delivering A-to-Z in movie production logistics and film shipping services, Packair can provide everything you need to get your production gear from A to Z for film or video production:

• Logistics Planning - Diligently planning the most time effective and cost-efficient routing of movie props, food catering, camera equipment and film dailies.
• Freight Forwarding - Arranging and tracking each cargo shipment whether by air, ocean or ground freight transport so you can rest assured that your precious cargo will be safely and securely transported every step of the way.
• Import Customs Clearance - Our in-house customs brokers may process all documentation needed for temporary or permanent import of goods.
• ATA Carnet - We are licensed by US authorities to issue Carnets. Don't delay, Carnet the Packair way!
• Air Charter - We will arrange for the transport of your people as well as your freight.
• Cargo Insurance - Packair offers cargo insurance protections that go way beyond standard corporate or cargo insurance policies so that your valuable film production equipment is protected against every possible risk.

Packair's premium freight services include commodity export licensing, consular licensing, and dangerous goods declarations, all of which Packair is the industry leader in servicing. Without the proper documentation and licensing, film making becomes much more complicated as well as could also indicate that the movie can easily not be actually made.

When transporting rented film props that are not intended for re-sale, an ATA Carnet may be utilized to save on duties. Packair is the premier ATA Carnet Service Provider and can secure your ATA Carnet within the same day, as a part of Packair's Same Day ATA Carnet Service.



Packair has been servicing the film and television industries with industry-leading gold standard freight management services as a logistics extension to producers and shipping managers who expect safe and secure transport of set materials, theatrical film props, camera and lighting equipment, AV tech, costumes, makeup, and vehicles to any venue or location.
Since 1973
, Packair has been servicing major and independent production studios with transportation logistics for equipment, lighting, camera, sound, vehicles, film props, costumes, makeup, and return of rentals. We understand your needs, provide you with the optimal logistics plan, and advise you on best strategies tailored to your exact requirements. No matter how complex your shipping needs, Packair's team of experienced specialists will provide timely and secure transport.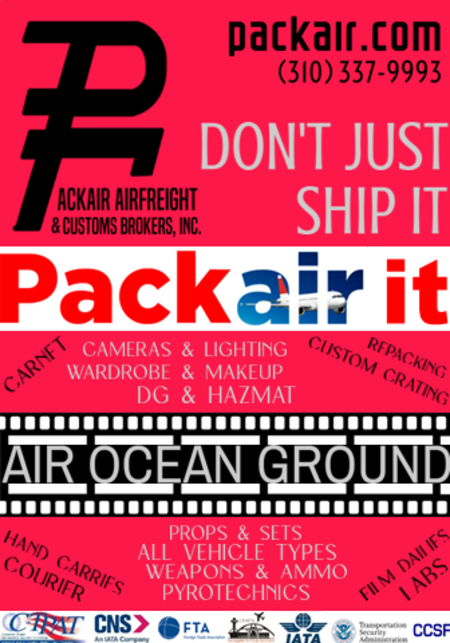 From A-Z, Packair is alongside your Production Manager. From the beginning of film location scouting to providing time-sensitive services, Packair is committed to service excellence, dedicated to providing you with the best options in transporting your precious cargo promptly and securely.
Ship with the middle man,
expect delays and surprises.
Ship with Packair,

receive cargo on-time, no surprises.

Rated best in service and communication, we take pride in serving you and providing successful transport of your precious cargo. Packair's licensed and certified packing and crating experts, along with our TSA Certified Cargo Screening Facility (

CCSF

) make Packair the easy choice to handle A-Z under one roof. For the most fragile, to the rare one-of's, to the

oversize or high-value

, Packair provides safe and secure transport, every time.

Packair regularly moves technical equipment, audio and visual, entire film sets, camera and lens rentals recoveries and returns, crew and staff charters,

custom crating and repacking

, costumes and makeup for pre-production fittings and dailies for shoots,

film dailies

- film reels or hard drives - and white-glove deliveries for precious high value items. Whether you need temporary export and import via

ATA Carnet service

,

customs clearance

, documentation, or permission for special items, Packair coordinates and arranges A-Z with dedicated and assured clarity of communication with you, tailored to your requirements, so you can focus on your production.

Packair's specialty is understanding your requirements and making it happen. Packair can literally

ship anything, anywhere

. Every shipment is unique, and Packair brings all our experienced and dedicated knowledge to provide the optimal transport, carefully strategized to meet your exact requirements. From large international shipments, to ensuring timely daily

hot rushes

, each of your needs matter and our experienced staff will advise you on your best options tailored to your shipping requirements.

Whether you are working on a blockbuster film production, or a tightly budgeted commercial, Packair's approach makes sure all your requirements are serviced. Call (310) 337-9993 today to learn more! Or visit us for a free quote request now via

https://www.packair.com/rate-inquiry/Skip the middle man, ship with the source!

Don't just ship it, Packair it!




Creative Handbook
10152 Riverside Drive
Toluca Lake, CA 91602
© 2019 Creative Handbook
•
Last Updated Thursday, December 12th, 2019 at 04:49 pm