industry news
The Latest Industry News for the Exciting World of Production.
Creative Handbook puts together a bi-monthly newsletter featuring up-to-date information on events, news and industry changes.
Add My Email
By: Matthews Studio Equipment
| June 22, 2018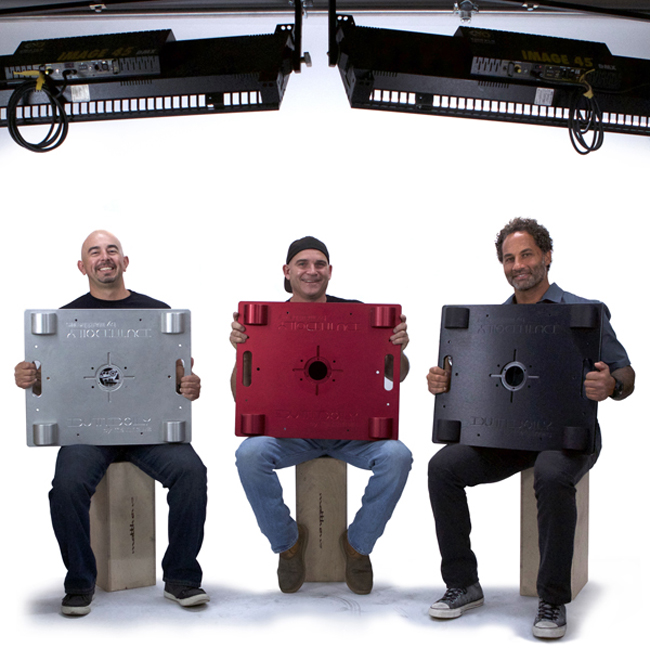 Burbank, CA. Matthews Studio Equipment recently finished another production run of their Dutti Dolly - and they are flying off the shelves. First out the door are new black dollies for key grips Michael Pizzuto (Secrets and Lies, The Goldbergs, Matador, Vegas) of Bullet Proof Grips, Seth Greenwald (Glow, Ray Donovan, House of Lies, The Last Man on Earth) and Adrian "Ace" Dominguez (Speechless, NCIS, Ray Donovan)), and for creator, Dolly Grip, James Saldutti.

"Since its debut in April, we have sold dollies to a wide variety of cinematographers, videographers, camera operators and rental houses, and now most recently a bunch of well-known local 80 union grips," says Tyler Phillips, Vice President Product Development and Marketing for MSE. "Until now most of them have been renting their gear, but with its proven performance and reliability, Dutti Dolly has become a necessary part of their production package.

"They especially love the wide variety of affordable track options available that they buy at any local home improvement store, whether it is right-angle aluminum, square stock or even pipe," he adds. "And, they love that we can customize it to their needs and color preference. Just the other day, I had a call from a local grip who needed a specific hole pattern in the base plate. No problem - we drew it up, and machined it on our 4-axis CNC -it went out immediately."

"Recently we needed to do a shot over two set walls, spanning 14-feet," explains Pizzuto. "Our first option was to use a Technocrane, which is very expensive. Instead, we purchased a Dutti Dolly. With 2" aluminum square stock as dolly track, and MSE's universal track brackets we had a great underslung set up using the Cartoni Lamda. Cool set up - on a reasonable budget."
For Dominguez, who has been using Dutti Dolly since its first iteration the fact that Saldutti's invention is being manufactured by Matthews is an even bigger plus. "The array of accessories that weren't previously available makes it even more useful," he explains. "Add to that it is fantastic for small, tight working spaces. The design has allowed me to get low to the ground and also have full camera movement. I've also found it very useful on handheld shows when the camera operators want to make a lateral move but don't want to fight the wheel change of a traditional 'butt dolly'."
"It's that perfect arrow to pull from your quiver when the dynamics of the shot dictate your 'opportunities'," adds Greenwald. "As soon as you become familiar with its nuances, it becomes a filmmaker's savior. On my current show, Glow, we spend a lot of time in a wrestling gym, in the ring and the bleachers. The compact size combined with low elevation allows me to put the camera almost on the canvas to get the perfect angle when the wrestlers hit the canvas - and still have enough room for the dramatic push in. And, when we need the shot behind the backs of the audience, I can quickly throw down some angle iron and slide behind their backs. No big 'rigging' or crane required."
Created by Saldutti out of necessity, Dutti Dolly rolls extremely low to the ground at under 2-inches in height, rides on eight inline skate wheels mounted in pairs to the half inch thick aluminum plate. The sleek design allows the operator to do hard whip pans and quick tilts because of its width, length and weight. It will roll directly on any smooth surface or can be used with track, on or off stands, over and underslung. It fits into tight spaces such as airplane and bus isles where conventional dollies cannot fit. It is great for the long take, stunts or poor man's process. And, the rigging capabilities are endless due to the numerous tapped holes on the dolly board.
"When I created it for cinematographer James Muro ASC, I really had no idea how popular the Dutti Dolly would become," says Saldutti. "All I know was that he liked the shots and the ability to move quickly. I studied various dollies and realized most of them rest higher on a track. My focus was on giving a cinematographer the ability to position the camera lower - and make it much more portable. Since Jim's first use, it has become a necessity on hundreds of feature films, television shows, and commercials."