industry news
The Latest Industry News for the Exciting World of Production.
Creative Handbook puts together a bi-monthly newsletter featuring up-to-date information on events, news and industry changes.
Add My Email
By: Hummingbird Productions
| November 14, 2017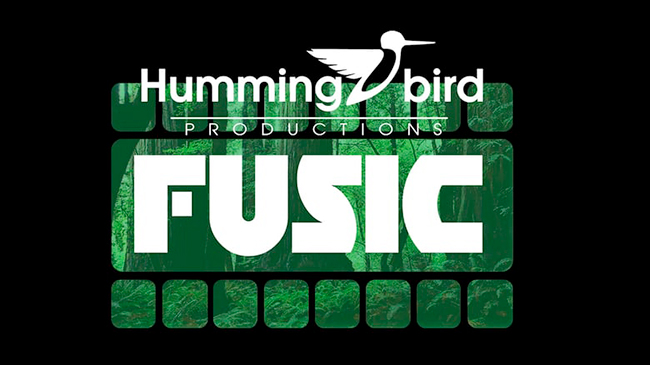 Nashville, TN - Award winning director David Kiern, iconic music composer Bob Farnsworth, and the creative team from Hummingbird Productions presented a special screening of their documentary "I AM Israel" at the Knesset, the Israeli parliament, on November 6, 2017, in Tel Aviv. The event, which was produced by the Hayovel organization and held before 350 people, including Knesset Members Sharren Haskel, Rabbi Yehuda Glick, Robert Ilatov, and the Knesset Speaker Yuli Edelstein, was in part to celebrate the 50th Anniversary of the unification of Israel. To view a highlight video of this presentation, please see: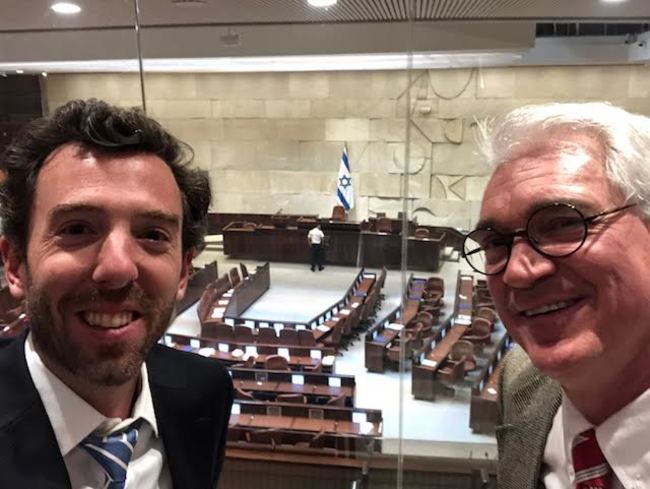 Director David Kiern, at left, and Composer Bob Farnsworth, at right, at the Knesset
Kiern is the writer, producer and director of "I AM Israel." Farnsworth and his company Hummingbird Productions - a renowned, multi-award winning film and sound production company which has built its reputation as one of America's leading producers of commercials, sound design and original music - provided the entire musical score for "I AM Israel." To view a portion of the film screened at the Knesset, please see: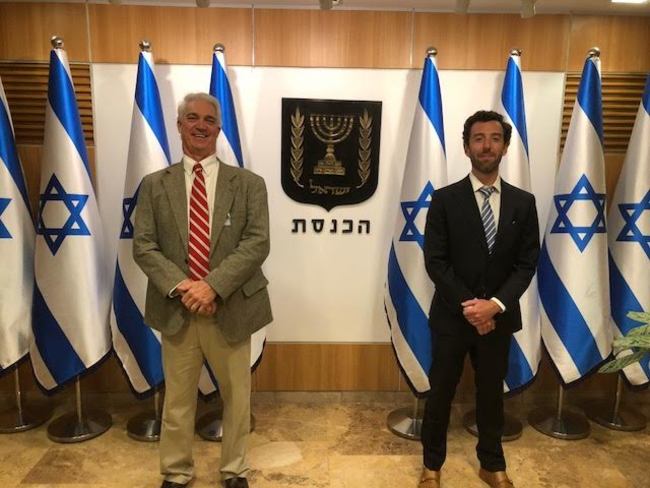 Composer Bob Farnsworth, at left, and Director David Kiern, at right, at the Knesset
"I AM Israel" is a film which takes viewers on a soaring journey through the Land of the Bible, and introduces them to Jewish men and women whose very lives are a testimony to the promises of God. Filmed in crystal clear 4K and narrated by award winning actor John Rhys-Davies, best known for his roles in the "Indiana Jones" and the "Lord of the Rings" series, "I AM Israel" brings to life the inspirational story of Israel like it's never been seen before. To watch the "I AM Israel" trailer, please see:
http://iamisraelfilm.com
Director David Kiern addresses the Knesset
David Kiern said, "Our goal for producing the film 'I AM Israel' was to ignite the hearts of Christians around the world with a deep love for the Land of Israel and the Jewish people. Anti-Semitism is a vile problem around the world, and for my Christian brothers and sisters, it's our responsibility to fight it. Telling the leaders of Israel in the Knesset that millions of Christians around the world love and respect them was one of the highlights of my life."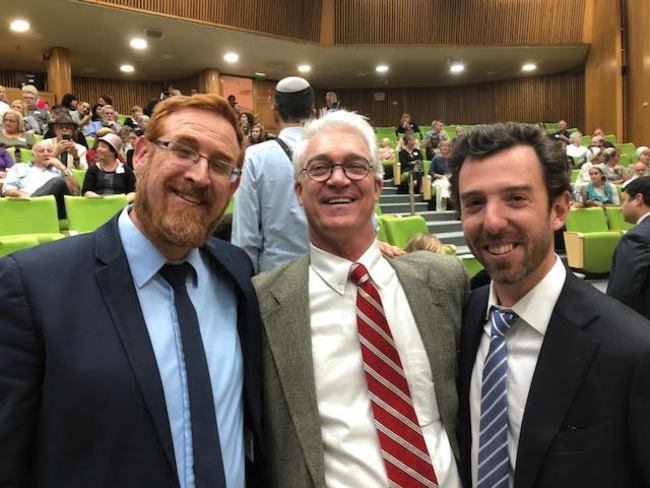 Left to right, Knesset Member Rabbi Yehuda Glick, Composer Bob Farnsworth, Director David Kiern
Adds Bob Farnsworth, "Going to Israel and meeting members of the Knesset was, for me personally, an amazing experience. The members of the Knesset said it's an interesting time for all of us - that the ancient prophecies about the nations of the world helping to rebuild Israel are currently being fulfilled. There is a great deal of unity in this process - both Christians and Jews alike are feeling like now is the time for all of us to come together. I loved how honest the members of the Knesset were in describing their excitement about the thousands of people from around the world who have been coming to Israel to harvest crops, especially the vineyards. They expressed great gratitude for these actions, and that they believe that scripture is being fulfilled - scripture that predicted that someday the nations of the world would participate in the rebuilding of Israel. This is an amazing phenomenon that's happening - it lets the Israeli people know that they are not alone."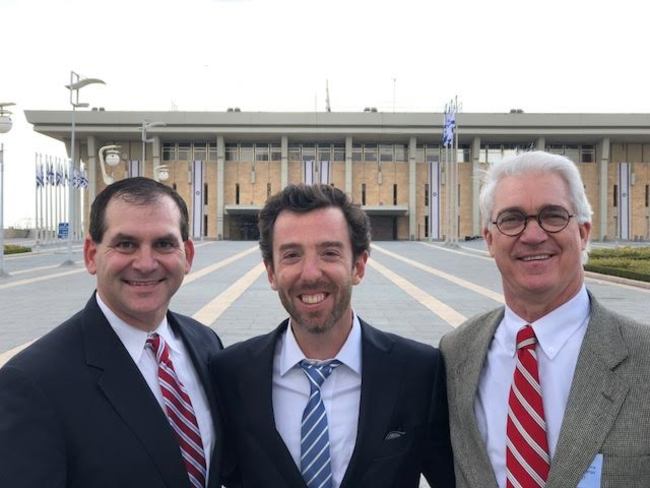 Left to right, "I AM ISRAEL" Producer Lance McAlindon, Director David Kiern, Composer Bob Farnsworth, stand in front of the Knesset Building in Jerusalem.
Farnsworth continues, "The film 'I AM Israel' was truly a wonderful project to work on! We have always enjoyed a great relationship with David Kiern, and were thrilled to have had the honor of using our FUSIC production process on this documentary. Basically, we take a team approach to every project we commit to, by bringing together directors, sound designers and composers, to work in tandem throughout the production process. Historically, everyone has tended to be compartmentalized. But through what we call our FUSIC process
(the fusion of film and music), we can bring everyone around the same table, right from the very beginning. FUSIC integrates the sound and music of a film, television, or web project from the VERY INCEPTION of an idea, through to its final completion."
"Our goal for future projects is to create true moments of FUSIC: to strive for at least one such moment in every piece of film and music work we do. For the past few years, I have been demonstrating our FUSIC process around the United States - to directors who 'think audio' and to composers who 'think visuals.' It is crucial to us that content creators should always start a project with the importance of sound at the top of mind," Farnsworth concludes.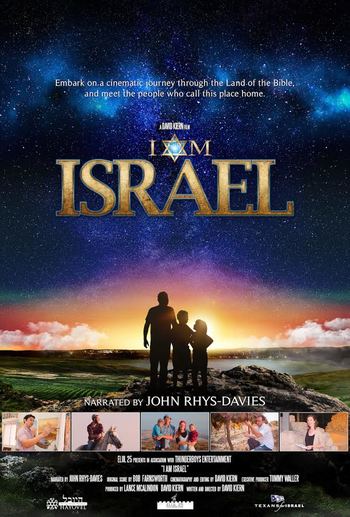 Movie Poster for "I AM ISRAEL"
ABOUT DAVID KIERN
David Kiern specializes in creating films which inspire and motivate audiences. His filmmaking skills include writing, directing, cinematography and editing.
Kiern has directed documentaries in Nepal, South Africa, India, Israel and Cuba. His films have been used to raise hundreds of thousands of dollars for American and international non-profits. Additionally, he is actively involved in producing, directing and editing feature films, television programs, commercials, and music videos.
During his career, Kiern has provided filmmaking services for such notable clients as Coca-Cola, The USO, Universal Music, EMI, the NFL, PBS, the National Civil Rights Museum, the Hallmark Channel, ABC Family, Netflix, and many others. Please see: http://www.davidkiern.com/
ABOUT HUMMINGBIRD PRODUCTIONS
Founded in Nashville, TN, in 1976 by iconic music industry composer Bob Farnsworth, Hummingbird Productions brands itself as a "One Stop FUSIC Shop." The company, historically one of the longest standing providers in the United States of original commercial, sound and music for the entertainment and advertising industries, also includes a team of film directors who have committed their future films to incorporating his unique design concept.
While Hummingbird is perhaps best known for its iconic Budweiser "Frogs" spot, its music also has been featured in such memorable advertising campaigns as Oscar Meyer's "My Bologna Has a First Name," "Always Coca-Cola," and Wrigley's "Double Double Your Refreshment." Hummingbird's sound designers, lyricists and composers also create original music for feature films/short films/documentaries, TV programs, soundtracks, web videos, radio commercials, video games, and more.
In addition to its Clio Hall of Fame Award for Budweiser "Frogs," Hummingbird has won numerous additional Clio and Lions Awards. The company, an acknowledged leader in the field of audio and sonic branding for the past 40 years, also offers music publishing, music licensing and music search services, all while actively working with artists from around the world.
Bob Farnsworth performs and lectures across the country about advertising, FUSIC, and the power of sonic branding. In 2014, he delivered a well-received TedX Talk entitled "Hearing is Believing" in Colorado. And he has also discussed the topic of FUSIC in New Orleans. And in 2010, Farnsworth appeared on "The Today Show" as an industry icon. He has also been a speaker at the annual American Ad Federation Conference. He tackles tough issues in advertising, branding and ROI, with an infectious sense of joy and excitement.
Hummingbird Productions is located at 1521 Graybar, Nashville, TN, 37215. The phone is 615-385-3729 and the website is:
www.hummingbirdproductions.com