AFI has revealed the Tech Showcase lineup for AFI FEST 2017 presented by Audi. The Tech Showcase will include a selection of 360-degree, virtual reality, augmented reality and immersive short film experiences representing a cross-section of what's currently possible in this new cinematic medium. The Showcase will be on display November 11-14 at The Hollywood Roosevelt, in the Academy Room and Johnny Grant Suite.


Audi, VIZIO, Dolby and HTC Viveport are sponsors of this year's Tech Showcase. VIZIO and Dolby will present a panel discussion that will focus on creating and delivering the highest quality visual experience for home entertainment. In addition, a special event will be held at the Dolby Cinema at Vine spotlighting how Dolby Vision and Dolby Atmos technology and tools are used to bring stories to the big screen. The VR projects will be showcased on a variety of platforms including Gear VR, HTC Vive, Oculus Rift and Positron's Voyager chair.

The Tech Showcase will open on November 11 with a case study presentation from Eugene Chung, President & CEO of Penrose Studios, a startup focused on augmented and virtual reality. Formerly, Chung was Head of Film & Media at Oculus VR, which was later acquired by Facebook for $2 billion. While at Oculus, Chung co-created Story Studio, bringing together storytellers and artists from Pixar.

Pictured above: THROUGH YOU


TECH SHOWCASE PANELS
PENROSE STUDIOS: A CASE STUDY OF EUGENE CHUNG'S INNOVATIVE ANIMATION
Join us for a presentation by Penrose Studios Founder and CEO Eugene Chung, the creator of cutting-edge VR animation such as ALLUMETTE and ARDEN'S WAKE: THE PROLOGUE. Both of these pieces will be on view following the case study presentation.
IMMERSIVE SHORT FORM STORYTELLING: SHORT FILMS AND THEIR VR COUNTERPARTS
This panel features creators whose VR works started as short films and whose 360-degree works incorporate strong narrative storytelling. Some are companion VR pieces that heighten the experience of the original films, while other works are standalone projects. Panelists include Wes Hurley (POTATO DREAMS), Cameron MacLaren (DEERBROOK) and Simon Shterenberg (WONDER BUFFALO).
FUNDING AND FINANCIAL MODELS FOR VR
This panel discussion centers on how and where VR artists can find funding, as well as platforms and models for distribution. Panelists will include Jeffrey Abramson, DiscoveryVR, Head of Programming and Development; James Kaelan, Acquisitions and Licensing for Positron; and Kaleidoscope Founder René Pinnell; as moderated by Daniel Burwen, Creative Director and Head of Cognito Comics.
BUILDING WORLDS WITHIN WORLDS: DESIGNING WITHIN VR
Join Apelab CEO and co-founder Emilie Joly and Mindshow's Virtual Experience Designer Jim Toepel to discuss new tools for designing VR experiences within a virtual environment.
READ MORE - The AFI FEST Interview: James Kaelan on Virtual Reality Storytelling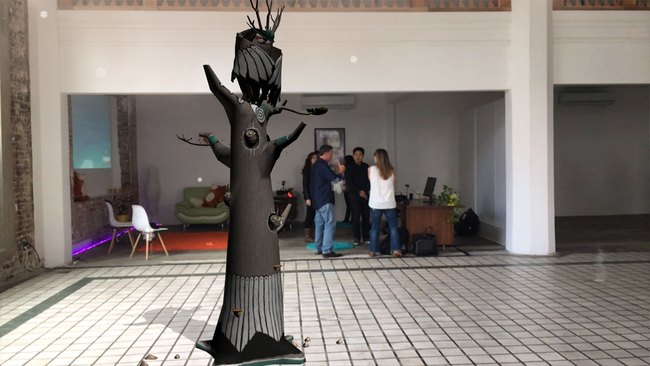 TECH SHOWCASE PIECES
AFTER SOLITARY - Spend time inside a Maine State Prison solitary confinement chamber to hear the harrowing story of one man's time there and what happened when he got out. (DIR Cassandra Herrman, Lauren Mucciolo)
ALTERATION - Alexandro volunteers for a dream experiment, unaware that scientists will inject him with Elsa, an Artificial Intelligence. (DIR Jérôme Blanquet)
ARDEN'S WAKE: THE PROLOGUE - The sea levels have risen, and a young woman and her father live in a lighthouse perched atop the ocean's surface. When he goes missing, she must descend deep into the post-apocalyptic waters previously forbidden to her, embarking on a thrilling journey of family history and self-discovery. (DIR Eugene Chung)
BREAK A LEG - Taking inspiration from 19th-century magic shows, BREAK A LEG puts you in the magician's shoes, allowing you to perform the art of illusion. (DIR Emilie Joly)
DEAR ANGELICA - Entirely painted by hand, DEAR ANGELICA is a journey through the magical and dreamlike ways we remember our loved ones. (DIR Saschka Unseld)
DEERBROOK - Two strangers show up at a family's cottage claiming to have spent their childhood summers there, but their behavior seems to be driven by something more sinister than nostalgia. (DIR Grayson Moore, Jon Riera, Aidan Shipley, Connor Illsle)
FISTFUL OF STARS - A multidimensional view into space, using photorealistic simulations of iconic imagery from the Hubble Space Telescope. (DIR Eliza McNitt)
GARY & CLAIRE - The charming story of the unlikely friendship between a sloth and a baby bird. (DIR SEHSUCHT Berlin)
HALLELUJAH - Place yourself at the center of every rhythm, hymn and octave in a reimagining of Leonard Cohen's "Hallelujah." (DIR Zach Richter)
HAROLD LLOYD STEREOSCOPIC MUSEUM - A collection of Harold Lloyd's stereoscopic photography and film clips, set in a modern museum. (DIR Suzanne Lloyd, Danilo Moura)
KO'KO'S CURSE - In this augmented reality piece, aid the Great Ko'Ko in finding his lost feather and restore balance to the world. (DIR Emilie Joly)
LIFE OF US - Scream, run, dance and evolve with a friend as LIFE OF US starts from a single-cell organism and ends as a posthuman robot. (DIR Chris Milk, Aaron Koblin)
MODERAT - Take a journey through this heightened dystopian reality, in this black-and-white computer animated music video. (DIR Mate Steinforth)
NEUROSPECULATIVE AFROFEMINISM - Spend time in a Neurocosmetology lab, where black women pioneer techniques of brain optimization and cognitive enhancement. (DIR Ashley Baccus-Clark, Carmen Aguilar y Wedge, Ece Tankal, Nitzan Bartov)
NIGHT NIGHT - Utilizing D-BOX haptic technology, enter the nightmares of a young child terrorized by clowns. (DIR Guy Shelmerdine)
POTATO DREAMS - Experience firsthand a young man's journey growing up gay in the Soviet Union, along with his mother's struggles to create a better life for them, and their escape to America. (DIR Wes Hurley)
SON OF JAGUAR - In this heartwarming and vividly animated VR experience, luchador Son of Jaguar takes to the ring to fight his next opponent. (DIR Jorge Gutierrez)
SONARIA - An immersive tale of sound and light, SONARIA follows two ever-changing creatures as they flow from one lifeform to another. (DIR Scot Stafford, Chromosphere)
THROUGH YOU - This immersive experience told through movement and dance follows a couple as they move through the life cycle of their relationship. (DIR Saschka Unseld, Lily Baldwin)
TREE - With your arms as branches and your body as the trunk, experience a tree's growth from a seedling into its fullest form, and witness its fate firsthand. (DIR Milica Zec, Winslow Porter)
WONDER BUFFALO - The coming-of-age story of a Thai-American teen finding acceptance and empowerment cosplaying as her favorite superhero. (DIR Christine T. Berg)