Change Region
California
industry news
The Latest Industry News for the Exciting World of Production.
Creative Handbook puts together a bi-monthly newsletter featuring up-to-date information on events, news and industry changes.
Add My Email
By: The Production Music Association
| August 9, 2017

Los Angeles, CA - The Production Music Association (PMA,) the leading advocate and voice of the global production music community, has announced two additional Keynote Speakers who will be featured during the group's annual Production Music Conference (PMC) - Composers Jeff Danna and Mychael Danna. The Danna brothers will speak on October 6 at 2PM. This year's PMC event will take place October 4-6 at the Loews Hollywood Hotel. Please see: pmc.pmamusic.com

Currently celebrating its 20th Anniversary Year, 2017 will also mark the PMA's Fourth Annual Production Music Conference. The event presents industry leaders from the production music industry joining forces for two days of panels, sessions, state of the art presentations, and networking.

Adam Taylor, Chairman of the PMA, said, "Jeff Danna and Mychael Danna are two of the most talented and in-demand composers today whose accomplishments are equally impressive across motion pictures and television. They work with many of the top directors in the entertainment industry, and have won numerous awards. I'm sure attendees to this year's Production Music Conference will be eager to hear them discuss their career highlights and advice they can offer about the state of the production music industry."

Add Jeff Danna and Mychael Danna, "We are very excited about being able to attend and share our recent experiences in the fast changing world of music production with our friends at the PMA."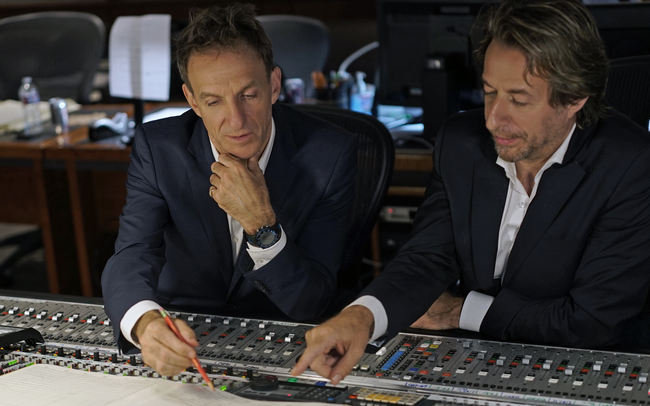 MYCHAEL DANNA AT LEFT, JEFF DANNA AT RIGHT, PHOTO COURTESY OF CASSANDRA CHURCH
ABOUT JEFF DANNA:
Jeff Danna was born in Burlington, Ontario. A reluctant piano student at age eight, he found solace in the guitar at age eleven and began playing professionally at fifteen until a hand injury at age 21 curtailed his performance career. He subsequently began composing for films and moved to Los Angeles to continue working.

Danna has created scores for a long and varied list of films. His credits include such diverse projects as the hit film adaptations of the video game/action franchises "Resident Evil: Apocalypse," "Silent Hill" and "Silent Hill 2"; the Ryan Gosling-Anthony Hopkins legal drama "Fracture"; "The Imaginarium of Dr. Parnassus" and "Tideland," both directed by Terry Gilliam; "Lakeview Terrace," directed by Neil LaBute; a series of films for director Brett Morgen, including "The Kid Stays in The Picture," "Chicago 10," and, most recently, the Kurt Cobain biopic "Montage of Heck"; "Closing the Ring" for director Richard Attenborough; and the cult classic "The Boondock Saints," among others.

Additionally, his collaborative Orchestral Celtic albums with his brother, composer Mychael Danna, have enjoyed worldwide success and placed in the Top Ten on the Billboard chart in the United States.

For television, Jeff and Mychael Danna wrote the original music for the FX series "Tyrant," which earned them both Emmy nominations in the categories of Outstanding Music Composition for a Series (Original Dramatic Score) and Outstanding Original Main Title Theme Music in 2015. They were previously Emmy-nominated for "Camelot" in 2011.

In 2015, Jeff and Mychael Danna worked on the score for "The Good Dinosaur" and received an Annie nomination for Outstanding Achievement, Music in an Animated Feature Production.

Jeff and Mychael Danna most recently wrote the original score for the animated film "Storks" which was released in theatres in September 2016 and for "Billy Lynn's Long Halftime Walk" directed by Ang Lee which opened in November 2016.

Upcoming projects for Jeff and Mychael include the animated film "The Breadwinner", which will have its world premiere at the Toronto International Film Festival in September and is scheduled for release in theaters in Fall 2017. For television Jeff and Mychael are writing the music for "Alias Grace" for Netflix.

ABOUT MYCHAEL DANNA:
MYCHAEL DANNA is an Academy Award-winning film composer recognized for his evocative blending of non-western traditions with orchestral and electronic music. His body of work includes his Oscar-winning score for Ang Lee's "Life of Pi" and his many Canadian Academy Award-winning scores for director and longtime collaborator Atom Egoyan.

His passion for presenting complex ideas in a musically accessible way began as Danna learned his craft at the University of Toronto. There, he was exposed to early and world music that later influenced his style. Danna earned the school's inaugural Glenn Gould Composition Award in 1985 and also began scoring for student theatre groups, as he launched his artistic partnership with Egoyan.

Danna received the 2013 Golden Globe and 2013 Oscar for scoring Ang Lee's "Life of Pi," following his collaborations with Lee on "The Ice Storm" in 1997 and "Ride with the Devil," in 1999.

His other celebrated collaborations include those with Bennett Miller on his multiple Oscar-nominee "Moneyball," in 2011 and his Oscar-winning drama "Capote," in 2005; with Terry Gilliam on his Oscar-nominated "The Imaginarium of Doctor Parnassus," in 2009 and "Tideland," in 2005; with Mira Nair on "Vanity Fair," in 2004, "Monsoon Wedding," in 2001 and "Kama Sutra: A Tale of Love," in 1996; and with Billy Ray on "Breach," in 2007 and "Shattered Glass," in 2003.

Danna's credits also include the 2006 Oscar-winning "Little Miss Sunshine," for which he shared a Grammy Award nomination for Best Compilation Soundtrack Album; Marc Webb's acclaimed romantic comedy "(500) Days of Summer" in 2009; and James Mangold's 1999 Oscar-winning film "Girl, Interrupted."

For television, Mychael and Jeff Danna wrote the original music for the FX series "Tyrant," which earned them both Emmy nominations in the categories of Outstanding Music Composition for a Series (Original Dramatic Score) and Outstanding Original Main Title Theme Music in 2015. They were previously Emmy-nominated for "Camelot" in 2011. Mychael won an Emmy for Outstanding Music Composition for a Miniseries, Movie or a Special (Original Dramatic Score) for "World Without End."

In 2015, Mychael and Jeff Danna worked on the score for "The Good Dinosaur" and received an Annie nomination for Outstanding Achievement, Music in an Animated Feature Production. Mychael also scored the Oscar-nominated short preceding the film, "Sanjay's Super Team." Mychael and Jeff also wrote the original score for the animated film "Storks" and for "Billy Lynn's Long Halftime Walk" directed by Ang Lee which were both released in 2016.

Upcoming feature films for Mychael and Jeff include the animated film "The Breadwinner", which will have its world premiere at the Toronto International Film Festival in September and is scheduled for release in theaters in Fall 2017. Mychael Danna is also working on "The Man Who Invented Christmas". For television, Mychael and Jeff are writing the music for the Margaret Atwood dramatization of "Alias Grace" for Netflix.

ABOUT THE PRODUCTION MUSIC ASSOCIATION:
Founded in 1997, the Production Music Association (PMA) is the leading advocate and voice of the production music community. A non-profit organization with over 40 member companies, plus composers and industry professionals, the mission of the PMA is to elevate the unique value of production music and to ensure the viability of the production music industry.

Headquartered in Los Angeles, the PMA strives to fulfill its mission by:

> Working with performing rights organizations, legislators, legal counsel and broadcasters with the aim of improving the reporting, monitoring, collection and distribution of performance fees and royalties for PMA members;

> Providing its members with a forum in which issues of common concern and interest can be discussed;

> Educating its members and the marketplace about music rights and other issues affecting the production music community; and

> Enhancing the value of PMA members' music through research, education and public relations.

For more information about the PMA, please visit: