industry news
The Latest Industry News for the Exciting World of Production.
Creative Handbook puts together a bi-monthly newsletter featuring up-to-date information on events, news and industry changes.
Add My Email
November 15, 2011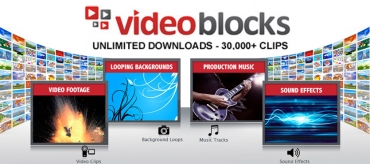 To create awareness for VideoBlocks.com, we are giving away 7 days of complimentary access to download anything you want from over 30,000 motion backgrounds, video clips, music tracks and more: Over 30,00 clips to download - FREE.

Just create a username and password, and you get download access to everything on VideoBlocks.com for 7 days. You can download 20 clips per day.

VideoBlocks.com is only giving this complimentary access to a limited number of users, so start downloading now: Get Your 7 Days of Complimentary Downloads

VideoBlocks.com is a subscription-based website that provides members with unlimited downloads of stock video, footage, motion backgrounds, production music, sound effects and more.
Instead of charging by the download, we allow members to download as much as they want--no limits!

BENEFITS OF A VIDEO BLOCKS SUBSCRIPTION:

• After signing up, you will have unlimited access to the entire Video Blocks archive. There are no download caps, so you may download and use as much content as you want.

• You can cancel your subscription at any time. There are no long term contracts.

• Everything you download is yours to keep and use forever, royalty free. Even if you cancel your subscription!

• New content is continually added to the Video Blocks archive, so there is always something new!

• All multimedia clips provided on VideoBlocks.com come with the right to use them royalty free in all types of projects. There are absolutely no additional fees beyond the monthly subscription cost.

• More questions? Our customer support department is here to help you: (866) 282-5360

• Get started now with a free trial: 7 Days of Complimentary Downloads

Our multimedia clips are easy to use' in all types of video productions and projects, including:

• Video editing (works with all computers and editing systems)

• Presentations

• TV Shows

• Advertisements

• Home movies

• DVD menus

• Playable DVDs (including Blue-ray and regular DVDs)

• Backgrounds to play on HDTVs

• Parties and events (great for DJs and VJs)

• Websites (easy to convert to streaming media clips)

• And virtually any other video project you can think of!

Our clips are compatible with PCs and MACs.