Change Region
California
industry news
The Latest Industry News for the Exciting World of Production.
Creative Handbook puts together a bi-monthly newsletter featuring up-to-date information on events, news and industry changes.
Add My Email
By: Ken Kerschbaumer, Editorial Director | Bexel
| May 18, 2017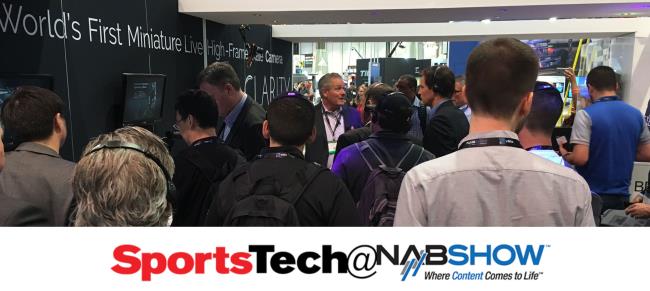 Bexel's big story at NAB this year was the U.S. show debut of its Clarity camera line which now includes three models: the Clarity 800 (which made its debut earlier this year at the NBA All-Star Game and was used during the NCAA Final Four weekend), the Clarity 800R with 2/3-inch lens support, and the Clarity 400 which is half the size of the 800 unit to fit into even more discrete locations. Given that the original 800 was only 4.7-inches high and 2.56-inches wide (and one inch thick) the 400 model is "fit in the palm of your hand" small.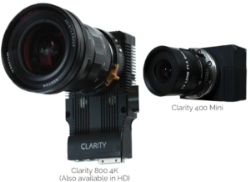 "The whole idea is to develop a family of products with various sized cameras," says Craig Schiller, VP of Global Sales. "For example, the 400 model can record up to 240 fps in HD and 60 fps in 4K. But it is half the size of the 800 model and has more opportunities for usage because of its form factor. And it uses the existing processing box that is used for the 800 model."

The 800R, meanwhile, meets a market need for more flexibility with respect to panning, tilting, and zooming as it can use 2/3-inch lenses, greatly widening the potential applications for the Clarity lineup.

"The reaction to the lineup has been very good and while some people are surprised we are doing it they are seeing it is real and we are getting some questions from networks and independent content creators about the specs and when they can start to use it," says Schiller. "And a couple of people from outside the U.S. have stopped by to look at it and that has been good as Camera Corps will look after the rental of it outside the U.S."


Bexel also offered up the latest in player mics as the Quantum Q5X, used most notably for NBA broadcasts, was retrofitted and updated. And a new version of coach mics was unveiled that include a new encryption system and a mute switch that has been received very well by coaches who want the ability to talk privately.

Bexel is also seeing growth in its fiber specialty services business that continues to be a key part of everything from the Oscars to the NBA All-Star game. And the move to IP has seen the company get involved with deployments like Evertz IP routers for the Rio Olympics.

"As a company, we have been letting our guys play with IP and moving signals around," adds Schiller. "In that sense, it is going to be a nice complement to our fiber services.


Bexel's Engineered Systems and Solutions (ESS) is also flourishing as Scott Nardelli, VP and GM, says the division has been working closely with the NFL and MLS on field-level technologies and equipment that is used by the referees.

"And the managed services side is growing as we are providing technical services as well to help make sure the game day operations and things like coach-to-coach and coach-to-player communications, sideline WiFi, replay operations, and more are fully functional."
The division has also been involved with cabling infrastructure projects in stadiums in Atlanta, Los Angeles. All told 22 stadiums have tapped Bexel's team for those projects.

"We don't want to be seen an integrator but rather a design/build partner so that a client can come to us with a problem and we can work through a solution, test a prototype, and then deploy it," says Nardelli.

And, of course, IP technologies are set to reshape how ESS approaches design.

"IP is a different skillset and while IP makes it easier to move signals around it also makes it harder to troubleshoot," adds Nardelli. "But 20 years ago, we began to become leaders in fiber and we want to be in that same position with IP."

This story originally appeared on sportsvideogroup.com
By: Ken Kerschbaumer, Editorial Director