Change Region
California
industry news
The Latest Industry News for the Exciting World of Production.
Creative Handbook puts together a bi-monthly newsletter featuring up-to-date information on events, news and industry changes.
Add My Email
By: James Bartlett | Discover Hollywood Magazine
| May 9, 2017
This movie icon lives right in the heart of Hollywood, and is about to turn 90 years old - but she's still as famous as ever, and millions of people come to visit every year. Some have even signed their name and squished their hands and feet right in her forecourt, while others have left behind the imprint of a dreadlock, a nose, a leg and a fist over the years too.

Other nights there's the flash of paparazzi cameras and a roll of red carpet as smiling celebrities wave at fans before heading into the historical legend that is the TCL Chinese Theatre, a glamorous picture palace that held Oscar ceremonies in 1944, 1945 and 1946, and has hosted glittering premieres for decades.

Surprisingly, many people who visit this grande dame don't realize she's not an elaborate prop, a theme park ride or restaurant. In fact she's always been a working movie theater where you can buy a bucket of popcorn and go see the latest blockbuster, or even take a behind-the-scenes tour.

To celebrate the 90th Anniversary, the Chinese Theatre is finally getting her own closeup in a series of monthly, one-night only movies set at the "old-fashioned" price of just $5 per show.

All the screenings are planned to take place in the breathtaking main auditorium, and the series began with ultimate musical Singin' in the Rain in February. Future movies include The Aviator (with Leonardo DiCarprio), A Star is Born (1937 version), Escape from L.A. (with Kurt Russell), Rush Hour (with Jackie Chan), Mel Brooks' Blazing Saddles, Hollywood Homicide (with Harrison Ford), and The Italian Job (with Mark Wahlberg).

The Chinese has had a role in over 100 movies, something that made current theatre president Alwyn High Kushner joke: "The TCL Chinese has starred in more movies than most actors!"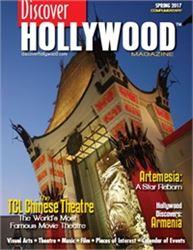 But where did the idea for the hand and footprints come from?
When it opened in May 1927 it was called Grauman's Chinese Theatre and had cost $1.5m to create, though like any celebrity it's undergone a few makeovers and freshen-ups over the years. From 1973 to 2001 it was owned and renamed by the Mann Theatre chain before it went back to Grauman's for another decade and was then bought by TCL, a Chinese electronics manufacturer.
TCL went to work on their legacy immediately, making the TCL one of the largest IMAX theatres in North America (over 930 seats), adding a new box office and LED billboards, and restoring and preserving some of Sid's original design fixtures. Then of course there's the huge screen - 97 feet wide and 47 feet high - with every seat in the house guaranteed to have a good view, explained Levi Tinker, 40, the director of tours and one of the theatre's general managers (and their unofficial archivist).
The Chinese holds 35-50 premieres a year he said, and he felt that the biggest hits he's ever seen were for Star Wars Episode II: Attack of the Clones ("people camped out seven weeks before it opened, and the line went several blocks away"), while Harry Potter fans slept for three nights in the street just to see the actors who played Harry, Hermione and Ron make their handprints.
Close to a century ago, Sid Grauman had opened several elaborate movie theaters in Los Angeles. There was the Million Dollar Theatre (opened 1918) in downtown and the Egyptian Theatre (1922) also in Hollywood, but when they were a success he started work on his vision: The Chinese Theatre. He again engaged Meyer & Holler, the same firm behind the Egyptian, and main architect Raymond M. Kennedy's design for the Chinese highlighted ideas of the Orient with specially-imported bells, a 90 foot high central pagoda with its fierce, 30 foot high dragon motif, frightening masks on either side, and two large white Ming dynasty "heaven dogs" guarding the main entrance.
Inside the lobby you'll find an exhibition of costumes from movies including the Wizard of Oz, Gone with the Wind and Gilda, but keep looking around: there are exotic painted garden scenes by actor Keye Luke and bandleader Xavier Cugat, statues on the stairs, and Buddhas and more dragons on the ceiling.
"The main curtain was painstakingly recreated to be the same as the original 1927 version" notes Tinker, who adds that Grauman invented the idea of using a red carpet at premieres, the first being at the Egyptian in 1922 for Fairbanks, Sr's Robin Hood.

As for the footprints, that was in fact a happy accident-though Tinker admits there are several versions of what really happened. Did it happen when Mary Pickford had to chase her runaway dog, or when actress Norma Talmadge inadvertently stepped into wet cement while Grauman was showing her his latest project?
It's also said that Grauman himself had the first gloopy shoe, but either way he had a great idea and Talmadge, Mary Pickford and husband Douglas Fairbanks, Sr. (two of the co-owners) were quickly asked to create their concrete mementos. Their prints were taken a few weeks before the opening night premiere of DeMille's The King of Kings on May 18, 1927, and today the prints number over 300.
Some names are missing-Audrey Hepburn and Marlon Brando refused the honor-though as for the cement they use, those chosen for the honor get a choice of concrete color and whether they want to leave their bare footprints for posterity - though only 10 or so people have done so, admitted Tinker.
The concrete was specially formulated by the supervisor of 30 years of ceremonies, mason Jean Klossner, who apparently took the "recipe" to his grave (and the rumor that it was really him who came up with the footprint idea).
During research for my book Gourmet Ghosts - Los Angeles I found out that there are some strange stories about the Chinese Theatre too. Sid Grauman died in 1950 but, ever the ultimate showman (he used to write and host long stage shows before screenings), it's said he still roams the lobby, checking out that his customers are enjoying the show.
A former projectionist named Fritz is apparently responsible for that twitching curtain, and though Tinker admitted he'd never seen anything unusual in his 17 years here, he had heard rumors-so he advised taking the early morning tour, just to be on the safe side! DH