industry news
The Latest Industry News for the Exciting World of Production.
Creative Handbook puts together a bi-monthly newsletter featuring up-to-date information on events, news and industry changes.
Add My Email
By: Location Managers Guild International
| April 10, 2017

"THE CROWN," "WESTWORLD" AND "THE NIGHT MANAGER"
WIN FOR TELEVISION SERIES

Oscar®-Winning Director Danny Boyle, Location Professionals Lori Balton
and Stuart Raven Barter Receive Special Honors
More Photos Available at
http://bit.ly/2o4eoux
The Location Managers Guild International
(LMGI) announced the winners of its 4th Annual Location Managers Guild International Awards tonight. The event honored the outstanding and creative international contributions of location professionals and film commissions in seven categories of film, television and commercials. The black-tie awards ceremony took place at the Steven J. Ross Theater at Warner Bros. Studios in Burbank before an audience of 500, including LMGI members, industry executives and press.
Dinner Party Download's
Rico Gagliano
served as host.
Location Manager
Chris Baugh
(
Steve Jobs, Passengers
) presented Oscar®-winning filmmaker
DANNY BOYLE
(
Slumdog Millionaire, T2 Trainspotting
) with the Eva Monley Award. Accepting the award on Mr. Boyle's behalf was Production Designer
Guy Hendrix Dyas
(
Passengers
). Founding LMGI member
LORI BALTON
(
Seabiscuit, Inception
), the first location professional to be accepted into the Academy of Motion Picture Arts and Sciences, was honored with the Trailblazer Award presented by director
Brad Silberling
(
Reign, Jane the Virgin
). Art Director, Location Scout and Photographer
STUART RAVEN BARTER
(
Thelma & Louise, True Romance, European Marlboro campaign
) received the Lifetime Achievement Award presented by long-time collaborator and legendary commercial director
Joe Pytka
.
Additional presenters included Amazon Studios Original Movies Head of Physical Production
Mary Ann Marino
, Netflix's VP of Worldwide Physical Production
Ty Warren
and Warner Bros. Pictures Executive VP
Ravi Mehta
. Best-selling author and Bosch executive producer
Michael Connelly
, actor
Amir Talai
(
The Pursuit of Happyness, King Fu Panda
) and actress
Katherine Von Till
(
Conan
) also presented.
The award show afterparty included five themed-location areas with
Game of Thrones
, Havana, Western world, Hollywood glam and 50s diner themes. Said Amy Hilker, marketing for
Warner Bros. Studios Facilities
, "We are excited to host the LMGI Awards at the studio. We have a great relationship with location managers, and we appreciate their contribution to the filmmaking process. This was a collaborative effort using all the studios production resources from studio operations and special events to Master Chefs production catering."
LMGI AWARDS HONOREES:
Eva Monley Award
DANNY BOYLE
Lifetime Achievement Award
STUART RAVEN BARTER
Trailblazer Award
LORI BALTON
LMGI AWARDS WINNERS:
OUTSTANDING LOCATIONS IN A PERIOD TELEVISION SERIES***TIE***
•
The Crown
- Pat Karam, Robert Bentley/LMGI
•
Westworld
- Mandi Dillin/LMGI
OUTSTANDING LOCATIONS IN A CONTEMPORARY TELEVISION SERIES
• The Night Manager - Tom Howard, Daniel Sampedro Palerm
OUTSTANDING FILM COMMISSION
•
Royal Film Commission of Jordan
- Rogue One: A Star Wars Story
OUTSTANDING LOCATIONS IN A COMMERCIAL ***TIE***
•
"Bulbs"
(Macbook Pro) - David Doumeng/LMGI, Charlie Love/LMGI
•
"This Land is Your Land"
(Johnnie Walker) - JJ Levine/LMGI, Will Brewster/LMGI, Patrick Burn, Dana Hanby
OUTSTANDING LOCATIONS IN A PERIOD FILM
•
Hidden Figures
- Wes Hagan/LMGI, Dan Gorman/LMGI
OUTSTANDING LOCATIONS IN A CONTEMPORARY FILM
•
La La Land
- Robert Foulkes/LMGI, Steve Beimler/LMGI
Producers of this year's LMGI Awards are Co-Chairs Eric Klosterman and Robin Citrin. For information about the LMGI Awards please visit
LMGIawards.com
.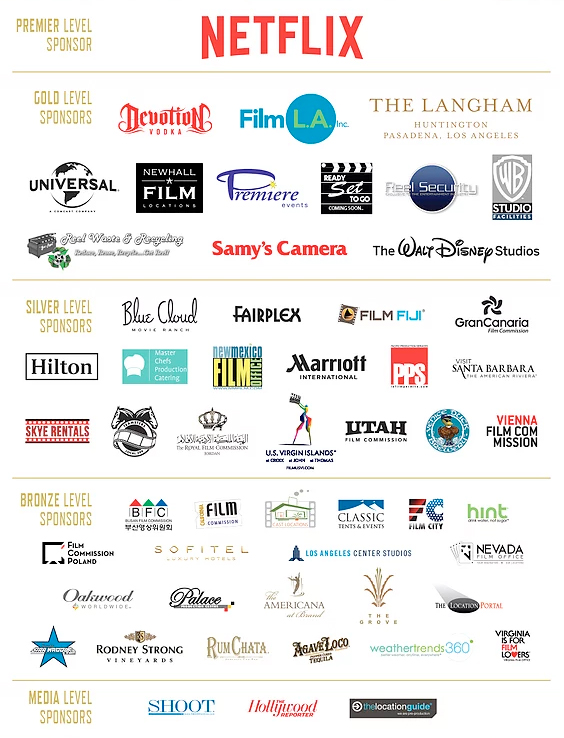 ABOUT THE LMGI:
The Location Managers Guild International (LMGI) is an organization of experienced career professionals in the Motion Picture, Television, Commercial and Print production industries. The guild rebranded in 2016 to reflect a growing global membership and focus. LMGI members are dedicated to the establishment of professional standards of personal conduct, safety on the set and business ethics. They support the formation of strong links with business members, governmental agencies and local communities. The Guild promotes awareness of the goals and achievements of members to the general public and within the industry through creative, educational and philanthropic programs. The LMGI was founded in 2003 as a 501(c)(6), non-profit corporation as the LMGA. The LMGI is not a labor union, it does not represent Location Managers/Scouts in wage or working condition negotiations. For more information about the
#LMGIawards
, visit
locationmanagers.org
or follow the LMGI on
Facebook
and Twitter
@The_LMGI
.