industry news
The Latest Industry News for the Exciting World of Production.
Creative Handbook puts together a bi-monthly newsletter featuring up-to-date information on events, news and industry changes.
Add My Email
By: Bexel
| November 10,2016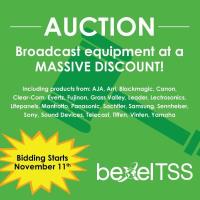 Professional broadcast equipment at a massive discount! Browse over 1,000 products from leading manufacturers including AJA, Arri, Blackmagic, Canon, Clear-Com, Evertz, Fujinon, Grass Valley, Leader, Lectrosonics, Litepanels, Manfrotto, Panasonic, Sachtler, Samsung, Sennheiser, Sony, Sound Devices, Telecast, Tiffen, Vinten, Yamaha, and much more!

Any questions or inquiries regarding Lots, equipment, payment, shipping, etc, please contact

sales@bexeltss.com or 818-565-4339

Please link to

http://bit.ly/2fLMwIm




Bidding:

• Starts Fri., Nov. 11th at 9:00 AM EDT
• Ends Wed., Nov. 16th Starting at 10:00 AM EDT
• PLEASE NOTE! This auction has staggered ending closing times with 2 Lots closing every minute in numerical order. For Example: Lots #1 and 2 will start to close at 10:00am, Lots #3 and 4 will start to close at 10:01am.
• Extended bidding applies to all items. Each item will remain open until no bids have been received for a 5-minute period.


Inspection:
(Viewing of Lots before Auction Ends at the Bexel Burbank location)
• Mon. & Tues. Nov. 14th & 15th 10:00 to 4:00 PM PDT
• No appointment necessary.
• Inspection will be located in Bexel West. Entrance is the door to the Left of Bexel TSS.


Removal:

• Begins Monday, November 21st
• By Appointment Only
• Customers should have Identification and Bidder Number ready for pickup.


Payments:

• Payments must be received by Joseph Finn & Co before making an appointment.
• A 15% Buyer's Premium (BP) for buyers paying via Cash, Cashier's Check, Company Check or Wire Transfer will apply to your purchase or 18% BP for any buyers paying via Credit Card.
• Customers should have Identification and Bidder Number ready for pickup.


Pack & Ship Quotes:

Contact Navis Pack & Ship at 949.458.3672 or Alan.Moore@GoNavis.com
• Bexel will not be shipping Auction items to customers. If there are any questions regarding this, contact Dale Storz for more information. Local pickup is strongly encouraged