industry news
The Latest Industry News for the Exciting World of Production.
Creative Handbook puts together a bi-monthly newsletter featuring up-to-date information on events, news and industry changes.
Add My Email
By: Power Gems
| Spetmeber 1, 2016

Power Gems has launched an online store available on your phone or your desktop, offering eight core products from the extensive range of affordable high speed ballasts.

Great if you are in a hurry - it takes less than 4 clicks to place an order and ballasts are shipped from stock held in Los Angeles. Choose between ground or air freight - all with instant calculation of costs.



Visit the
Power Gems website
and in addition to showing you details of each product, it gives you the option to buy. Fill your shopping cart with your choice of ballast, and let us take care of the rest.
Store for American market
The
online store
online store has taken some months to develop, as Phil Ellams, owner of Power Gems, explains:

"Power Gems is keen to keep up with customer expectations. So, we're providing
online store
eCommerce support to make it easy and quick to choose products and order online for delivery within 7 days.
In preparation, the Power Gems facility in Los Angeles has a lot more stock in-store, ready to be shipped by Chip Harley and the team.
America has been chosen for the initial launch purely because that's where there seems to be the greatest demand localised around our North America premises in Atlanta and Los Angeles."
The
online store
lets you search for Power Gems ballasts by name or number, and helps you find datasheets and product specifications. You can use the new system to order and pay cash on delivery, with shipping by trusted third-party couriers.
Everything you need in a high speed ballast
• Wide range of output power options for flicker-free HMI lighting.
• 1000Hz output for high speed filming.
• Auto scan feature available for 9kW and 18kW lamp running.
• Built in compensation of lamp cable volt drop.
• Slide-in power modules for easy maintenance.
Reliable, robust and reasonably-priced
Chosen by the TV and film industry worldwide for over 20 years, the new generation of Power Gems ballasts perform in the harshest line voltage supply conditions. Our highly versatile range comprises a core of 20 different product lines - all TÜV approved up to 6kW.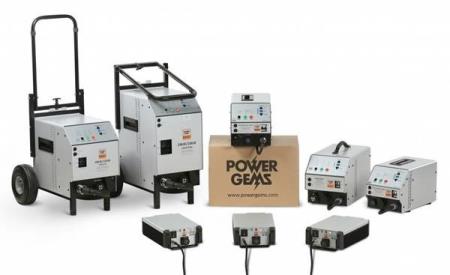 About Power Gems
Power Gems has been developing and manufacturing reliable and innovative electronic ballasts for more than 20 years.
We have a wealth of experience of working with High Intensity Discharge lamps in a wide range of application areas. We continue to invest in research and development to allow us to bring the lastest technology to market.
The head office and manufacturing facility is based in Manchester UK in a purpose-built facility (as shown). We employ a team of fully qualified engineers and skilled assemblers who construct and test the product on site. We frequently welcome customers into the factory for training in product service and support.
Power Gems Corporation is focused on providing sales and technical support for customers based in America - through our facilities in Hollywood, California and Atlanta, Georgia. The wholly-owned subsidiary, staffed by factory-trained engineers, carries a large stock of finished product, and original spares for servicing.
Find out more at
www.powergems.com
or
sales@powergems.com
LOS ANGELES, ATLANTA USA; MANCHESTER, UK