industry news
The Latest Industry News for the Exciting World of Production.
Creative Handbook puts together a bi-monthly newsletter featuring up-to-date information on events, news and industry changes.
Add My Email
By: MASTERSFX
| May 2, 2016

Los Angeles, CA - Monster-Maker Todd Masters, Founder & President of FX Studio MASTERSFX, has won his second career Emmy Award.

On Friday, April 29, Masters and his team won a 2016 Daytime Emmy Award in the category "Outstanding Makeup" for the Netflix TV movie "R.L. Stine's Monsterville: Cabinet of Souls." Masters won the Emmy along with Debbie Lelievre, Key Makeup Artist.

Also sharing the Emmy Award team win are several make-up trailers full of fellow monster-making artists: Mike Fields, Holland Miller, Felix Fox, Harlow MacFarlane, Jason Ward, Sarah Pickersgill, Chris DeVitt, Yukiyo Okajima, Brad Proctor, Thomas Sosnowski, Julia Bors Dollinger, Jennifer Kipps, Courtney Frey, Darlene Brister, Lisa Strong, Amy Van Wormer, Natalie Cosco, Beth Boxall, Vanessa Giles, Judy Andreson, Ceiligh Dunn, April Boyes, Sophia Phillips, Shannon Coppin and Pearl Louie.

Masters, who won his first Emmy Award for his contributions to HBO's hit series "Six Feet Under," said, "The challenge on the 'Monsterville' project was bringing the immense amount of monster characters to life - on schedule and on-budget, all while retaining a feature film-quality look. We were fortunate to be working again with director Peter DeLuise, who allowed us total creative freedom on the design and approach - which really made it a memorable show. We filled it with prosthetic monsters: witches, goblins, zombies and ghouls - as well as my sister-in-law's favorite - the Demon Clown! (not!)"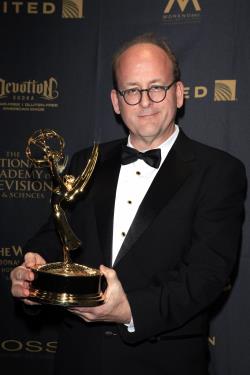 Director Peter DeLuise adds, "I've done several shows with Todd and his MASTERSFX team over the years - and it's always exciting to see whatever magic they deliver. This time, we gave them complete carte blanche to create a gaggle of monsters of nearly every type: Awful. Awesome. Amazing! They truly deserve the EMMY - outstanding work on our show!"

"Monsterville" Executive Producer & Writer Dan Angel continues, "Todd Masters and Debbie Lelievre's teams provided some of the most amazing creature Makeup FX I have ever seen. These teams were top-notch and the makeup and creature work elevated our show. Congratulations on the well deserved Emmy."

ABOUT "MONSTERVILLE:"

Airing on Netflix, "R.L. Stine's Monsterville: Cabinet of Souls" was a 2015 comedy TV film directed by Peter DeLuise, starring Dove Cameron, Braeden Lemasters, Katherine McNamara, Casey Dubois and Tiffany Espensen.

The storyline: A small town Halloween festival finds itself intruded upon by an evil carnival with designs upon imprisoning and feeding off the souls of unwary teenagers. A group of teenage friends must resist the spell of an evil showman staging a house of horrors show in their small town. As the stroke of Halloween midnight approaches, who will wind up entombed in the carnival's dire "Cabinet of Souls" forever?

ABOUT TODD MASTERS & MASTERSFX:

Founded in 1987 by Emmy Award winner Todd Masters, MASTERSFX is a multi-award winning character and special FX house with studios in Los Angeles, CA, Vancouver, British Colombia and just opened in Toronto, Ontario. MASTERSFX's creative teams produce a unique blend of practical and digital makeup and special FX, prosthetics and animatronics, through a process called "dMFX," for hundreds of hit feature films, TV shows, and commercials.

Included among the TV projects to which MASTERSFX has contributed its work are True Blood, Six Feet Under, Tales from the Crypt and Fringe. Among the company's Film credits are RoboCop, The Day the Earth Stood Still, The Haunting in Connecticut, Star Trek: First Contact, The Horse Whisperer, Slither, Snakes on a Plane, Buffy the Vampire Slayer, Look Who's Talking, and many more.

In addition to his 2016 Daytime Emmy Award for "Outstanding Makeup" for the Netflix series "Monsterville," Masters is also the winner of an Emmy Award in 2003 for the 2001/2002 Season of Six Feet Under in the category "Best Special Effects Makeup." In 2006, MASTERSFX won a "Saturn Award" for "Best MakeUp FX" for its work on the film Slither. See more at www.mastersfx.com