industry news
The Latest Industry News for the Exciting World of Production.
Creative Handbook puts together a bi-monthly newsletter featuring up-to-date information on events, news and industry changes.
Add My Email
By: PRODUCERS GUILD OF AMERICA
| February 19. 2016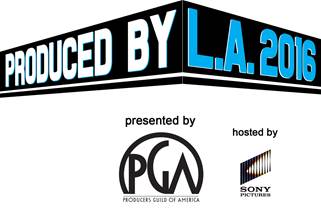 SANJAY SHARMA, CHRIS CONTI, & JAKE STEIN, AND
"A CONVERSATION WITH: ELIZABETH BANKS AND MAX HANDELMAN"
PBC 2016 REGISTRATION NOW OPEN FOR JUNE 4-5 EVENT AT SONY PICTURES
Additional Speakers Include Ian Bryce, Lesley Chilcott, Tracey Edmonds, America Ferrera,
Mark Gordon, Marshall Herskovitz, Courtney A. Kemp, Michael London,
Gary Lucchesi, Lori McCreary, Molly Smith, & Sarah Treem, Among Others

LOS ANGELES (February 19, 2016) - The Producers Guild of America (PGA) announced the initial slate of speakers and session topics for its 8th annual Produced By Conference (PBC). This year, PBC's headlining panels include a "360 Profile" roundtable discussion with All Def Digital principals Russell Simmons, Sanjay Sharma, Chris Conti, and Jake Stein; and the "Conversations With..." series featuring an in-depth dialogue with producers Elizabeth Banks and Max Handelman from Brownstone Productions.

Produced By is the only conference specifically created by producers, for producers. No other event gives producers so many opportunities to network with and learn from top storytellers and decision-makers in the entertainment industry. Registration and pricing information can be found at ProducedByConference.com. Early bird registration at a discounted rate is available now and ends May 1st. Produced By 2016 takes place June 4-5 and is hosted by Sony Pictures on its studio lot in Culver City, CA.

Confirmed panelists to date are noted below in alphabetical order. Additional speakers will be announced in the coming weeks.

Amy Baer, President, Gidden Media; A STORM IN THE STARS (2016), LAST VEGAS
Elizabeth Banks, Partner, Brownstone Productions; PITCH PERFECT 1 & 2, "Resident Advisors"
Ian Bryce, Principal, Ian Bryce Productions; WORLD WAR Z, TRANSFORMERS 1-4
John Canning, Producers Guild, Co-Chair of the Motion Picture Technology Committee
Lesley Chilcott; CODEGIRL, WAITING FOR 'SUPERMAN'
Chris Conti, Head of Digital and Television Content, All Def Digital
Nonny de la Peña, CEO, Emblematic Group
America Ferrera, "Superstore"
Dalia Ganz, Director of Digital & Partnership Marketing, Freeform
Max Handelman, Partner, Brownstone Productions; PITCH PERFECT 1 & 2, "Resident Advisors"
Kenneth A. Hawes, Director, U.S Army Public Affairs, Western Region
Marshall Herskovitz, Partner, Bedford Falls Company; THE LAST SAMURAI, "thirtysomething"
Basil Iwanyk, Founder and Owner, Thunder Road; SICARIO, THE TOWN
Jeff Jenkins, EVP of Development and Programming, Bunim/Murray Production; "Keeping Up with the Kardashians," "I Am Cait"
Andrew Karpen, CEO, Bleecker Street Media
Courtney A. Kemp, "Power"
Michael London, Principal and Founder, Groundswell Productions; TRUMBO, SIDEWAYS
Gary Lucchesi, President of the Producers Guild of America; THE LINCOLN LAWYER, MILLION DOLLAR BABY
Christie Mattull, Managing Director, HUB Entertainment Insurance
Lori McCreary, President of the Producers Guild of America; INVICTUS, "Madam Secretary"
Nick Meyer, President & CEO, Sierra/Affinity
Ted Mundorff, President and CEO, Landmark Theatres
Clay Newbill, Founder & President, 310 Entertainment; "Shark Tank," "Brain Surge"
Commander John W. Pruitt, III, U. S. Coast Guard; Director, USCG Motion Picture and Television Office
Ben Relles, Head of Comedy and Unscripted Programming, YouTube Originals
Lt. Col. Glen F. Roberts, Director, Air Force Entertainment Liaison Office, U.S. Air Force
DJ Roller, Co-Founder, NextVR
Ted Schilowitz, Futurist, 20th Century Fox and Chief Creative Officer, Barco Escape
Kathryn Schotthoefer, Senior Vice President, Social Media, Heavenspot | M&C Saatchi
Sanjay Sharma, President and Chief Executive Officer, All Def Digital
Mark Shelton, Producer/Director, Shattered Sky
Bettina Sherick, Founder, Hollywood in Pixels
Russell Simmons, Chairman and Founder, All Def Digital
Molly Smith, Partner, Black Label Media; DEMOLITION, SICARIO
Jake Stein, President, Def Pictures
Robert Stromberg, Founder & CCO, The Virtual Reality Company
Sarah Treem, "The Affair"
Vance Van Petten, National Executive Director, Producers Guild of America
Adrian Ward, Division Manager, Entertainment Industries Division, Pacific Mercantile Bank
R. Decker Watson, Jr., Executive Producer, Defiant Pictures; "Deadliest Catch," "Ice Road Truckers"
*The above speakers are subject to change.

Produced By 2016 features a broad range of programming, including mentoring roundtables, workshops and networking events. In addition to the "Conversations With..." and "360 Profile" series, PBC's conference panels encompass an incredible variety of topics. The program to date includes the following sessions:

360 PROFILE: ALL DEF DIGITAL
A CONVERSATION WITH: ELIZABETH BANKS & MAX HANDELMAN
THE ART AND CRAFT OF PITCHING FOR FILM
THE ART AND CRAFT OF PITCHING FOR TELEVISION
20 SECONDS TO DISASTER: HOW TO MAKE A SAFE PRODUCTION AND PROTECT YOUR CREW Sponsored by HUB International Insurance Services
EVERYTHING YOU ALWAYS WANTED TO KNOW ABOUT VIRTUAL REALITY BUT WERE AFRAID TO ASK
HOW TO NEGOTIATE SO EVERYONE WINS
INTEGRATING SOCIAL MEDIA AND MOBILE INTO YOUR MARKETING CAMPAIGN
IS THE SKY FALLING?: THE CHALLENGES AND OPPORTUNITIES FACING INDEPENDENT FILM PRODUCERS
MEET THE BUYERS: AMAZON/ HULU/YOU TUBE
THE NEW CREATIVES: HOW THESE 'FIRST TIMERS' GOT IT RIGHT
THE STATE OF FINANCING FILMS TODAY Sponsored by Pacific Mercantile Bank
2ND SEASON AND BEYOND: HOW TO SUSTAIN YOUR UNSCRIPTED SHOW
WORKING WITH THE MILITARY FROM SCRIPT TO SCREEN

In addition to Sony Pictures, sponsors already on board for this year's conference include Cadillac, the Official Auto Partner of the PGA, Delta, the Official Airline Partner of the PGA, Corbis Entertainment's BEN, PRG Production Resource Group, Panasonic, AMC Networks, ARRI, Box, Entertainment Partners, Film in Iceland, HUB International Insurance Services, Intuitive Aerial, Light Iron, Minnesota Film & TV Board, Pacific Mercantile Bank, Produce Iowa, Technicolor, The Molecule, Film US Virgin Islands and VER.

Produced By Conference 2016 is chaired by PGA members Ian Bryce, Tracey Edmonds, Mark Gordon, Marshall Herskovitz, and Rachel Klein. Returning to the PBC team are Supervising Producer Barry Kaplan (EKG, Inc.), Program Director Madelyn Hammond (Madelyn Hammond and Associates), Marketing Consultant Lynda Dorf, and Sponsorship Director Diane Salerno (Six Degrees Global).

Produced By Conference 2016 is made possible by the Producers Guild of America's charitable entity, the PGA Foundation, and epitomizes the Foundation's core mission to educate those working in the producing profession. To review highlights from previous Conferences and receive news and the latest programming updates for Produced By Conference 2016, please visit the Guild's official website and follow its social media channels for the event:

Website: http://www.ProducedByConference.com
Twitter: @Produced_By
Facebook: www.facebook.com/ProducedByConference

About the Producers Guild of America (PGA)

The Producers Guild of America is the non-profit trade group that represents, protects and promotes the interests of all members of the producing team in film, television and new media. The Producers Guild has more than 7,000 members who work together to protect and improve their careers, the industry and community by providing members with employment opportunities, seeking to expand health benefits, promoting fair and impartial standards for the awarding of producing credits, as well as other education and advocacy efforts such as encouraging sustainable production practices. For more information and the latest updates, please visit ProducersGuild.org, www.PGAGreen.org, and www.PGADiversity.org, and follow us on Twitter @ProducersGuild.