industry news
The Latest Industry News for the Exciting World of Production.
Creative Handbook puts together a bi-monthly newsletter featuring up-to-date information on events, news and industry changes.
Add My Email
By: The Wrap
| August 13,2015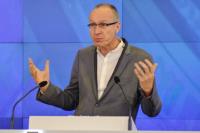 News Corp had a disappointing fiscal fourth quarter as advertising revenues declined 13 percent overall.
Wall Street forecasted News Corp earnings per share of $0.05 on revenue of $2.19 billion, per a Yahoo Finance consensus estimate. Zack's saw EPS coming in at the same nickel apiece.

Commenting on the actual results, Chief Executive Robert Thomson said: "Thanks to solid performance across a number of our businesses, including the fast-growing realtor.com, we had a strong fourth quarter finish to a good fiscal year. Despite an uneven global economy, very tough currency headwinds and the ongoing transformation of the media landscape, for fiscal 2015 we posted stable revenues, robust EBITDA growth and healthy free cash flow.

"With disciplined internal investments, strategic acquisitions and ongoing product innovation, we have aggressively shifted the company to be more global and more digital. We have clearly emerged as an international leader in digital real estate, opened up new territories at HarperCollins, expanded digital subscriber penetration at our mastheads and successfully integrated our programmatic exchange, creating new digital and mobile advertising opportunities across News Corp.

"We have begun to execute on a capital return program that signifies our confidence in the prospects of the company and the efficacy of its long-term strategy. The year ahead will be an opportunity to build on the sound and profitable platform we have collectively created."