industry news
The Latest Industry News for the Exciting World of Production.
Creative Handbook puts together a bi-monthly newsletter featuring up-to-date information on events, news and industry changes.
Add My Email
By: The Asbury PR Agency
| November 5, 2014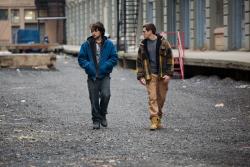 Santa Monica, CA, November 5-12, 2014 ® Documentary filmmaker Kevin Breslin will present his FIRST feature length motion picture, ®Blowtorch,® during AFM 2014 (November 5-12.) Foreign sales of the new film are being handled by Cardinal XD (Loews Hotel, Room 543.) See: http://www.cardinalxd.com/blowtorch

Breakout actor Jack Falahee, one of the leading cast members in the new hit ABC TV series ®How to Get Away with Murder,® stars in the Brooklyn-based crime thriller, based on a true story. ®Blowtorch® features a solid ensemble cast, including ®Gotham® TV star Victoria Cartegena, Jarod Abrahamson (®Diary of a Wimpy Kid,®) and Lois Robbins (®Sex and the City,® ®Law & Order,®) whose other recent acting roles include the film ®Ithaca® (produced by Playtone and marking the directorial debut of Meg Ryan,) and ®Juvie,® co-starring Eric Roberts. The cast also includes renowned character actors Armand Assante, Kathy Najimy (®Veep,®) William Baldwin and Paul Ben-Victor.


®Having two rapidly rising stars in Jack Falahee and Victoria Cartegena was like the perfect storm for us,® says ®Blowtorch® casting director and producer Adrienne Stern. ®We knew that they were both very special when we first cast ®Blowtorch,® so we®re not surprised by their meteoric rise to success on two new, well-written TV dramas.®


Adds Falahee, ®After I graduated from Tisch, I was fortunate enough to get cast in several New York indie films, one of which was ®Blowtorch.® I loved being able to start my career by playing such a tormented character ® one outside of my comfort zone. It was also great to work with Kevin Breslin and so many wonderful actors, especially my friend Jared Abrahamson.®


®Blowtorch® depicts the story of single mother Ann Willis (Robbins,) a financially struggling single woman desperate to find the killers of her son Dave (Abrahamson,) a young man who was lured into selling crystal meth by a local drug lord (Assante). Ann cannot live with the fact that she does not know who killed her son, and the seasoned NYPD detective (Baldwin) assigned to her son®s murder case doesn®t give her the attention she demands. Gradually, Ann decides to take the investigation into her own hands, and through fearless determination by scouring the rough streets of South Brooklyn day and night, searches for an answer.


Ann stalks the gangsters, and befriends a young drug dealer (Falahee) she suspects knows the truth about her son. Using her cell phone, she begins following and recording everyone she believes is responsible for her son's murder. Stopping at nothing, she even seduces the young dealer to get the story. Despite pressure from the detective, and being threatened and attacked by the drug gang, she fearlessly continues until she finally discovers the terrible secret behind her son®s untimely death.


®Blowtorch,® directed by Kevin Breslin, was written by Breslin and Rosemary Breslin, and produced by Adrienne Stern and Jesse Scolaro. The film is from ME 3 Productions, LLC. Please see: https://www.facebook.com/BlowtorchMovie

ABOUT KEVIN BRESLIN:

Director Kevin Breslin is considered one of the top documentary filmmakers in the U.S. today. His film ®Living for 32,® which portrays the story of survivors of the 2007 Virginia Tech shootings, was a finalist in the ®Best Documentary® category for the 2011 Academy Awards, and was also an official selection by the 2011 Sundance Film Festival.

Breslin's 2011 festival winning documentary #whilewewatch, the gripping portrait of Occupy Wall Street, can be seen on SnagFilms. His first short film, "A Smile Gone, but Where?"(2002) was shown at film festivals throughout the world, and also premiered on the Oxygen Network, along with Breslin's second short film, "Women of Rockaway" (2002), which won the 2003 Gracie Allen Award for ®Best TV Documentary.®

Additionally, Breslin has also produced and directed features for CBS and the Oxygen Network. Earlier, his producing credits included "American Nuclear" for CBS, and "UHF" starring Weird Al Yankovich. As a young actor, Breslin appeared in "Pope of Greenwich Village," "Rocky ll" and "Raging Bull,® to name just a few. Breslin also wrote and directed an Off-Broadway play, "Terrible Beauty" which starred Tatum O'Neal and William Hickey. For more info, please visit: http://www.breslinfilms.com