industry news
The Latest Industry News for the Exciting World of Production.
Creative Handbook puts together a bi-monthly newsletter featuring up-to-date information on events, news and industry changes.
Add My Email
By: Thomas Elsasser
| June 7, 2011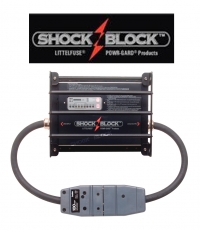 Littelfuse's new Shock-Block provides UL 943 Class A GFCI protection to cast, crew and production equipment from electrical hazards. Features include:
•50VAC -480VAC Ratings
•100-800 Ampere Rating
•Single and Three Phase Units
•Bates Stage Pin and Cam Lock Connectors
•Dimmable Options

About SHOCK BLOCK GFCI LEASING.
ACADEMY AWARD WINNING GFCIs - World-Class GFCIs - Most Reliable GFCIs - Rainproof GFCIs - 1-phase and 3-phase GFCIs - 100-Amp, 200-Amp, 400-Amp, 800-Amp - 500+ productions made safe with Shock-Block GFCIs. That's why we are THE FIRST CHOICE for all your GROUND FAULT PROTECTION needs. "Film Production Now a Whole Lot Safer" Shock-Block: "To Protect and Make Safe"

About Littelfuse. Scenes that require water and electricity should not be a safety concern. Shock-Block electrical safety devices, now part of the Littelfuse POWR-GARD family of products, provide proven technology for ground fault current interruption.

For more information, contact the Shock-Block Sales and Leasing office at 818-764-7585 or visit our website at www.littelfuse.com/shockblock.