Change Region
California
industry news
The Latest Industry News for the Exciting World of Production.
Creative Handbook puts together a bi-monthly newsletter featuring up-to-date information on events, news and industry changes.
Add My Email
By: Jay Silverman Productions
| October 20, 2014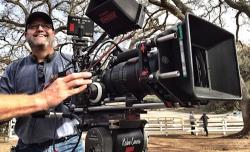 Noted Director and Executive Producer Jay Silverman has released the trailer and website promoting his first feature-length film,

a drama entitled ®Girl on the Edge.® For the past 25 years, Silverman has been a multi-award winning director of thousands of TV commercials for such major brands as Pepsi, Disney and McDonalds, to name just a few.

To view the movie trailer, please see: girlontheedgethemovie.com

Executive produced by Jay Silverman, ®Girl on the Edge® was produced by Keefe Kaupanger-Swacker and Will Newman, and co-produced by Bethany Cerrona & Joe Gamache for Jay Silverman Productions. The film stars Taylor Spreitler, Peter Coyote, Gil Bellows, Mackenzie Phillips, Rex Lee, Amy Davidson and Amy Price Francis.


Sadly, the film also marks one of the last appearances by the late actress Elizabeth P®na.

Casting was by Nick Anderson. Production on "Girl on the Edge" took place early in 2014 at various locations in and around Los Angeles and Moab, Utah. Silverman is currently taking ®Girl on the Edge® on the road via the U.S. and international film festival circuit.


Based on a powerful true story, "Girl on the Edge" recounts the journey of Hannah Green, a 15-year-old girl who is victimized by an online predator. Unable to cope with the resulting trauma, Hannah's behavior becomes increasingly self-destructive until her family is left with no choice but to send her to a treatment center for troubled youth. Hannah's transition is turbulent, and she refuses to cooperate, until she finds a kindred spirit with its most unlikely patient. With the help of her mentors and the horse she's formed a bond with, Hannah realizes painful truths about her past, and begins to face her uncertain future.

Said Silverman, "To tell a story as sensitive and emotional as this has moved me beyond words. This film is based on a story that's deeply personal to me. It shows how even the most vulnerable can find the strength to overcome unthinkable tragedies, and pays tribute to the people who dedicate themselves to helping them find that strength."

Previously, Silverman was Executive Producer and Co-Creator of the A&E TV series "The Cleaner." He has also produced over 40 episodes of "One on One with Cathy Hughes" for the TV One Network, which featured celebrities such as Denzel Washington, Jamie Foxx, Aretha Franklin, Beyonc®, and Quentin Tarantino to name a few. Silverman was also the director of the docu-drama "The Secret Things of God" for 20th Century Fox. For the past 37 years, he has been a highly in-demand commercial director, and his past clients have included Pepsi, McDonalds, and Disney.

Jay Silverman Productions is located at 1541 N. Cahuenga Blvd., Hollywood, CA 90028. The phone is 323/466-6030. For more information: www.jaysilverman.com