industry news
The Latest Industry News for the Exciting World of Production.
Creative Handbook puts together a bi-monthly newsletter featuring up-to-date information on events, news and industry changes.
Add My Email
By: Rose Brand
| June 5, 2019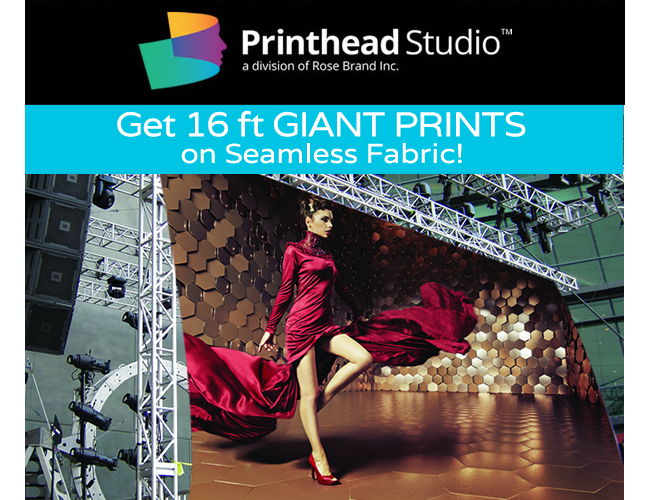 Printhead Studio™ prints everything from GIANT 16 foot, seamless banners, to gorgeous floors and wallpaper. Go beyond simple 4-color printing to our advanced 6-color CMYK+OV process for unbeatable color accuracy and vibrancy. Request a quote online or call us at 800-223-1624. Also ask about our frames, arena reduction curtains, curtain rentals & more.


Rose Brand is North America's largest provider of theatrical fabrics, fabrications and production supplies for the entertainment, event and display industries.
Being in business since 1921, we've learned a thing or two about the entertainment, event, and display industries. What started as a small, family run business has grown into a national company employing over 250 people in two locations.
Ninety-five years ago we opened our doors on the Lower East Side of Manhattan selling rags. As time went by we expanded to the sale of theatrical fabrics and developed in-house, custom sewing capabilities. We also began carrying various production supplies and stage hardware. Fast forward to today and we're manufacturing custom theatrical and event drapery, backdrops and virtually anything sewn with fabric for venues that range from high school auditoriums to Radio City Music Hall. Our custom service also includes technical project management for the design & installation of curtain, track and projection jobs.
Combine our bi-coastal facilities, hundreds of thousands of yards of in-stock fabrics, plus the expertise of our project managers and you have the quickest turnaround time on the most intricate jobs.
Ask around about our reputation. You'll know you chose the right partner for your production. Our continued growth is the result of the strong relationships we've built with you, our customers.